---
State of Property Operations & Maintenance Software

A landmark study identifying key challenges and opportunities in BAS operations and O&M applications to help portfolio stakeholders be more proactive, efficient, and adaptive going into 2021.



Download the White paper

This white paper presents an analysis of the current state of software in building O&M and the barriers for technology adoption. It explains the possibilities that can be unlocked with modern software and suggests a viable strategy for real estate owners and operators to unlock that potential. Co-authored by James Dice, Founder, Nexus Labs, and Raj Subramanian, Co-founder and CPO, Facilio, this paper presents insights and observations based on the changing real estate technology landscape and backed by learnings from working closely with the industry.
The white paper reflects comprehensive research and analysis into the current state of software, the barriers for innovation, and tech adoption in O&M. It further uncovers new possibilities with software and a viable O&M strategy that puts real estate owners and operators on the pedestal and enables portfolio-wide operational efficiency.
Inside, you will find:
How to reduce O&M silos and close the gap in real estate innovation
Practical ways to unlock the full potential of existing automation and building systems using software
A framework and a pragmatic approach to smart buildings for 2021 and beyond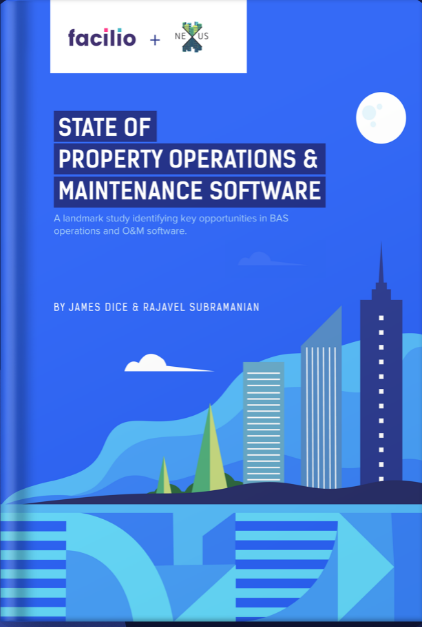 Marc Andreesen wrote his famous essay, "Why Software Is Eating The World", almost ten years ago.
And he was right—software has eaten the world. Across almost all industries, the leaders are all software companies. Amazon digitized books and became The Everything Store. Netflix replaced DVDs and Blockbuster. Even Tesla, a car and battery manufacturer, considers themselves a software company at heart. The examples of software-driven disruption go on and on.
However, there's at least one industry that hasn't been fully disrupted by software yet: real estate operations,especially the operations & maintenance (O&M) of buildings. The building O&M industry plays a massive role in our lives, even if it's behind the scenes. We spend over 90% of our lives in buildings. Buildings are where we eat, sleep,work, play, recreate, get entertained, and buy our goods. O&M teams are tasked with keeping these spaces healthy,productive, comfortable, sustainable, safe, e!cient, and well-maintained.
Recent trends are only adding to the already long list of O&M responsibilities and increasing the expectations of key stakeholders, such as building owners, tenants, occupants, and governments. Whether due to the COVID-19pandemic, corporate commitments to curb climate change, more complicated building systems, or more demanding occupant expectations, O&M teams around the world are being asked to level up their performance.

As the capabilities of technology have advanced and expectations have risen, a large gap has grown between what O&M teams need and what their currently deployed software tools are capable of. Most buildings are managed with1990s technology and spreadsheets. Given the progress that software has made in other industries, it's hard to escape the feeling that there must be a better way.
---


[Click Banner To Learn More]
[Home Page] [The Automator] [About] [Subscribe ] [Contact Us]