---
Marc Petock wrote about the importance of Answering the "Why" in a Value Driven Age and also co-authoring an article with Anto Budiardjo about the necessity for building systems to interoperate.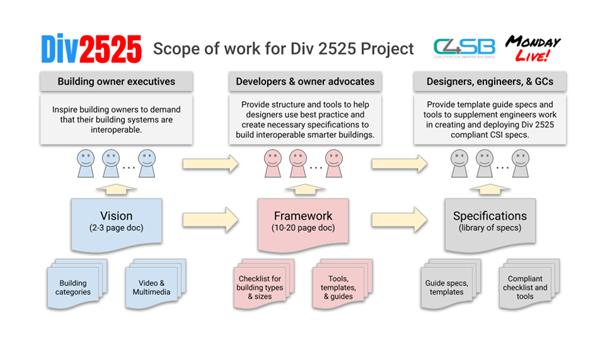 I really like this initiative and have written about it before regarding smarter buildings.
But one question with a lot of these approaches are related to the possible person in the room and how fast we can get systems to "interoperate" when people cannot understand each-other? And when there is no understandable communication, nor dialogue to be had between stakeholders in the industry, or outside it?
That is of course where the Future Creation canvas can come in.
However, people in companies seldom have much interest at times to talk to anyone else outside of their domain because everything they do is great! Well, if we are measured only by the progress in a domain, by peers and vendors catering to keeping the status quo, then everything we do is of course great. And this holds true across most of the aspects of the entire real-estate lifecycle, not limited to existing buildings and building automation.
And how fast do we get things done? And who, or what should be responsible for doing this? Maybe the great companies working as master systems integrators (MSIs)?
"80% of our total time on some projects is used for consulting and educating the owners." From the article last month, The New Professional Service for Buildings...
80% of the time is used for consulting and educating the owners. This is a terrifying number if it happens more than once. And in my book, this is not a new professional service, this is the old professional service for people related to buildings with the business model of charging for a lot of hours with business models that are stuck in the data to information stage. Climbing a never-ending uphill battle of trying to turn information into insights across domains, but failing to realize that if nothing changes, nothing will change.
The owners, integrators, installers, energy experts, and most of all users, need our help to get them get their buildings to tell them what to do.
"Ask not what you can explain about the building. Ask how the building could explain what is needed for you"
Is this not the purpose? To create Automated Buildings? Where the building can explain to all stakeholders what is happening in ways they would understand?
Not to lock people in and keep perpetuating obsolete ways of working. And to solve problems over and over and over and over again. But to help companies solve them once and then make it easier for others to create value, to invite to innovate on a global scale and to democratize value creation for the users of real estate everywhere?
This is what I am focusing on, in a lot of different areas on a global scale. And I would love to discuss value creation with people that share the same vision.
How do I know all of this? Because it's my job to know what the future will do in a week, a month, a year from now. And if you want to create the future before everyone else? Reach out to me and we'll make it happen!
Sincerely,
Nicolas Waern
CEO, Founder and Digital Twin Specialist at WINNIIO Consulting
Nicolas Waern is the CEO, Strategy & Innovation Leader, and a Digital Twin Implementation Specialist at the consulting firm WINNIIO. He is a firm believer that the Real Estate Industry needs more of a lifecycle focus where we need to go Beyond Buildings and come back with an understanding what tools and technology we could use. And to solve the jobs to be done, together, with an open mindset.
Nicolas is working with leaders in several industries to understand how they can succeed in the age of AI. Predicting what the world will do in a week, a month, a year from now and to best utilize strategies and solutions that pass the test of time. He does this through a Digitalization- on Demand approach for anyone that needs to change before they have to.

Nicolas is also a Podcast Creator & Newsletter Editor for Beyond Buildings
Thought Leader regarding Smart Buildings & Building Automation for AutomatedBuildings
Speaker and Influencer Event Streaming Platforms as the Holy Grail for Industry 4.0 Applications
Subject Matter Expert Real Estate Digitalization Proptech Digitalization Expert
Active Member of Digital Twin working groups Digital Twin Subject Matter Expert
---


[Click Banner To Learn More]
[Home Page] [The Automator] [About] [Subscribe ] [Contact Us]