Comments by Ken Sinclair
Publisher - AutomatedBuildings.com
The Wireless Way
Our March Theme "The Wireless Way" was encapsulated in our last month's "Open Connection Communities" theme, but this is a now movement in our industry that needs its own space and focus to educate us all.

The present impact and future impact of wireless on our industry is huge. If you have not already become unwired this issue is a great opportunity to see where the industry is today. Wireless certainly provides an ideal solution for the last few hundred yards or meters, no matter how your measure it. The softness of wireless makes it a great solution for the mushiness of that part of the building that is always under renovation, the tenant space. Self powered peel and stick sensors and wireless devices that are part of a strong mesh network that interacts with our existing networks will forever change the industry.

I hope you learn as much as we did while assembling this great collection of wireless articles, interviews, and reviews and columns all from many points of view. If you, like me, tried wireless many years ago you found the freedom of wireless was quickly over shadowed by the battery blues, you must look at the new technologies and their innovative self-powering schemes that connect with virtual networks. Combining miniaturized energy harvesters and highly efficient wireless technology creates service-free wireless sensor solutions for use in the extension our building automation systems.
We welcome our newest sponsor: Chipkin Automation Systems, Inc Get systems talking to each other. Data gateways, concentrators, converters, loggers, protocols, dashboards, expertise and experience. Integrate Modbus, BACnet, Lonworks and over 100 other protocols including HVAC, Fire Alarm, Lighting, Gas, Industrial and BAS.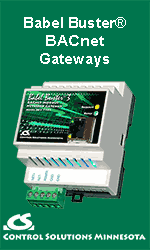 Tell all our sponsors you saw their ads on the AutomatedBuildings.com web site and thank them for supporting your free access to evolving Automated Building Industry information. Click on their ads and view their valuable products and services. Please review all Our Sponsors

I am assembling a self-maintained global network of "Who is Who in building automation". Presently my network includes over 3275 please join us.
Please join our Group on Linkedin and interact with our magazine & online resource in real time while sharing your thoughts with our editors and other readers around the world.

The news just keeps flowing thru our web site and RSS feeds daily, and of course the only way to truly find what you are looking for in the vast quantity of information on our site is with our site search engine http://www.automatedbuildings.com/search/sitesearch.htm

As always lots of new products, plus be sure to check our event calendar to see the number of events we have in our future.
Editorial from February 2012

Send comments and suggestions to news@automatedbuildings.com
---

[Click Banner To Learn More]
[Home Page] [The Automator] [About] [Subscribe ] [Contact Us]