---
From Buildings to Campuses to Cities and Beyond…

We specialize in graphically representing the collected data on a desktop, browser or mobile device to allow building operators and managers to optimize their business processes.



Melissa Topp
Director of Global Marketing
ICONICS, Inc
The company I work for, ICONICS, has a few decades of experience in the acquisition, visualization, alarming, trending and, more recently, in-depth analysis of data; data that mostly came from devices connected to big industrial equipment performing automated manufacturing tasks. We specialize in graphically representing the collected data on a desktop, browser or mobile device to allow operators and managers to optimize their business processes. They also used that data to analyze trends over time as well as to notify them with alarms if any part of the process didn't follow set parameters.

These prudent uses of both real-time and historical data have provided enormous cost savings for companies and organizations around the globe as well as led to a multitude of process improvements. With such realizations, it was only a matter of time before these concepts found their way to the building controls industry. Facility managers, building operators or anyone with responsibility for a physical location could now apply these same data-driven improvements.

Make Scaling Your Company's Goal

To draw an analogy from the manufacturing side to the building controls industry, follow along with this example. For manufacturers, one single connected device provides the basis for process control. It gets physically connected to a network, where the control software recognizes it and can then use its data for graphical representation, trending, alarming and more. Of course, that device is usually joined by many others to represent a single process; for example, the manufacturing process for a single physical item or widget.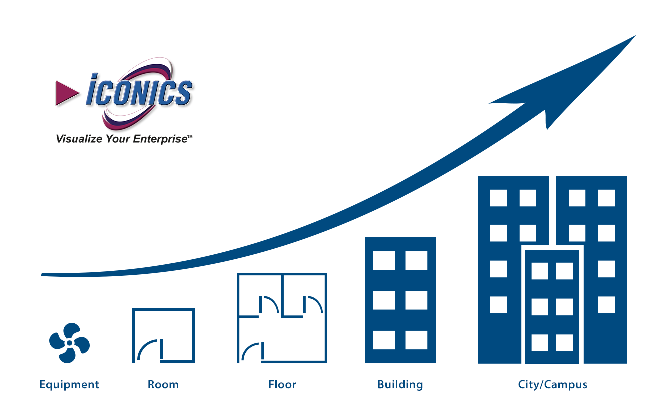 So you have a control system for your manufacturing assembly process in one floor of your factory. Success and expansion to other product lines could necessitate connecting all the devices related to the entire product family. Still, that might just be an additional floor of your factory and, depending on your software provider, the control software easily scales. Now let's say the demand for your product necessitates a whole additional factory nearby. Scalable control software handles this easily. Let's say the company branches out internationally to dozens of factories across the world. You're a global enterprise now and, depending on your software provider, your control software has easily scaled from those days of single devices to millions of connected tags, providing the lifeblood of your entire product portfolio: data.

Building Blocks of Facility-based Savings

Now to relate this example to what ICONICS has achieved on the building automation and energy management side, there are dozens of different processes taking place in buildings everywhere day after day. These include heating, ventilation, air conditioning, lighting, energy monitoring, physical security, fire safety, elevator use and more. Similar to the manufacturing example, such processes can start out small; maybe initially applied to one room in a single building. The considered usefulness of the data might then warrant expansion out to an entire floor, then another, then maybe through an entire building. Additional processes are added in a similar rollout, where the single building's use case leads to expansion to an entire campus. It is possible for such initiatives to get adopted by an entire city or even country-wide.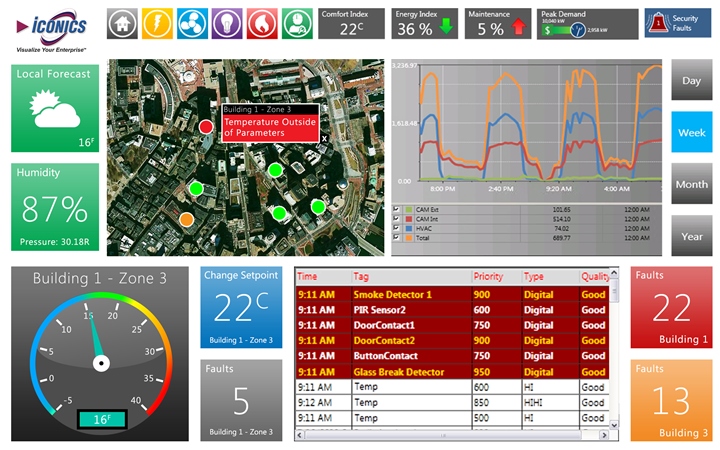 Such a scenario is not some delusion of grandeur. It has been achieved, and by none other an organization than Microsoft.

Microsoft sought a way to reduce energy spending at its 500-acre Redmond, Washington headquarters. An internal team advised against the company spending $60 million to address the concern and to rather use commercial, over-the-shelf software. A test run of the team's plans was performed within 13 of 125 buildings. The team utilized the selected control software to tie multiple disparate building management systems together, providing multiple points of data to analyze. It gave Microsoft the means to see 30,000 unconnected, sensor-enabled pieces of equipment as a cohesive whole generating over half a billion data transactions every single day; but in a way that was easier to manage and understand.

The data provided to Microsoft's Redmond Operations Center (ROC) was enormously valuable, reporting on inefficiencies involving lighting schedules, air conditioning, heating and more. The test case was soon rolled out into the entirety of Microsoft's Redmond campus, now handling billions of data points to visualize, analyze and improve.

In addition to the immediate savings seen due to the selected software's energy management capabilities, Microsoft also saw savings by implementing fault detection and diagnosis (FDD) features, as well. What FDD provides is the ability to incorporate user customizable fault rules to weigh the probability of equipment failure and to advise personnel of immediate preventative actions they can take before faults occur. When equipment failures occur, the software analyzes current and historical information along with symptom/cause relationships that the system has been taught, executes predictive algorithms, and provides the user guidance with a list of probable causes sorted by probability. This immediate guidance reduces mean time to diagnose and repair, reduces equipment downtime, and lowers overall maintenance costs.

For engineers at Microsoft's Redmond campus this means less time "climbing over rooftops, inspecting pump rooms and peering above ceiling tiles" and more time spent proactively where actual problems could occur, further contributing to cost savings. With combined energy and FDD analysis capabilities, the company reduced its energy consumption/costs, extended the life of its building assets, drives continuous labor efficiencies, and shrunk its carbon footprint. Microsoft now saves into the millions of dollars annually just at their Redmond campus, with further rollout planned throughout their worldwide locations.

---
About the Author
Melissa Topp is the Director of Global Marketing for ICONICS, a world-leading software developer of open standards-based visualization, HMI/SCADA and enterprise solutions for energy, industrial, manufacturing and building automation. With more than 300,000 installations worldwide, ICONICS, the Microsoft CityNext and Sustainability Partner of the Year, helps its customers be more profitable, agile, efficient and sustainable. Melissa has a B.S. in Computer Science and Management Information Systems from Worcester Polytechnic Institute and over 12 years of industry experience.
---
About ICONICS

ICONICS, a globally managed Microsoft Gold Partner, 2014 Microsoft Public Sector CityNext Partner of the Year Award Winner and past recipient of the Microsoft Sustainability Partner of the Year award, provides solutions to improve productivity, reduce integration time and operating costs, and optimize asset utilization with visualization and automation software. Founded in 1986, ICONICS has 300,000 installations in over 60 countries worldwide. ICONICS software is recommended for automating, monitoring and optimizing a customer's most critical assets and has been selected by over 70 percent of Fortune 500 companies. ICONICS meets the demanding application challenges of the automotive, building automation, food and beverage, government infrastructure, manufacturing, petrochemical, pharmaceutical, renewable energy, utilities and water/wastewater industries. As a managed Microsoft ISV Partner, ICONICS designs its solutions to leverage Microsoft technologies, including Windows 8, Windows Server 2012, Microsoft .NET, Windows Azure, SQL Server and Microsoft SharePoint.

---

[Click Banner To Learn More]
[Home Page] [The Automator] [About] [Subscribe ] [Contact Us]