---

EMAIL INTERVIEW – Cory Vanderpool and Ken Sinclair
Cory Vanderpool, Business Development Director, Magnum Energy Solutions
---

EnOcean to BACnet Gateway

I think that honestly the biggest challenge is for HVAC contractors to be able to stay updated on new technologies and have the ability to think out of the box.

Sinclair: What trends are currently driving building automation? Are there any sectors of the market (retail, schools, etc.) where building automation and advanced HVAC controls are becoming more popular?

Vanderpool:
Energy efficiency, optimizing buildings and reducing energy consumption still remain the major drivers behind the advancement and adoption of building automation solutions. Traditional "dumb" buildings are becoming smarter through the deployment of intelligent building automation systems (BAS). Integrating once disparate and siloed systems into the BAS is also a major driver, creating comprehensive and optimized buildings. Smarter building technologies can be seen across a multitude of verticals including K-12 schools, universities, hotels, commercial office buildings, residential complexes and even historic buildings. The ability to add wireless end devices completes the "last mile" of a building. The data that these sensors gather is pushed to the BAS, allowing for the next level of intelligent buildings.
Sinclair: Can you describe a typical building/HVAC automation system? What components are typically needed for this type of system? What are the typical benefits and ROI achievable through automation?

Vanderpool:
Building automation systems are centralized networks of hardware and software, which monitor and control the environment in commercial and residential facilities.


Generally building automation begins with control of mechanical, electrical and plumbing systems. The HVAC system is almost always controlled, including control of other various pieces such as chillers, boilers, air handling units, rooftop units, fan coil units, heat pumps and variable air volume boxes (VAVs). There are also other systems that can be brought into a building automation program and they can include power monitoring, security, card access, fire systems and also lighting. The integration of lighting control into building automation systems is very much low hanging fruit. More efficient buildings can easily achieve 20-30 percent energy savings, particularly when they include a building automation system and the associated wireless sensors to optimize HVAC controls and lighting.
Sinclair: What are some of the newest devices you are manufacturing for building automation?

Vanderpool:
We recently launched a line of sensing boards that effectively cover many new verticals for Magnum Energy Solutions, including data centers and the food retail sector. Our EnOcean to BACnet gateway, the eBox, is also a critical addition to our portfolio. It allows us to deploy our wireless products and bring them into a BACnet based building automation system for full optimization.
We have a 12-channel temperature sensing board that is ideal for grocery store applications and even the monitoring of rooftop units. It includes 10 temperature inputs, two pressure inputs and on-board humidity sensing. It can also do 0-10v dimming. We manufacture a three-channel temperature sensor that is both wireless and battery free. Lastly, we have a single-channel temperature sensor that also includes humidity. Data centers, storage units, grocery stores, food distribution centers, transport vehicles, convenience stores and restaurants are all excellent places where these devices can be utilized.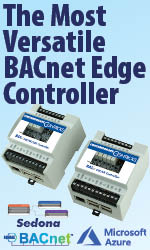 Sinclair: What opportunities are available for HVAC contractors who are interested in expanding into building automation and energy services? What kind of background and skills do they need to have to succeed in this niche?

Vanderpool:
It is high time that contractors move more into a integration, if they are so inclined. Someone with a strong HVAC mechanical background could easily seek additional education and information about building automation. A mechanical background or engineering background is key. This combined with an interest in new, innovative technologies is all that is needed to guide a person into this evolving field. We often say it is the nexus where IT meets mechanicals.
Sinclair: What are some common challenges faced by HVAC contractors in this market?

Vanderpool:
I think that honestly the biggest challenge is for HVAC contractors to be able to stay updated on new technologies and have the ability to think out of the box. We are seeing that the standard way of doing things is simply no longer what people are interested in. Learning everything you can about your field is essential. Attending trade events like the AHR show is a great way to see what companies are launching next generation products.
---


[Click Banner To Learn More]
[Home Page] [The Automator] [About] [Subscribe ] [Contact Us]