---
Across My Desk


snippets, blog bits, and url links that are about to fall off my desktop

Founder, Owner, Publisher AutomatedBuildings.com
Every month there is a blizzard of information contained in the emails and newsletters that cross my desk on their way to AutomatedBuildings.com. Some of this information is not in the form of any type of content we can publish but I feel I should share with you these snippets, blog bits, and url links that are about to fall off my desktop.
Why real estate is becoming a monthly subscription service (and why it's a good thing) Feb. 16, 2016 by Lindsay Baker
This is What it Was All About: Changing the Face of Real Estate with the Digital Ceiling Rick Huijbregts Managing Director Americas, Digital Transformation and Solution Acceleration at Cisco
Called 'Digital Ceiling', the new smart lighting solution acts as an aggregation point for other building networks, including HVAC, security, building controls, and corporate wi-fi facilities, among others. As more companies make the switch to networked LEDs for power efficiency purposes, Cisco has made use of the pervasiveness and close proximity of these lighting systems to provide a central connection point for other – usually disparate – networks contained within a premises. Cisco has also incorporated a number of other sensors to monitor things like proximity, temperature, carbon dioxide levels and presence.
Li-Fi, which has been described as the new era of wireless connections, is a method of data transmission more than 100 times faster than traditional Wi-Fi, and it only requires that you turn on a light! With speeds of up to 1GBps, this new technology could enable a high-definition film to be downloaded in seconds.
Big Data Landscape in 2016 source Fei Dong, Sr. Software Engineer at LinkedIn
Connectivity is a bit clearer on the commercial side, thanks to LonWorks and BACnet. Dick Foster of Zone First said he believes WiFi will become the dominant means of controlling connected and smart devices.
This webinar is an introduction to smart connected products and the Internet of Things (IoT) relating to electrical installations. The presentation considers the relevance, potential and the growing demand for these types of products and their potential impacts and benefits to both installers and users.
New to #AllJoyn? Check out this introductory tutorial and more on our YouTube page: http://bit.ly/1OJGYF3 #IoT
Google's Answer to the Internet of Things A bird's–eye view on the business, design and technology side of Google's proposition for the Internet of Things. These views are based on early access to Google's Brillo and Weave developers platforms and the Ubiquity Conference held in January 2016 in San Francisco.
CRE Tech 4.0 – 2,200 Companies and Counting Author: Jim Young, Co-Founder & CEO, Realcomm Over the last 24 months, the drumbeat around CRE Tech has grown louder and louder. There have been more new companies added to the CRE Tech list in the last few years than in the prior decade. Given that CRE Tech is what we have done for almost 20 years, we wanted to take a deeper look into the factors driving this growth.

Hope the month has been productive for everyone.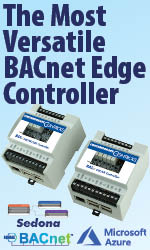 We at The Things Network couldn't ask for anything less. Happy to announce that we have now over 75 communities around the world. Here is a brief update.
We crowdsourced a complete city-wide Internet of Things data network with the people of Amsterdam in 6 weeks using a new technology named LoraWAN™. Now we are launching our global campaign to repeat this in every city in the world.

ProSoft Technology has a wide array of products to choose from including industrial cellular, 802.11 abgn hotspots, frequency hopping radios for long-distance applications and wireless I/O. Scroll down to see architectures and educational videos.

STEM or STEAM? By Bill Lydon, InTech, Chief Editor
Michael J. Gelb, author of the book How to Think like Leonardo da Vinci, gave a thought-provoking keynote presentation at the 2015 Emerson Exchange. He posed the notion that STEM (science, technology, engineering, and math) education should be expanded to STEAM (science, technology, engineering, art, and math) education.
WELL BUILDING STANDARD® The WELL Building Standard® (WELL) is the world's first building standard focused exclusively on human health and wellness. It marries best practices in design and construction with evidence-based medical and scientific research – harnessing the built environment as a vehicle to support human health and wellbeing.
We're pleased to announce this partnership!The software team behind digitalenergy have been hard at work to create the seamless integration using the GreenBox 360 open source API. Now you can build and deploy cost-effective and powerful energy management solutions using GreenBox 360 and digitalenergy.
Do we have sufficient human resources in order to build and maintain the Internet of Things? At the recent IoT Design Conference in London, Gary Atkinson from ARM suggested there could be more than a million new device developers by 2020. From the perspective of a chip manufacturer, this means that their devices are probably no longer used by just a small cohort of highly specialised electrical engineers, but that many more people with a diverse set of career trajectories are going to start using ARM chips in their connected products. It's therefore not surprising that an unique selling point might be 'security on chip', thus that the user is shielded from this level of complexity.
Thoughts on major automation and control trends for 2016 and beyond. By Bill Lydon, Editor These opinions are based on a wide range of inputs from users, suppliers and industry consultants, and from attending over 20 industry forums, conferences and trade shows last year. My years of hands-on experience as a designer and applier of automation and controls in the field are also reflected in these opinions. I invite readers to contact me (wlydon@automation.com) to critique and share thoughts based on other perspectives.
Public cloud? Ubuntu Server is the world's most popular cloud operating system. And Ubuntu is the leading cloud guest OS, running most workloads in public clouds today, thanks to its security, versatility and policy of regular updates. With certified images available on clouds from partners like AWS, Microsoft Azure, HP Cloud, Joyent and IBM Smart Cloud, it is the only free cloud operating system with the option of enterprise-grade commercial support.

---


[Click Banner To Learn More]
[Home Page] [The Automator] [About] [Subscribe ] [Contact Us]