Over the last three decades many types of building control systems such as building automation, lighting control, access control, video surveillance, and fire systems, have continued to evolve and transform their designs to embrace digital technology.
Building owners and operators have benefited from enhanced functionality, flexible configurations, integration, real-time capabilities, and much more. One thing has not fundamentally changed, however, is the ability of these systems to interoperate with each other when there is a need for them to do so.
In its most simple terms, interoperability is the ability for devices and systems regardless of vendor to connect, exchange and interpret data and work cohesively across different boundaries to meet the needs of a variety of stakeholders who operate and manage buildings.
Why does this matter? When systems can interoperate, owners and operators can truly realize the outcomes and value of a smarter building with minimal effort, both today and in the future.
To help understand what interoperability is in context of a smarter building, a group of industry leaders have come together to develop a framework and a set of requirements and specification language that owners and engineers can access on an open-source basis. These requirements will push the ecosystem to adopt proven standards and methods for representing and communicating information, so that system integrators, facility engineers, consultants, and application providers can quickly and easily set up their solutions to enable interoperability.
The project, called Div 2525, is based on the Smarter Stack that was conceived and developed by the members of Monday Live! and the Coalition for Smarter Buildings. The Div 2525 Framework's first four requirement descriptions in development are: Overall Interoperability, Data Management, Cybersecurity, and Analytics.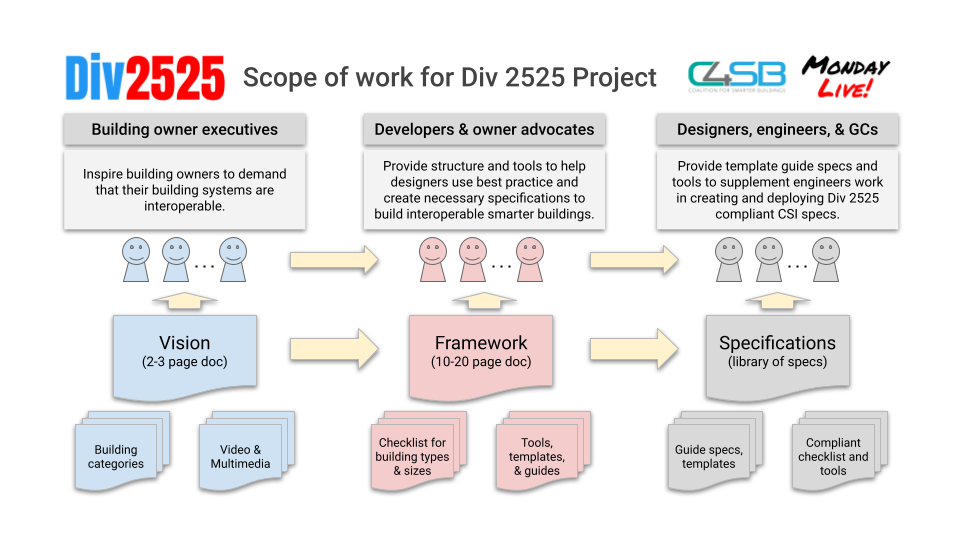 As an open-source initiative, we welcome you to participate and contribute, contact anto@padi.io.