---
Block Energy by the Sea

Since I am also an artist these days, my friend Ken Sinclair, founder of Automatedbuildings.com, suggested that I attempt to paint this energy future. The project, shown here in my painting, is on the Tampa Electric Company system, and was approved by the Florida Public Service Commission in 2021.


Jack Mc Gowan, CEM
Principal
The Mc Gowan Group
Almost twenty years ago, I was a founding member of the U.S. Department of Energy, Gridwise Architecture Council, empaneled to define a modern electric system, a group that I later Chaired under two Presidents. This was an amazing group of visionaries, and many exciting technologies were identified in the ongoing effort to make the U.S. electricity grid both Smart and optimized. It was created due to a renewed urgency for electricity transformation after August 14, 2003, the date of a major grid outage affecting consumers from Ohio to the Atlantic, and the Northeastern US into Canada. As often happens with efforts like GridWise however, many great ideas and technologies surfaced that were not yet ready for prime time, in many cases due to economic feasibility.
the Future of Electricity…renewables at cost parity
Fast forward twenty years and I don't have to tell you about all that has transpired, to make smart, transformational electric systems viable today. Perhaps the most exciting development for me, has been working with Emera Technologies, a company that manifests so much of our vision back then, and more. They have built the electricity future; in reality, at cost parity with conventional sources and in a real utility system.
Artists view of Smart Energy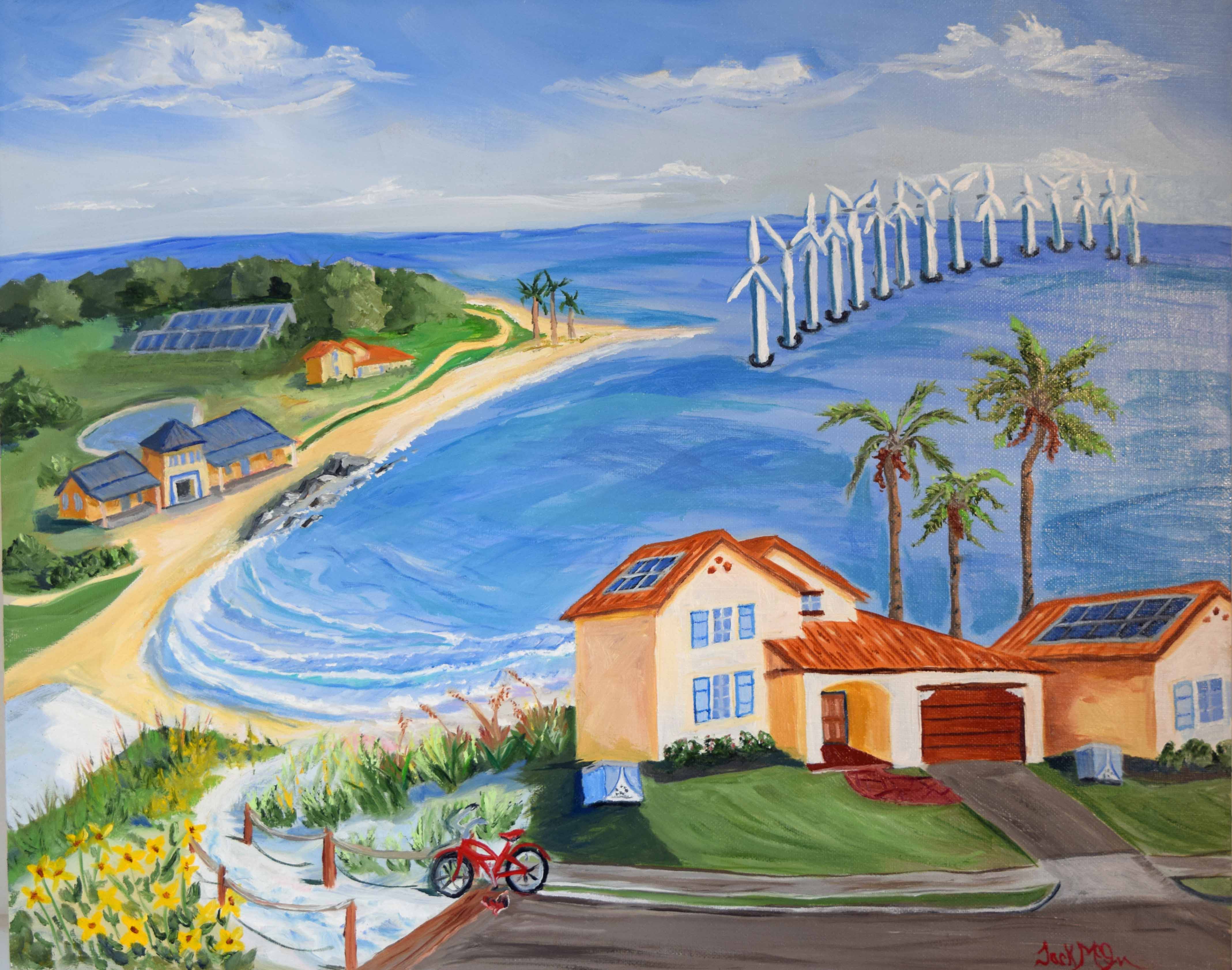 Since I am also an artist these days, my friend Ken Sinclair, founder of Automatedbuildings.com, suggested that I attempt to paint this energy future. The project, shown here in my painting, is on the Tampa Electric Company system, and was approved by the Florida Public Service Commission in 2021. This neighborhood developed by Metro Development Group https://metrodevelopmentgroup.com/, at Southshore Bay, is where the future has been built. These homes are being built by Lennar Corporation: https://www.lennar.com/new-homes/florida/tampa/wimauma/medley-at-southshore-bay. The homes deploy a transformational electricity system called "Block Energy" at each home and throughout the neighborhood, learn more here: https://blockenergy.com/medley. So, why is it transformational?
Block Energy
Block Energy redefines the term microgrid. It enables a complete neighborhood, where each home is a nonogrid with Solar on the roof and a Block Energy box (blue box in front of the house) with battery storage, sophisticated controls and energy analytics including billing, community energy technology and much more. The system is designed so that homes can actually exchange power when they need to, and there is also a Central Energy Plant System as well, when they need more electricity at peak times. The central system, depicted as the home style building by the larger array in the background, combines more solar and a bigger battery system, as well as backup generation, which may be gas fired or hydrogen fuel cell powered. So, quite simply this is a fully resilient system that is built in front of the meter, while being both owned and operated by the utility. One last point is that it makes the neighborhood fully resilient, since it can operate in an "Islanded mode" after a hurricane or other type of grid outage, and the Block boxes will even continue operating if they are underwater!
A new path to market
The business model is really exciting as well, because a utility can capitalize the system just like any other generation or distribution infrastructure. This is really good news for the consumer because they get renewables, battery storage and highly sophisticated controls and analytics, with no up-front investment. On the flipside, consumers are not eligible for net-metering, tax credits, etc., but if there is no upfront investment, these incentives are arguably irrelevant. Among the other Block Energy benefits; it is seamlessly integrated with the grid because the utility operates it and is maintained by the utility as well. For the graphic above, the wind turbines are intended to represent the conventional Alternating Current (AC) grid and, integral to the Block Energy system, there is revenue grade metering at each home and neighborhood wide, plus sophisticated energy controls to manage power flow for all homes. That means consumers have access to electricity from solar and batteries, even during a power outage, and the metering technology allows consumers to share power home to home and throughout the neighborhood as needed, at all times, and the bill seamlessly settles up all energy use at the end of the month for each home owner.
Smart Consumer appliances
The consumer also has access to an Internet dashboard that allows them to see everything that is happening in real time with high-tech graphics. Also of value to consumers, these homes integrate wide ranging, high efficiency appliances, heating and air conditioning, as well as LED lighting, etc. The Block Energy system even provides built in Electric Vehicle charging technology at every garage. This means that the home and the neighborhood are smart, optimized and resilient.
The best deal on the market
In summary, this technology is the ultimate solution for building out distributed renewable energy generation on the grid. Consumers get access to some of the most exciting energy technology available, allowing them to make a significant impact on climate change, without writing a check. They also get ultra-modern living experience in a community that offers a variety of water-inspired activities and amenities, such as a clubhouse, fitness center, resort-style swimming pool and more. For the utility, this is an unparalleled opportunity to meet renewable energy standards, and other policy, driving renewable energy and de-carbonization. It also solves a host of issues with the aging electric grid, and redefines the relationship, and shared responsibility, that the utility has with consumers in addressing climate change. Everyone wins!
About Jack McGowan
Jack is an award winning Business Automation and smart energy expert, as well as an award winning Plein Air oil painter. He was a founding contributing editor to Automateduildings.com, serial energy entrepreneur and is Chairman Emeritus of the GridWise Architecture Council. He is a member of the Board of Directors of Emera Technologies, which has developed and launched the Block Energy system. For more on Jack, his bio is in the annals of former contributing editors on Automatedbuildings.com http://automatedbuildings.com/editors/jmcgowan.htm, and the Association of Energy Engineers published an article in Efficiency Magazine on the 20th anniversary of his induction into the AEE Hall of Fame, see pages 18 and 19 of https://www.aeecenter.org/wp-content/uploads/2021/11/AEE-Magazine-Sept2021-Final-Digital.pdf. To see Jack's artwork, visit: www.Jackmcgowan-Artist.com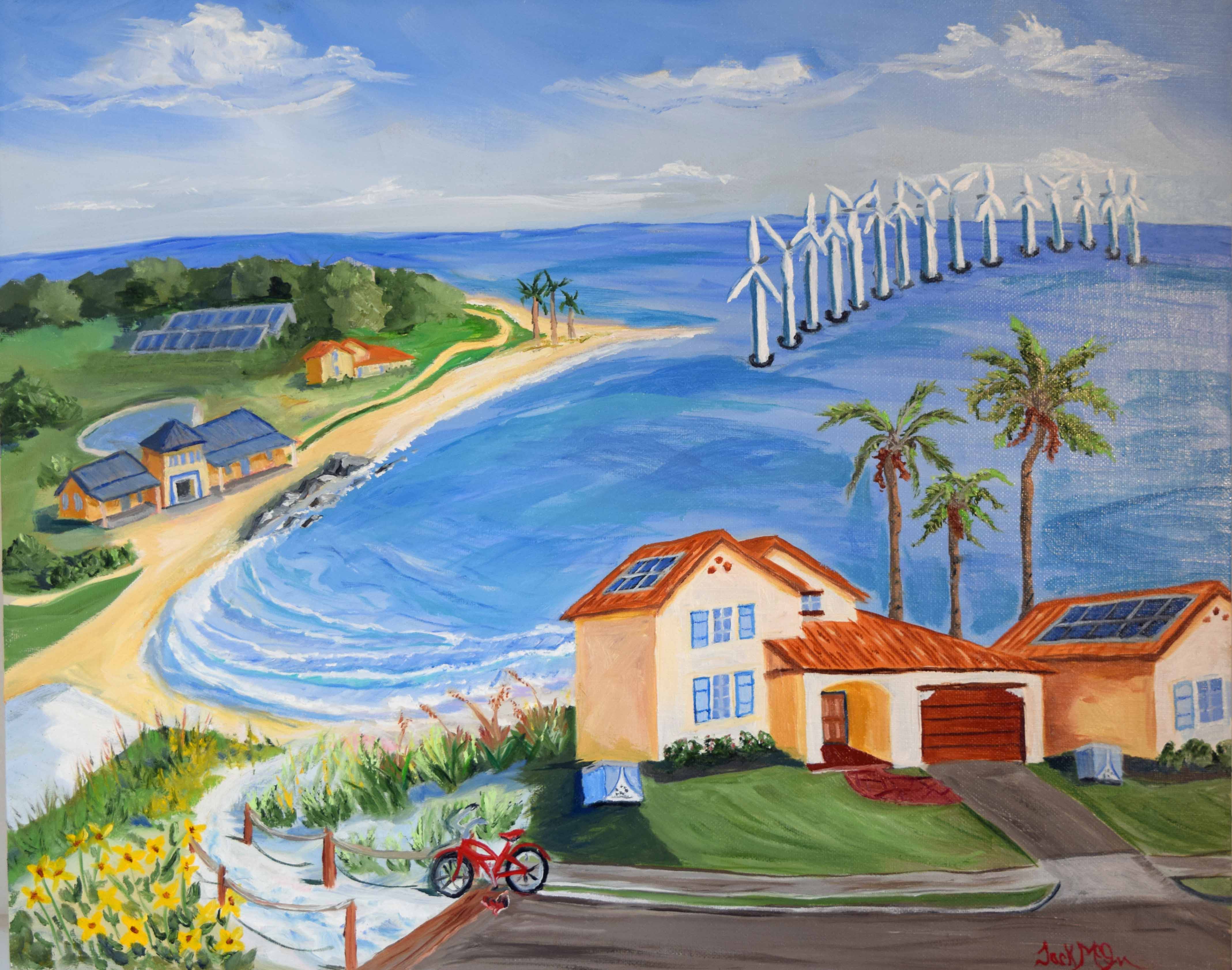 ---


[Click Banner To Learn More]
[Home Page] [The Automator] [About] [Subscribe ] [Contact Us]