EMAIL INTERVIEW Anno Scholten & Ken Sinclair

Anno Scholten has been involved in the commercial building systems industry for more than 20 years. He is an executive founder and Vice President of eStructures Inc with a primary responsibility for product development. Prior to eStructures, he was VP of Engineering for CSI Control Systems International (now TAC).
Anno moved from Perth, Australia to Dallas, Texas in 1994 to serve as Director of Product Development for CSI. Before that, he worked for an Australian company EMS Energy Management Services Pty. Ltd. that is now a subsidiary and regional headquarters for TAC.
His controls expertise includes a joint patent for a Variable Air Volume environmental management system that incorporates both fuzzy logic and LON technology. anno@estructures.com
---
Research and Development in the Controls Industry
Sinclair: How does new technology evolve in the controls industry?
Scholten: Like other industries, new controls technology has evolved along two distinct paths. The first path introduces a radical new concept that is usually a significant step-up in the technology. The second path produces many small incremental improvements on the new technology introduced by the first path. Progress on the two paths proceeds concurrently but at different rates.












Sinclair: Give me an example of a technology on the first path that has changed things significantly.
Scholten: The most recent example is, of course, the Internet and specifically the Web Browser User Interface. This is a good example of a technology created outside the controls industry that has made a significant step-up in open User Interface solutions for building systems. Since it's first introduction, many companies have made continuing incremental improvements to the Web Browser as a UI.
Sinclair: Are there many new developments, it seems like a slow moving industry to many of us?
Scholten: The cycle of each path is very different and very dependent on the industry. In the controls industry, the first path seems to cycle about every seven years and the second cycle about every eighteen months. Most people typically see the long cycles of the first path as the 'slowness' of the industry to develop new technologies. Incremental improvements on the second path, no matter how short, do not seem to contribute to a perception of fast moving developments.
Sinclair: Who does these developments, corporations or research establishments?
Scholten: The first path is usually driven by fundamental research initiatives conducted by universities, research engineers and even backyard tinkerers.

Corporations use well-defined product development processes to drive the second path. Incremental improvements benefit greatly from market research and customer feedback once a new concept was been introduced.
Sinclair: Is this research normally commercially driven?
Scholten: Unfortunately, here in the US the amount of funding for research is very low compared with other countries. Therefore, new developments in the building systems industry have happened because of shear tenaciousness and commitment by some dedicated individuals. As a result, it is not very organized or rewarding for these innovators.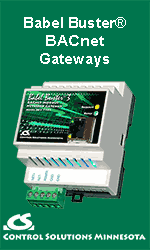 Sinclair: What are the challenges for researchers?
Scholten: The main challenge they face is finding a way to present their ideas to the right audience. Unlike many other industries, there are currently no forums or independent channels to which researchers working in the building systems industry can present their latest work. This typically means that, at best, research engineers' only opportunity is to present their initiatives to internal members of the corporation for which they work. University funded researchers and lone innovators have a much greater challenge.
Sinclair: Is there anything in the future that will help this information to be better distributed?
Scholten: There are some interesting venues starting to happen, AutomatedBuildings.com is a good example. The new BuilConn 2003 forum is another good opportunity. BuilConn has recognized that there are many new developments being worked on in building systems that would benefit by providing a 'no strings attached' venue for the innovators to present their progress.
Sinclair: What can we learn if we see these developments?
Scholten: Foremost, of course, we will see many new ideas and future possibilities in the controls industry that may not have seen the light of day previously. More importantly, by providing rewarding forums for the presentation of new ideas we may encourage more people to undertake research and development of their latest inspiration. This would help reduce the seven-year cycle of the first path.
---

[Click Banner To Learn More]
[Home Page] [The Automator] [About] [Subscribe ] [Contact Us]