New Products - December 2002
BAPI's New Products
BAPI's new Zone Pressure Sensor is an accurate, rugged, economical solution for measuring and reporting duct/building static pressure, room-to-room differential pressure, or air velocities/volumes. Housed in an easy-mounting, rugged, IP66 rated, plastic enclosure with short circuit proof and reverse polarity protected outputs, this device is built to perform under real-world conditions.

The Adapter Plate is designed to work with horizontally mounted, single-gang J-boxes (2"x 4"), with double-gang J-boxes (4"x 4"), and in applications/locations where a larger sensor has been previously mounted (for example, a Honeywell® Q7300/T300 series programmable thermostat). The Adapter Plate is made of flame retardant ABS plastic, and is the same beige color as a "Delta® Style" enclosure. The Adapter Plate can be mounted in a vertical or horizontal configuration depending on the application. The back side of the plate incorporates round bosses to speed pilot hole alignment/drilling, and ribbing to increase strength/rigidity. Color matched mounting hardware is provided for drywall and electrical box installation.

BAPI's "L-Combo" sensor features measurement and display of local temperature and relative humidity, as well as, display of outdoor temperature and outdoor humidity (requires proper binding of network variables). Additional options include temperature setpoint, humidity setpoint, and local override. An onboard Neuron® chip allows connection directly to a LONWORKS® network using star, bus, or loop topology.
For more information on these products visit www.bapihvac.com
---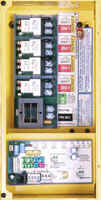 Lighting Control & Design - MicroPanel
The GR 2400 MicroPanel moves lighting control relays from a large central panel, to smaller local panels. The advantages of using distributed controls are many.
Applications include:
For more information visit www.lightingcontrols.com
---
Varidigm Introduces Variable Speed Motor Controller for Air Moving Applications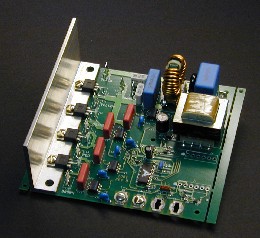 MINNEAPOLIS, MN — Varidigm Corporation has introduced the Model VSM-CA3 variable speed motor controller, used to modulate the speed of motors in Fan Coil Units, Fan Powered VAV Terminal Units, Fan Filter Units, and other air-moving devices. The VSM-CA3 controller provides modulating control of AC induction motors, in response to an analog input signal from Building Automation Systems, thermostats or other control devices. The patented Varidigm controller receives the signal, and responds by adjusting, or modulating, the fan motor speed. The VSM-CA3 is capable of modulating the fan motor to a speed just one fourth the rated maximum speed. This turn-down ratio is far greater than has historically been feasible with AC motors controlled with either three-speed or dimmer-type switches. With the VSM-CA3 controller, when a fan motor slows down, energy savings occur. This reduces the operating cost of the HVAC equipment the fan is installed in. In addition to operating cost savings, the Varidigm controller allows building owners to increase occupant comfort by dramatically reducing the draft felt by occupants, and by lowering the noise generated by the fan.
For more information visit www.varidigm.com
---
Technika New Pressure Meters

Manometers:
4 models to choose from
11 units of measure
RS232 Port

Wide Range Pressure Meter
0 ~ 725 psi
8 units of measure
RS232 Port
Optional transducers available
---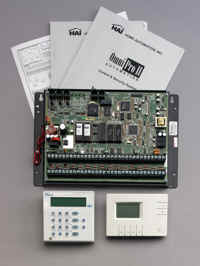 HAI Introduces Omni Family Controllers and Expander on Mounting Plates for Structured Wiring Enclosures
HAI, the leading manufacturer of integrated security and automation products since 1985, has introduced Omni Family controllers and mounting plates for installation in several structured wiring enclosures, including Leviton, OnQ, UStec, Siemon, and "open house" type enclosures.
HAI is offering the Omni II and Omni Pro II controllers on a mounting plate that fits in Leviton, OnQ, UStec, Siemon, and "open house" type enclosures. The 17A00 Expansion Enclosure is offered on the same mounting plate as the Omni II /Pro II. The OmniLT is offered on a smaller mounting plate that fits in Leviton or "open house" type enclosures. Products on mounting plates for structured wiring enclosures include manuals, accessories and wiring diagrams for the inside of the enclosure door. They also include a discreet "HAI automation inside" label for the outside of the enclosure.
For more information visit visit www.homeauto.com
---
New Products - November 2002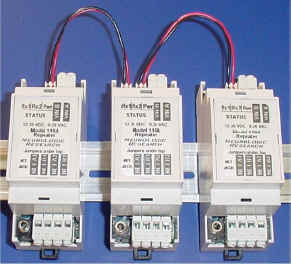 NeuroLogic Research Corporation - Model 110A
FTT-10 Multi-Segment Physical Layer Repeater
Extends wiring distance of FTT-10 LonWorksR Networks.
Up to 5 repeaters can be daisy chained together to create a multi-segment repeater of up to 10 channels. (New Feature)

Low cost alternative to routers configured as repeaters.

All wiring is to removable terminal blocks for ease of service.

Polarity insensitive AC/DC wide input voltage range.

Input power has over current and transient voltage suppression.

Termination for bus and free topology.

3.5 mm network jack for local installation tool connection

Communication and power indicators to assist in field diagnostics.

DIN Rail mount enclosure is only 36 mm (1.42") W x 90 mm (3.54") L x 58 mm (2.28") H
Each Model 110A is a two-channel physical layer repeater for FTT-10 LonWorks networks. Data received on one channel is reconditioned and re-transmitted on the other channel. Each Model 110A effectively doubles the wiring distance and the number of nodes that can be placed on the network. On-board jumpers allow each channel to be terminated independently for bus or free topology. For more information visit www.neurologic-research.com
---












American Auto-Matrix First-Of-Its-Kind Stat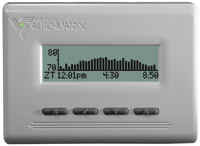 EXPORT, PA (10/18/02) - American Auto-Matrix's (AAM) SBC-STAT3TM is the only wall mountable thermostat on the market today designed to display trend data. Up to eight points can be trended, including zone/room temperature, outside air temperature, outside air humidity and even control sequences such as actuator movement. Nine hours of SAGEMAX Area Controller trend data can be shown on the SBC-STAT3's liquid crystal display (LCD) in an easy-to-read graphical format. The SBC-STAT3 will find its greatest use in commercial environments monitoring zone points for optimum comfort. It will also help facility managers maximize energy efficiency by accurately displaying trends over a set time period. The SBC-STAT3TM digital sensor contains four push-buttons used for setpoint adjustment, menu navigation and trend data viewing. The contemporary styled unit provides ergonomic operation and a two-piece design for easy mounting and use.
For more information about American Auto-Matrix - a world pioneer in building automation solutions, direct digital control (DDC) design and manufacturing - visit our website at www.aamatrix.com
---
Andover Controls LD-1: Local Display Module
Now your Continuum Facility Management System is accessible to any authorized tenant or operator to:
Arm or Disarm a Security Zone
Quickly View HVAC or Security Information
Adjust Personal Comfort Levels with just the touch of a finger!
The LD-1 has a 4-line, 16 character backlit LCD display, an audible beeper, and a 19-button ergonomically designed keypad which is backlit for easy data entry. For more details visit www.andovercontrols.com
---
Advance Mark VII® 0-10V Dimming Ballasts Available for Operation of 57-Watt and 70-Watt Compact Fluorescent Lamps
Advance Transformer Company, Rosemont, Illinois, has announced that its Mark VII® 0-10V Dimming Ballast for the operation of two 32-watt or two 42-watt Triple Compact Fluorescent Lamps will also operate one unit of the recently-introduced 57-watt or 70-watt Triple CFL. The ballast is available in two versions: Catalog Number IZT-2T42-M3-LD, with color-coded dual-entry connector and side mounting tabs, and IZT-2T42-M3-BS, with bottom mounting studs and single-entry connector.
In addition to providing significant energy saving opportunities through power consumption reductions, the decreased light levels made possible by Mark VII 0-10V ballasts can lower heat within the workplace, providing reductions in HVAC cooling requirements. The ballasts also provide the aesthetic benefits of starting lamps at low dim level, with no need to ramp up to full light output before dimming. For more information visit www.advancetransformer.com
---
---


[Click Banner To Learn More]
[Home Page] [The Automator] [About] [Subscribe ] [Contact Us]