---
Of Pitchforks and Haystacks





So now I've been an observer of this market long enough to see hype become reality — albeit with some changes to the who, when and how.

Therese Sullivan,

Principal,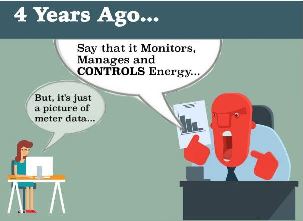 Hype is just a natural and necessary ingredient in the life cycle of any technology. So says the IT Research firm Gartner Group, and it has been producing yearly Hype Cycle curves for about 20 years. In his book Leadership B.S., Jeffrey Pfeffer, Stanford Professor, writes that the ability to hype, a.k.a. to lie, is one of the traits that makes a successful leader today. (Don't say that to the CEOs of Volkswagon or Theranos today.) Tech leaders top Pfeffer's list of examples. The 'Pitchforks' in my headline refer to the leverage some of these leaders have to pitch around investment cash to amplify their Leadership B.S. To use Gartner's terminology, the hype piles up into a "Peak of Inflated Expectations" which soon disintegrates leaving the market in a Trough of Disillusionment. But, eventually the market climbs out of that onto a Slope of Enlightenment.

The hype around commercial building operational analytics, especially energy meter data analysis, was comparatively fierce 4 to 5 years ago. In one case, I called "Leadership B.S." when asked to amend a brochure to say that an early submeter-data-based software tool could not only automate the monitoring of energy consumption, but could automate control. That just couldn't be done back then. The hooks into building management system (BMS) data were not there, and the chip-level, network-level and IT Cloud-level breakthroughs that make Building Internet of Things (B IoT) stacks possible today had not yet happened. Looking back at that day, I can say the vision was right, but the timing and ability to execute were lacking. Soon after, that company and several like it disintegrated into the Trough. The industry is at a different point today.

One takeaway lesson from that earlier experience was that, while hype-sters are often good seers and can excel in their ability to articulate a vision, they tend to lack the patience to surmount all the issues that stand in the way of realizing it. Before any software developer dealing in energy data can make claim to extending a solution to control, something needed to be done to solve the building industry's 'Tower of Babel' issue: there were too many ways to express the same thing when it comes to describing building assets, equipment behaviors, environmental conditions, etc. Project Haystack has focused industry collective action on solving this problem. Much progress has been made by this open-source organization toward the goal of semantic Haystack models and methods to support their use. Because Haystack models are self-describing, Apps developed with Haystack technology are reusable across multiple plants, buildings, and other properties. That vision of monitoring, managing and controlling energy use in a unified data-supported workflow is arriving now.

In an interview by Memoori's Jim McHale on October 21st, Haystack supporter and industry strategist Terry Casey looked over his 35+ years in building automation and control and said "The amount of change we're experiencing now is the greatest I've seen in decades." Casey's current company, Intellastar is a Haystack member and is one of a handful of companies that have new 2015 offerings based on the open stack/open framework approach. Others include KMC Controls and J2 Innovations with Easy IO. I know that more are on their way from the Haystack community. What distinguishes these platforms is that they combine best-in-class field-proven products for event monitoring, control, visualization, reporting and analytics from reputable long-time open-data industry participants. Technology from the big names in IoT — Intel, Dell, Cisco, Verizon, etc. — are tucked in. These open stacks exist in strong contrast to walled-garden solutions from some big-equipment manufacturers and lighting control start-ups.

IoT industry analyst Theo Priestly believes 6 big vendors control the outcome of the Internet Of Things. I think these and a few others are competing at various levels within the IoT stack, leaving very little opportunity for some small start-up to enter with a do-it-all-ourselves approach. Priestly also holds that open data is vital to the long-term success of the Internet of Things. I think he is right here too. Competition among titans will continue to advantage open data approaches over walled gardens.

Haystack modeling fits with this open paradigm. The companies driving the open framework sector of the commercial building automation industry are recognized as edge computing pioneers. The step of forming Project Haystack and addressing semantic modeling is one more way they are pointing the way to the IoT's future. The methodology supports fast development of powerful control Apps. They empower the users who know their buildings best to define machine rules to govern automated responses to detected conditions. And, control can be distributed; that is, some control functions can be effected by a central controller and others can happen at the edge between a microprocessor-equipped device, like a thermostat or a vent, and the sensor sending it temperature or pressure information.

So now I've been an observer of this market long enough to see hype become reality — albeit with some changes to the who, when and how. There are now platforms that do support the automated monitoring, management and control of energy efficiency and comfort in commercial buildings. But, we are still in the early stages of this Slope of Enlightenment. And, in this open source scenario, there are not pitchforks full of venture money to spend on getting the word out. So, I agree with Terry Casey of Intellastar when he said at the end of his interview, "The more we can pool and share our experiences the easier and quicker we are going to get to something even more useful." My purpose is to facilitate that.

---


[Click Banner To Learn More]
[Home Page] [The Automator] [About] [Subscribe ] [Contact Us]