---
Last week I had the pleasure of seeing one of the most impressive Digital Transformation projects I have ever seen. I was introduced to the project from SISAB here in Sweden that took 11 years from start to finish. Where the finish line was basically to be able to do whatever they want in standardized and interoperable ways. BACnet in the middle and an adamant focus on Structure, Visualization, Standards and Scalability.
20 Million Square Feet

200 000 people utilizing the facilities

Yearly maintenance costs for USD 150 Million.

A lot of assets that needed IT/OT convergence
And a lot of staggering numbers regarding improved well-being and productivity. Being able to raise the degrees in buildings but cut costs drastically regarding energy and maintenance. And most of all, being always in control of their data. And now, when they have a foundation to stand on, they can build things on top like never before.
How much time do we have?
Is this project unique? In Sweden, yes. Because here, most of the building automation projects have zero BACnet in them. The ones writing specifications for new builds don't even know that it exists. And because the level of knowledge is so low, companies that do know that it exists, hold the data hostage anyhow.
And this is a problem. Because we are not building any buildings to be better than they were a decade ago. It's almost worse because buildings are not prepared in the slightest to become smart at any stage. Where smart is the ability to innovate with buildings in an easy, interoperable way.
So how do we solve this? And how do we do it faster than what they did? Where do we copy paste on a global scale and how can we get things to happen faster?
There is a global urgency for us to make smarter decisions faster, knowing that there is no business to be done on a dead planet. But today it takes years to create value with buildings because people and systems are operating in separate realities. Artificial Intelligence could do amazing things but the lack of collaboration arenas, non-transparent systems and fractured data, makes it extremely challenging to create value at scale. Are there ways to create value in weeks instead of years? And what is the importance of competing against time?
The importance of sharing best, and worst practices
I know what I know because of people in the industry. And we need to be able to share more, and in understandable ways. Last month I talked about the Future Creation Canvas where we need to solve the skill shortage gap. And upskill existing people. And this can only happen if we share best practices with each other. And, the worst practices with each-other so that we can avoid mistakes before we make them.
But how do we share these things between existing companies? And how do we share this with the people we want into the industry?
And if we have self-learning, wireless, open and scalable systems doing the job for us. What are the tools we need, and what are the roles of people in the future?
I am working on this right now and we'll see when we have something to show. Because it's not that hard really. It's just about using the most modern tools at the right place, at the right time, and to be
aware of where the world is going in a week, a month, a year from now. And cater to the unknown.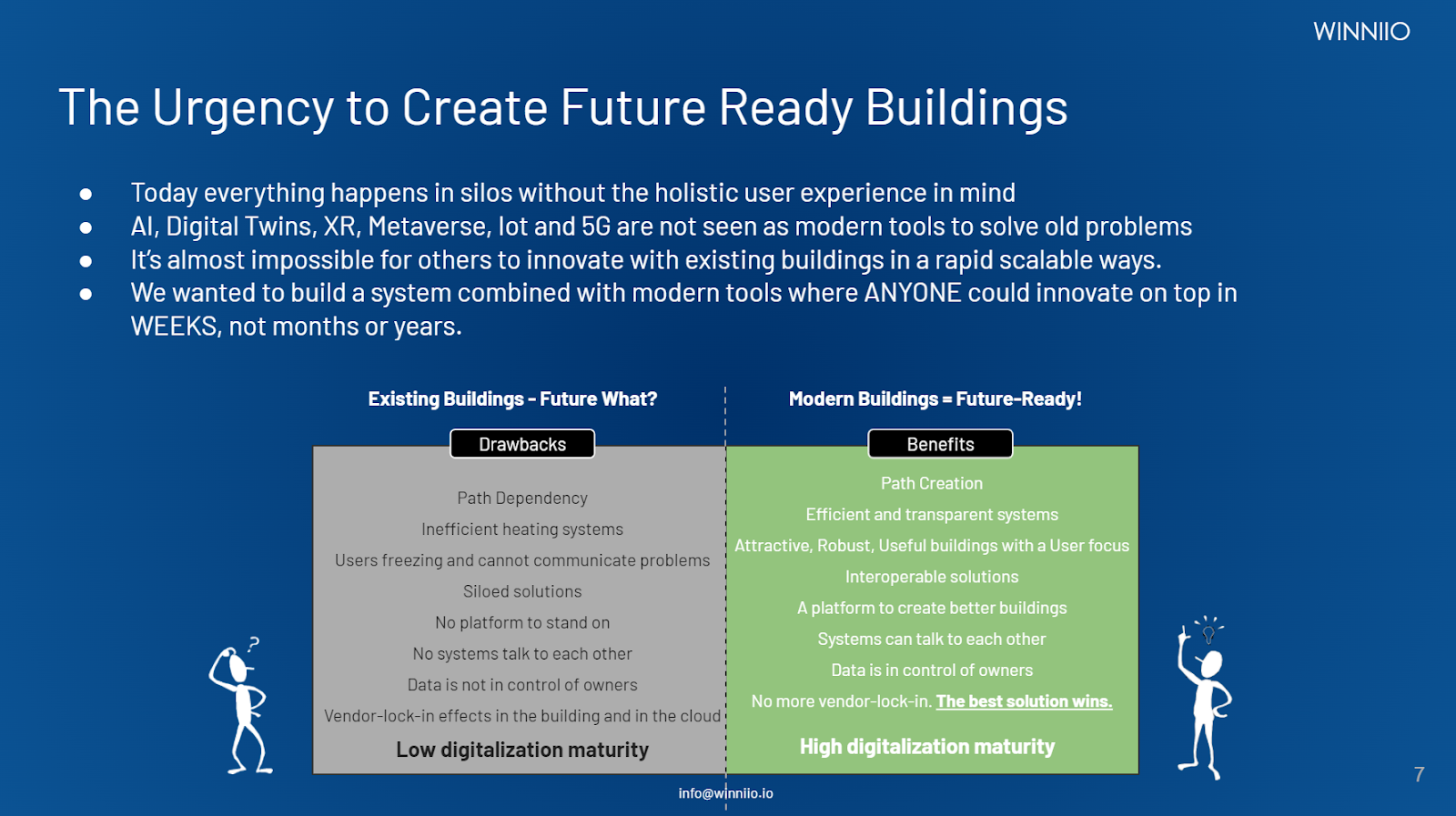 This is a slide from a Smart Heating System project that I have been managing for the last 6 months where we have created a solution that didn't exist before. True separation of hardware and software, distributed intelligence at the core, sensors and actuators, monitoring and controlling a heating system, taxonomy/ontology ready, and "all that jazz" that is needed to pass the test of time.
Conclusion
The reason why we need faster time to value creation is not only because of Mass Urbanisation, Climate Crisis, Energy Crisis, and everything else that is doom and gloom. But also because we need to eliminate wasteful practices. To get more people involved and start creating a dialogue between users of buildings and the ones whose job is to make buildings better. Not just on a local and regional scale. But on a global scale.
And this must be done with clarity in mind. Where modern tools must come in for collaboration, visualization, and not just for the "technical" side of things. The project above has been the response to this innovation tender "a Call from the Wild" that I won earlier this year. Where the aim is to come at it from the top and meet the world of BACnet Buildings and others in the middle. To truly combine ingredients from the past and present, to create future-ready buildings. And share these recipes in understandable ways with each other.
Where my sense of urgency comes from a planetary purpose. And that we need to create better buildings faster, together.
That is exactly what we discuss over at Beyond Buildings, and what I help customers with at WINNIIO Consulting.
And I invite you to join a deeper discussion about these topics at the AHR Expo 2022 in Las Vegas. So either you wait until then, or reach out to me if you want to find out what to do, and to truly leverage all that the future will offer, today!
Sincerely,
Nicolas Waern
Nicolas Waern is the CEO, Strategy & Innovation Leader, and a Digital Twin Evangelist at the consulting firm WINNIIO. He is a firm believer that the Real Estate Industry needs more of a lifecycle focus where we need to go Beyond Buildings and come back with an understanding what tools and technology we could use. And to solve the jobs to be done, together, with an open mindset.
---

[Click Banner To Learn More]
[Home Page] [The Automator] [About] [Subscribe ] [Contact Us]