---
Education the Never Ending Story





We need to take an 'Agile' approach to education and teach students what they need to know 'now' and not wait for 2 to 4 years before they can apply that knowledge.




Leo SaLemi,
Professor and Program Coordinator
Building Automation,
George Brown College
Casa Loma Campus

There's a lot of hype and speculation about the expected skills shortage we will be facing in the next 5 years. Some claim that we cannot attract enough young people and train them to keep up with the rapid changes in building automation systems let alone replacing or retraining the aging workforce. And then there are those that think the educational system is broken and doesn't address our immediate needs if it takes 2 to 4 years to churn out a graduate.

Regardless of the reason, it is highly probable that we will face a skills shortage and end up with a lot of stupid buildings filled with smart technologies if we don't do something 'now.' So the real question becomes how can we avoid repeating what happened in the early 80's and avoid a skills shortage that may impact the BAS industry? (For those that remember, the early 80's was the beginning of the TTL digital age when solid-state electronics was replacing tubes/pneumatics at an unprecedented rate, and our educational system couldn't keep up with the demand. Some will say that this is what drove the economy into a recession.)
Our educational system may not be broken, but it does need to be overhauled if we want our graduates to flourish in a world that is increasingly volatile, uncertain, complex and sometimes ambiguous. We need to take an 'Agile' approach to education and teach students what they need to know 'now' and not wait for 2 to 4 years before they can apply that knowledge.

The MEP (Mechanical, Electrical, and Plumbing) trades have taken this approach and offer their members some of the best need-to-know training programs money can buy. But these fall short if you are not a union member or your employer can't give you the time off work; nor does it solve the problem of attracting fresh recruits because most of the students are already in the field. Then there's some great 1-5 day in-class training courses offered by the larger companies or industry associations that are usually brand specific not to mention expensive, but well worth it if that's what you need to know, or lands you the job you are looking for.

And then there's the Internet and U-Tube for all the self-learners out there (like me) who want to learn at their own pace and time. Not a day goes by when I'm not downloading a PDF, e-book or watching a U-Tube clip on new or existing technologies. There's a multitude of great educational resources that cover just about any technology you can think of; some are free while others require a subscription fee and some are good while others are not. The only thing missing if you opt for these online training courses is the hands-on portion which in my opinion is a very important component of the learning process. (Some of the video series are beginning to include kits that you can purchase and practice at home.)

And finally you can always enroll in a 2-4 University or College degree/diploma program, and as some of you have already found out, this paper credential doesn't necessarily guarantee that you'll land the job you were expecting. Not to mention that finding schools that offer degree/diploma programs in Building Automation Systems are few and far apart.

Here's how we do it at George Brown College in Toronto.

Our 3 Year Building Automation program is unique in that we use an 'Agile' style approach to deliver need-to-know learning. The Curriculum Manifesto is driven by a project based platform coupled with blended learning using traditional in-class lectures and practical exercises. Our focus is to teach students to learn 'how-to-learn' so when faced with a new device not covered in class they know how to RTFM and figure it out on their own.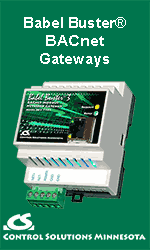 An example of how our 'Agile' approach keeps the curriculum current is demonstrated when back in April of this year Contemporary Controls released the BASpi, an add-on shield for the Raspberry Pi that is programmed using Sedona making it a great tool to teach DDC. In September (now) each of the 40 students in their final year was issued a kit consisting of a Windows10 Insignia notebook/tablet, a Raspberry Pi, a BasPi, an Arduino, an ESP8266 and an assortment of sensors. They will learn 'how-to-learn' to program with Sedona and then set up their own DDC to control real actuators, pumps, VFDs using a real-time temperature, flow, and level PID process. Most of the learning will occur using online videos where the student can learn at their own pace and the in-class time will be used for the hands-on portion and demonstrations. (Note, this course also teaches DDC using Reliable Controls)

The final year of the Building Automation program also features the Capstone Project where students design and build an industry-related project many of which are in collaboration with an industry partner or as part of the on-going research efforts at George Brown. This year some of the projects involve automating a downtown condo using smart technologies; creating a BIM to BAS Augmented Reality platform; building a smart controller for a dual fired residential furnace, and building prototypes to integrate far-field voice applications using Alexa and Google Home.

Moving forward our goal is to develop a 1-year Building Automation certificate program for students who already have a diploma/degree in other fields or are interested in moving into the BAS industry. We have the leadership to make things happen at George Brown as demonstrated by the first of its kind, the new 1-year certificate program in BlockChain Development inspired by Dr. Rick Huijbregts, GBC Vice President, Strategy and Innovation and former VP at Cisco Canada.
---
About the Author

Leo SaLemi began teaching at George Brown College (Toronto) 35 years ago when he was hired to teach Industrial Instrumentation and Controls to address the skill shortages of the early 80's. Today he teaches and coordinates the 3 year Electromechanical Technology – Building Automation and will be the first to admit that the curriculum created when the program was first launched in 2013 had next to nothing on IoT, Raspberry Pi, MQTT, Sedona, AI or Cloud Computing simply because it did not exist at the time or were not mainstream yet. And now things like Edge Analytics, Far Field Voice, BIM FM and Emotional Buildings are making their way to into the Building Automation sectors so we need to move fast and keep pace with these changes which becomes a challenge when it can take 2 or more years to implement a change in the curriculum or add a new course.
"I can't say this too loud so I will whisper it, the educational system may not be broken, but it does need to be overhauled." – Leo SaLemi

---

[Click Banner To Learn More]
[Home Page] [The Automator] [About] [Subscribe ] [Contact Us]