---
Honeywell announces DVM R600

Honeywell (NYSE:HON) today announced enhancements to Honeywell Digital Video Manager (DVM). The latest release, DVM R600, will enable organizations to more efficiently manage their security system with enhanced mobile capabilities and voice command, and mitigate business risk via support for current IT platforms.
Major updates to DVM include enhanced system access and usability, which are designed to improve operator efficiency and reaction time. Security personnel now can access high-definition, full-frame-rate video on a mobile device, for example, enabling continuous monitoring from almost any location. Operators can also control DVM using voice commands to more easily manage multiple video feeds and request near-real-time system updates.
Along with an improved user experience, DVM R600 promotes IT integration and compliance with support for current Microsoft operating systems and databases, including Windows Server 2012, Windows 8.1, Internet Explorer 11 and SQL Server 2014. (Windows Server 2003 is not recommended because security systems running on the platform could be vulnerable to breaches since it's no longer supported by Microsoft, as reported, and will not receive further updates.) In addition, DVM R600 allows customers to deploy and intelligently group multiple back-up servers to boost system robustness, which helps protect surveillance systems from failures.
Other DVM upgrades focus on:
Speeding data collection — Security operators can export footage from multiple camera feeds in unison to streamline incident response and workflow, and quickly collect and archive forensic data in the event of an incident.
Reducing storage requirements — Dynamic recording enables the system to capture critical video under higher frame rates, while collecting less important footage at lower frame rates, trimming storage requirements and costs up to 40 percent.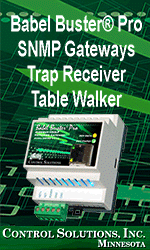 DVM is a component of Honeywell Enterprise Buildings Integrator (EBI), an award-winning building management system that ties all aspects of a security solution together, including video surveillance, access control and intrusion detection. EBI also integrates comfort, life safety, energy and other core facility controls providing users a single point of access to the essential information and resources needed to monitor, manage and protect a facility, campus or multi-site operation. As a result, security operators have optimized visibility and intelligence, and the ability to deploy their staff and resources more efficiently and effectively.

For more information, visit buildingsolutions.honeywell.com


---


[Click Banner To Learn More]
[Home Page] [The Automator] [About] [Subscribe ] [Contact Us]