---

BACnet International Education Sessions at AHR Expo 2011


Free of charge and will be held on Tuesday, February 1, 2011 in room N103.
8:00 am BACnet 101
Description: Session covers BACnet basics including the history, and benefits in utilizing BACnet for OpenSystem integration and interoperability with building specific features and tools to simplify implementation.
Speaker: Mark Jones, BACnet Member; Roy Kolasa, Open Systems Integration Manager, Honeywell
9:30 am BACnet/Z: The First Complete Standard For Wireless Automation
Description: Session covers wireless technology applied to leverage BACnet communications and reduce installation costs in new and retrofit installations.
Speaker: Jay Hendrix, Product Line Manager, Room Automation Controls, Siemens Industry, Inc.; Jim Kohl, Senior Product Manager, Trane; Chris Hollinger, Senior Product Manager, Integrated Systems, Siemens Building Technologies, Inc.
11:00 am BACnet Puts the "M" in EMS
Description: The Energy Management System (EMS) label is being applied to all kinds of energy-related applications, from monitoring systems to optimization software to sensor networks. Real EMS, though, requires information, Intelligence and the ability to influence. This session will describe how cost-effectively bringing these "three I's" together is a key part of BACnet's value proposition.
Speaker: Andy McMillan, President, BACnet International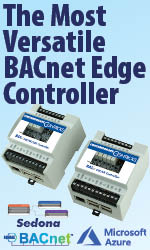 1:30 pm BACnet to the Rescue: Interoperability Saves a Troubled LEED Project
Description: The Banner Bank building in Boise ID was one of the world's first LEED Platinum facilities. The 11 story building was designed to showcase green building design concepts, but there was one problem. The controls system didn't live up to the design. Plagued by contract and installation problems, the original controls contractor walked off the job. Fortunately the installed controls were BACnet so a different contractor was able to take over the project, integrate the controls using a front end made by a different vendor, and make the building perform the way it was designed.
Speaker: Steve Tom, PE, PhD, Director of Technical Information, Automated Logic Corp.
3:30 pm Energy Standards and Energy Efficiency with BACnet
Description: As the demand for more energy-efficient buildings has grown, the number of ways for achieving more energy-efficient buildings, and saving money, using their building automation systems have also grown. Many successful strategies have been incorporated into ASHRAE and LEED standards and guidelines. This session will look at the various strategies presented in these standards and guidelines, and how they have been successful in the real world.
Speaker: Bill Swan, LEED AP, Buildings Standards Initiatives Leader, Alerton

For more information visit
BACnet International
Visit BACnet International in booth N5056 at AHR Expo 2011
Twelve Member Kiosks
Fourteen Member Product Showcases
Interoperability Display

Make BACnet International the Cornerstone of Your Success
---


[Click Banner To Learn More]
[Home Page] [The Automator] [About] [Subscribe ] [Contact Us]