---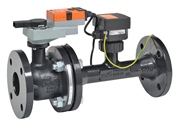 Belimo - New Electronic Pressure Independent Valve (ePIV) with Electronic Flow Control

Danbury, Connecticut - Belimo Americas, the leading producer of electronic valves and air damper actuators, introduces a new Electronic Pressure Independent Valve (ePIV). The ePIV a two-way valve directly measuring flow by combining a magnetic flow meter and a 2-way control valve offering control, balance and shut-off. The actuator modulates the control valve to maintain flow regardless of pressure variations. Flow reading is reported back to the controller. The ePIV is designed for building automation systems to perform control and energy strategies. The product range currently consists of 2 ½" and 3" valve sizes and will expand in December to 4", 5" and 6".

For more information visit http://www.belimo.com


---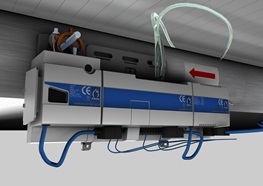 Priva Comforte CX VAV Controller

Intelligent controller for efficient management of air flow

The Priva Comforte CX VAV Controller is an expansion of the Comforte CX line and is an intelligent solution for controlling air flow. In addition, it is possible to integrate electronic systems, such as lighting and sun blinds. This makes the Priva Comforte CX VAV controller ideal for, among other things, classrooms, offices, hospitals and studios.

For more information visit http://priva.nl/smartsite.dws?setMarkt=2&setArea=-1&id=17724




---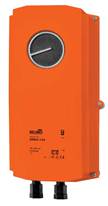 Belimo - New NEMA 4 Housing for AFB and NFB Damper Actuators


Belimo developed unique NEMA 4 housing that incorporates its damper actuator product lines. The design combined with extensive independent testing provides complete, unmatched protection in extreme environments. Weather-tight for the harshest indoor and outdoor conditions UV protected housing will resist cracking and discoloration. Independently tested and listed by North American and European agencies. Ideal for extreme conditions NEMA 4 actuators are weather tight and UV resistant under the harshest conditions including rooftop applications, wood drying kilns, agriculture and food industries. The housing provides some internal space for customer installed components such as a relay or controller. For high humidity or low temperature (-40°F) applications.

For more information visit www.belimo.us



---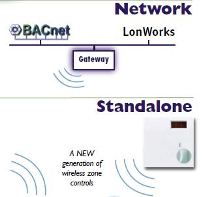 Spartan Peripheral Devices -

ME8300 Wireless Actuator



The ME8300 family of wireless control valve actuators is designed for 2 way communication with other devices based on the EnOcean protocol.

Now based on the new TCM320(C) Dolphin Chipset from EnOcean an easy integration allowed Spartan Peripheral Devices to introduce a standardized 2 way communicating actuator. Two way communication and integration into a BACnet/LON gateway, supporting multiple devices wireless and wired, is now possible. Being a modulating unit it can be precisely positioned to flow requirement. This 2 way communication allows carrying extra information to a controller (feedback). Position feedback of the actuator confirms the functionality of the actuator, dual temperature feedback is also available. Temperature sensor can be used to monitor room or media temperature all in the same single actuator, without using an extra point on your controller. Feedback returned to the BAS system gives you extra control without extra cost.

For more information visit www.spartan-pd.com


---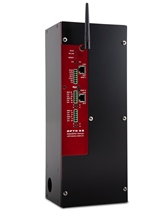 New Opto 22 Energy Monitoring Appliance Helps Customers Track and Reduce Energy Consumption

OptoEMU Sensor Combines Energy Monitoring and Data Integration to Business Systems

Opto 22 has introduced the OptoEMU Sensor(tm)-the first component of Opto 22's packaged, networkable OptoEMU(tm) system-which lets small- to medium-sized commercial and industrial customers gather energy consumption data from their facilities' electrical panels, metering devices, and other equipment. The OptoEMU Sensor also provides easy-to-implement communications interfaces and data integration capabilities to instantly deliver the acquired energy data to enterprise business systems so it can be viewed, archived, and used to develop effective energy management strategies that reduce costs. Designed for maintenance engineers, plant managers, business owners, energy consultants, and others looking for ways to better understand and reduce their facility's energy consumption, the OptoEMU system comprises two powerful hardware components-the OptoEMU Sensor and the upcoming OptoEMU Server.

For more information visit www.opto22.com.




---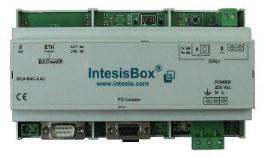 IntesisBox® BACnet - DALI gateway

Intesis Software introduces IntesisBox® BACnet - DALI gateway. This is a DALI master device controlling up to 64 DALI ballasts connected to a DALI bus. Powered at 230Vac (130Vac on demand) it supplies the necessary power for the DALI Bus, avoiding this way the need of additional DALI power supply. It is also a BACnet/IP Server device, so BACnet client devices connected to the BACnet network can read IntesisBox's internal datapoints by continuous polling or by means of BACnet subscription requests (COV), providing a simple and efficient way of monitoring and controlling DALI ballasts from BACnet using standard BACnet objects, all read/writes from BACnet are made by present_value property making it widely compatible with all kind of BACnet systems.

For more information visit http://www.intesis.com



---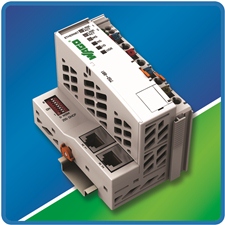 WAGO "ETHERNET 2.0" Programmable Fieldbus Controller

WAGO Corporation's high-speed 750-881 "ETHERNET 2.0" Programmable Fieldbus Controller processes 1000 instructions/235 μS. The first from WAGO's upcoming "ETHERNET 2.0" line, 750-881 provides significant amounts of memory for PLC programs and Web applications, as well as an integrated dual-port Ethernet Switch. To keep pace, independent Ethernet ports respond in 1ms, transmitting real-time information to production and enterprise management. The 750-881 PFC interfaces with standard network protocols, including unique support for both EtherNet I/P and MODBUS TCP. The Ethernet switch streamlines costs and system footprint by facilitating a line topology for fieldbus wiring, eliminating additional switches and hubs. An onboard DIP switch configures the last octet of IP address/assignment, expediting commissioning.

For additional information, visit www.wago.us





---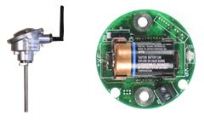 Wireless Sensors announced the release of its new "hockey puck" style PT 100 RTD transmitter.

The new product extends the company's industry leading Generation II family of wireless sensors based on low power mesh networking sensor technology. The new model SB-PT-100 is designed to fit in instrument enclosures designed for conventional wired transmitters combining the advantages of wireless with standardized designs. This philosophy builds upon the company's belief in standards demonstrated by the adherence to the IEEE 802.15.4 radio standard utilized for the company's core communication technology. The model SB-PT100 will accept any PT 100 RTD as its sensor input allowing customers to choose best in class components for their measurement systems or Wireless Sensors can provide sensor, housing and transmitter as a complete package for single source simplicity.

For more information visit www.wirelesssensors.com


---
Smart Homes: New ColorTouch Thermostat From Venstar Helps Users Monitor and Reduce Energy Usage
ColorTouch Digital Thermostat Is Multi-functional and Simple to Use

CHATSWORTH, Calif., November 2, 2010 — It's not just phones and buildings that are getting smarter — the new ColorTouch thermostat offers a fully digital experience that helps users monitor and reduce their energy usage. Venstar®, a leading thermostat and energy management systems supplier, announced the launch of ColorTouch™, the multi-functional, simple-to-use, richly featured, programmable touchscreen thermostat. ColorTouch has customizable backgrounds, including the users' own photos, and helps users monitor and manage their energy usage. Compatible with virtually every type of heating and air conditioning system, ColorTouch is available now through Venstar distributors and contractors nationwide.

For more information, visit: http://www.venstar.com/Thermostats/ColorTouch


---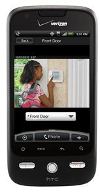 Honeywell Releases Total Connect App for Android Smartphone
Honeywell released a new Android compatible app for its popular Total Connect services. This app provides lifestyle-enhancing Total Connect features to the growing number of Android users—letting them view streaming video of their homes and businesses on their smartphones as well as control their security systems from any location.

Total Connect is Honeywell's award-winning service that gives consumers access to their Honeywell security systems or Total Connect video systems from anywhere, anytime. Using PCs, laptops, mobile phones and smartphones, Total Connect customers can arm and disarm their systems, receive e-mail alerts when an alarm trips, and access video from inside and around the premises. In addition to Android, Honeywell provides Total Connect apps for the iPhone® and BlackBerry®. The new Android app is available for free download at Android Market.

For more information about Total Connect Remote Services, please visit www.mytotalconnect.com
---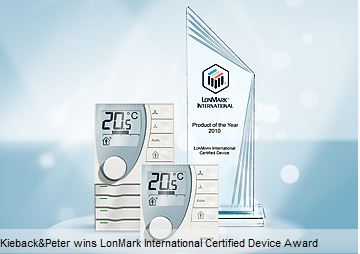 Kieback & Peter wns LonMark Internationl Certified Device Award




The RBW3xx-L room control module belongs to the technolon® product family. This includes transducers, room control units (room control modules), room controller, control valves, etc. for building automation.

The RBW room control module is the first LON-based operating unit with its own integrated weekly program. It scores with its user friendliness and a sleek, ergonomic design.

The control unit supports the room controller with intelligent energy-saving functions on the basis of the VDI guideline 3813. The combination of intelligent room controller and the high control quality of the control valves also ensures energy efficiency and comfort.

For more information visit http://www.kieback-peter.de/




---
LG Offers the SuperSign Solution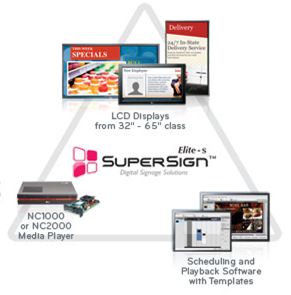 LG offers the SuperSign™ solution designed for small businesses seeking a modern and differentiated approach to connect with their customers and to promote their goods and services. SuperSign is a simple digital signage solution that is affordable and easy to use.

Whether you're looking for a simple all-in-one turn-key solution, or prefer to put the pieces and parts together yourself, SuperSign gives you the option.



For more information visit http://www.lgsolutions.com/lgmakesitsimple/supersign-elite-s
















---
---

[Click Banner To Learn More]
[Home Page] [The Automator] [About] [Subscribe ] [Contact Us]