---

Tridium to Show Portfolio of Frameworks, Building Automation and Energy Management Solutions at 2011 AHR Expo - Booth #4756


RICHMOND, VIRGINIA-January 10, 2011--Tridium will be featuring the company's latest automation and device to enterprise technology that are creating today's intelligent buildings---ones that are smarter, use less energy, are more efficient, have lower operating costs, are safer and contribute to a sustainable environment at the 2011 AHR Expo in Las Vegas, January 31-February 2. The company will be located at Booth # 4756.
On the development front, the company will be showing its latest in open development software Frameworks that empower manufacturers to develop intelligent equipment, systems and smart devices and extend connectivity and integration to the millions of devices deployed in the market today.


In addition to previewing the upcoming release of NiagaraAX 3.6 (scheduled for release at the end of Q1, 2011), the company will also be demonstrating the latest in the Sedona Framework, a smart communication platform that makes it easy to build smart network-connected devices.


On the hardware side, Tridium will have several new additions to its portfolio of intelligent building controllers and components including the new JACE NXT, a Windows-based, fully configurable, high performance controller configured with the full functions of the Niagara Framework®. This unit is perfect for large facilities, multi-building facilities and large-scale control system integrations and supports multiple applications, including building automation, security, video, lighting control and power management, on the same platform. A new Z-Wave Driver and Option Card will also be on display.


In addition, Tridium will be unveiling a new Sedona Wireless Survey Kit. This Kit allows System Integrators to survey the RF environment in order to plan for future system installations. The Kit includes:


• A collection of 4 end-node devices as well as 2 RF routers
• A pre-built application hosted from a JACE that captures long term information about the RF environment. Analysis results are provided to the user through a graphical web-based interface for their review.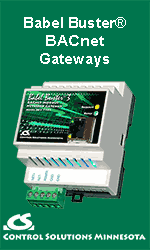 On the energy front, Tridium will be demonstrating the soon-to-be-released Energy Metering Application. The Energy Metering Application allows integrators and contractors to easily connect a JACE controller to electrical, energy, and flow meters. The data collected can be used to generate histories and alarms, and the information can be sent to other Niagara devices including JACEs, Supervisors or third party applications using the oBIX interface. Also, the company will have a new OpenADR Simple Client driver for Niagara - designed to absorb event information from Akuacom's DRAS (Demand Response Automation Server) that provides users with the ability to design their own load shedding strategies in response to a demand response event.


About Tridium Inc.
Tridium is the global leader in open platforms, application software frameworks, automation infrastructure technology, energy management and device-to-enterprise integration solutions. Our technologies extend connectivity, integration and interoperability to the millions of devices deployed in the market today and empowers manufacturers to develop intelligent equipment systems and smart devices that enable collaboration and communication between the enterprise and edge assets.


The Niagara Framework® is a software platform that integrates diverse systems and devices regardless of manufacturer, or communication protocol into a unified platform that can be easily managed and controlled in real time over the Internet using a standard web browser. By integrating today's diverse building systems such as environmental controls, security, lighting, energy, video, fire and life safety, Niagara is creating better buildings---ones that are smarter, use less energy, are more efficient, have lower operating costs, are safer and contribute to a sustainable environment. Today, there are over 228,000 instances of the Niagara Framework operating in 50 countries.
The Sedona Framework™ is the industry's first, open source development framework that provides a complete software platform for developing, deploying, integrating, and managing pervasive device applications at the lowest level. It brings the power of programmable control and the Internet down to extremely inexpensive devices. Sedona distributes decision making control and manageability to any device and brings intelligence and connectivity to the network edge and back.


The company is an independent business entity of Honeywell International Inc.


Additional information about Tridium is available at www.tridium.com.


---


[Click Banner To Learn More]
[Home Page] [The Automator] [About] [Subscribe ] [Contact Us]