---
Barix IP Control Solutions Enhance Village Worker Building Management Systems

Cost-reducing, highly flexible Barionet solutions automate data collection, environmental monitoring, access control and more for commercial and residential spaces

ZURICH/MINNEAPOLIS, January 8, 2015 — Village Worker, a design and integration firm specializing in efficient building management, is helping commercial and residential customers significantly reduce utility costs through Barix IP control and automation solutions. Village Worker customizes building management systems for each end user, employing automatic, real-time networked solutions to eliminate inefficient, manual environmental monitoring processes.

Using Barix Barionet IP solutions, Village Worker builds end-to-end control and automation architectures that trigger actions based on data readings from a variety of connected devices. Specifically, Village Worker takes advantage of the Barionet's ability to network a wide range of sensors to monitor temperatures, water usage and occupancy, helping end users make informed decisions.

"The Barionet is the core solution between the equipment we are controlling and the instruments generating signals to understand building environments," said Lali Singh, president, Village Worker. "Our customers save money and effort by having an automated, IP-enabled solution to monitor temperature and humidity levels, detect water leaks and enable access integration. The Barionet gives us an open-source solution to collect and analyze data, interface with a multitude of systems and trigger actions based on setpoints that keep buildings running efficiently."

Village Worker relies on the Barionet's BCL programming language from Barix for flexibility, providing the freedom to design building management systems that uniquely suit each environment. For example, Village Worker often integrates Barionet with water flow meters to monitor usage with every pulse, helping businesses and homeowners understand how they can reduce waste and save money.

On the commercial side, Village Worker often customizes pool instrumentation solutions for hotels and resorts, integrating the Barionet with Dectron Dry-O-Tron pool systems to monitor water and air temperature, water flow, power fluctuations, compressor pressure and alarm contacts. According to Singh, the Barionet has been as useful for solving problems at the commissioning stage as it is for ongoing reliability across alarming, trending and data collection and charting.

"We recently used the Barionet at a resort in Santa Fe to install temperature sensors at the incoming and outgoing water flow points of a large swimming pool, for the purpose of understanding the efficiency of Airtherm fan coils based as temperatures rise," said Singh. "We found that the plumbing was reversed at the water flow points, making the temperature on the output lower than the incoming water temperature. Having the Barionet to collect data and diagnose that problem during commissioning saved years of troubleshooting around why a certain zone wasn't cooling. The client was very pleased as it saved the business a lot of time, money and headaches."

In another recent project at the same Santa Fe resort, Village Worker used the Barionet to collect data and chart progress to support a large Airtherm geothermal system. The solution uses 12 Barionet devices to monitor hot and cold water coming from the main heat exchanger for circulation through the building. The Barionets communicate with all connected thermostats over IP, controlling fans and calling back to the main Airtherm system to open and close zones based on setpoints.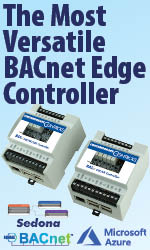 Village Worker is additionally innovating access control solutions with Barionet at the core, such as a recent gate access and window control system installed at a Santa Fe residence. The general design integrates Barionet devices with Mobotix door stations, Door King access code panels and a custom iOS mobile app. Actions ranging from a doorbell ring to entering an access code on a keypad are delivered to the Barionet, which controls gates access via built-in relay and contact closures. The end user can simultaneously access the readings on an iPhone or iPad. These Barionet-driven IP control and automation solutions simply scratch the surface, according to Singh, who calls the possibilities endless.

Barix: We Move Audio (www.barix.com)
Barix supplies simple and reliable solutions and components to systems integrators and end users worldwide. We move high-quality audio across IP networks, adding value to customer solutions for more than a decade with hundreds of thousands of devices installed worldwide. Background music distribution with dynamic advertising insertion for retail shops, bars and hotels; public address solutions for schools and public spaces; and intercom and entry systems for facility surveillance, protection and security are among the many applications of Barix solutions. Barix also supports OEM projects for a number of Global 500 listed companies serving many industries worldwide.


---


[Click Banner To Learn More]
[Home Page] [The Automator] [About] [Subscribe ] [Contact Us]