---
ASHRAE's First-Ever Virtual Conference Is Proving to Be a Success

ATLANTA (July 3, 2020) – With an initial 2,505 registered participants, accessing 92 technical sessions, live forums with speakers, leadership updates and networking events, the 2020 ASHRAE Virtual Conference is proving to be a huge success.

The 2020 ASHRAE Virtual Conference includes an on-demand program which started on June 22 and provides participants with access 18-month access to 80+ pre-recorded technical sessions, including 200+ presentations. The four-day live virtual event took place from June 29 thru July 2 and featured technical sessions addressing the latest information relating to the COVID-19 pandemic, along with other industry related topics. Committee members also participated in meetings of technical, standards and standing committees, developing guidance for the future of the industry and ASHRAE.

"We are very pleased with what turned out to be a seamless shift from our in-person annual conference to a virtual format," 2020-21 ASHRAE President Charles E. Gulledge III, P.E. "The feedback we're receiving from attendees is very positive, as our Society continues to lead the industry towards a healthy and sustainable built environment for all, by providing solutions to current engineering challenges."

Day one of the live event included a farewell message and a State of the Society address from 2019-20 ASHRAE President Darryl K. Boyce, P.Eng. Interaction and participant engagement remained high throughout the day, with technical sessions on off-site construction, grid-interactive efficient buildings and sustainable development opportunities in the wake of the COVID-19 crisis.

On day two of the live event, during his Secretary's Report, Executive Vice President Jeff Littleton reported record participation in ASHRAE's eLearning training, increased volunteer involvement and updates on ASHRAE's new Global Headquarters.

"I'm happy to report that the renovation of your new Society headquarters building is on schedule for substantial completion at the end of August and relocation in September," said Littleton. "Industry support for ASHRAE's new HQ building has been fantastic. In total, $10.5 million has been donated -- $6.5 million in cash and pledges, and another $4 million in in-kind equipment and services. Thank you to all of the companies and individuals that have supported the Society's new HQ building."

Retiring board members were honored for their service on day three and technical sessions continue to explore how building and energy systems interact and respond to climate change challenges. The 2020-21 board and officers were also introduced.

On the final day of the conference, President Gulledge gave his address on the Society theme for the coming year, The ASHRAE Digital Lighthouse and Industry 4.0.

"Digital transformation is not simply associated with adopting new technical solutions. Knowledge needs to be captured and linked in such a way that ALL relevant stakeholders' benefit," said Gulledge. "Doing so requires understanding of how to collect, store and analyze data, so that it is insightful and actionable. ASHRAE will lead the industry in becoming a part of the digital transformation that will guide the building industry into the next decade and beyond."

His presidential address manuscript, presentation and video can be found at ashrae.org/president.

All technical sessions are now available on-demand to registrants for the next 18 months. Registration for the 2020 ASHRAE Virtual Conference remains open for both individuals and groups at ashrae.org/2020virtual.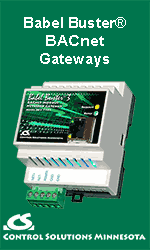 The 2021 ASHRAE Winter Conference and AHR Expo is scheduled to take place January 23-27, 2021 in Chicago.

About ASHRAE
Founded in 1894, ASHRAE is a global professional society committed to serve humanity by advancing the arts and sciences of heating ventilation, air conditioning, refrigeration and their allied fields.

As an industry leader in research, standards writing, publishing, certification and continuing education, ASHRAE and its members are dedicated to promoting a healthy and sustainable built environment for all, through strategic partnerships with organizations in the HVAC&R community and across related industries.

ASHRAE is celebrating 125 years of shaping the built environment. Become a member of ASHRAE by visiting ashrae.org/join.

For more information and to stay up-to-date on ASHRAE, visit ashrae.org and connect on LinkedIn, Facebook, Twitter and YouTube.

---

[Click Banner To Learn More]
[Home Page] [The Automator] [About] [Subscribe ] [Contact Us]