---
enVerid Systems Receives Frost & Sullivan's 2015 Technology Innovation Award for its Energy-Saving HVAC Load-Reduction Technology
HLR™ System Recognized for its Ingenuity in Significantly Reducing HVAC Energy Consumption

BOSTON, March 10, 2015 – enVerid Systems, developer of a proven, game-changing system to significantly reduce HVAC energy consumption, earned Frost & Sullivan's 2015 North American HVAC Technology Innovation Award for its HVAC Load Reduction (HLR) solution. Frost & Sullivan recognized enVerid's HLR system for its ability to deliver substantial energy savings by innovatively solving a major cause of HVAC energy waste in commercial buildings.

"enVerid's ingenuity in minimizing the HVAC system's outside air intake by cleaning and recirculating indoor air has produced a solution that dramatically reduces HVAC energy consumption," said Jennifer Tan, Frost & Sullivan analyst. "This technology offers building owners and managers a smart, practical solution to save energy, and provides the HVAC industry with a breakthrough capability to achieve new levels of energy efficiency."

One of the leading causes of HVAC energy waste in commercial buildings is replacing indoor air with outside air in order to maintain air quality that meets regulatory standards—an inefficient process that happens up to 20 times a day. enVerid's HLR system incorporates patented "intelligent scrubbers" that directly remove all molecular contaminants from indoor air, including CO2 and VOCs, reducing the need for costly air replacement and delivering double-digit energy savings.

"We're honored to receive this recognition from Frost & Sullivan, as it underscores the tremendous energy-saving capability of our technology that can be readily used in both existing HVAC systems and new construction," said Udi Meirav, CEO of enVerid Systems. "Our HLR solution is currently delivering substantial, measurable energy savings at commercial sites worldwide, and we hope this award will help accelerate market awareness and adoption."
About Frost & Sullivan's Awards
Frost & Sullivan's Best Practices Awards are presented each year to companies that are predicted to encourage significant growth in their industries, have identified emerging trends before they became the standard in the marketplace, and have created advanced technologies that will catalyze and transform industries in the near future. The awards recognize companies in a variety of regional and global markets for outstanding achievement in areas such as leadership, technological innovation, customer service, and product development. Industry analysts compare market participants and measure performance through in-depth interviews, analysis, and extensive secondary research.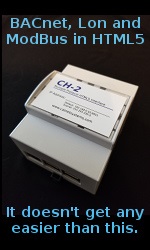 About enVerid Systems
enVerid Systems offers a proven, game-changing technology that significantly lowers HVAC energy consumption, delivering double-digit cost savings while maintaining air quality. enVerid's HVAC Load Reduction (HLR™) modules are "intelligent scrubbers" that remove all molecular contaminants from indoor air including CO2 and VOCs, thereby reducing the amount of outside air required to maintain indoor air quality. HLR modules can be easily retrofitted to any existing commercial building or incorporated in new construction. The HLR's innovation and massive energy saving potential have been recognized by the U.S. Department of Energy, the U.S. Green Building Council, trade groups and industry analysts.
For more, please visit www.enverid.com.



---


[Click Banner To Learn More]
[Home Page] [The Automator] [About] [Subscribe ] [Contact Us]