---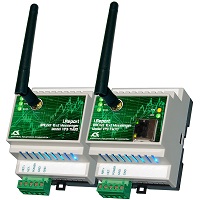 Control Solutions Minnesota Introduces i.Report Text Messenger

The i.Report Text Messenger is a self-contained remote monitoring and alarm notification system that monitors data points in one or more Modbus or BACnet devices and alerts you and others via SMS when an event has been detected that somebody should know about. The i.Report Text Messenger offers simple yet powerful remote monitoring without the need for a monitoring service. You get text messages sent directly to your mobile phone.

A single i.Report can monitor up to 100 data points from a single device or from multiple devices on the network. An event can be a level exceeding a threshold high or low, a change in state, change in value, or deviation from a setpoint. The notification message consists of whatever text you provide, optionally including template variables. These "variables" are replaced with dynamic data, such as present value, at the time the message is sent to a user's mobile phone.
Models are available for BACnet MS/TP or IP, and Modbus RTU or TCP; compatible with 4G LTE cellular networks. For more information, visit https://csimn.com/CSI_pages/RemoteMonitoring.html.


---
Belimo Releases a Hydronic Simulator Tool to Help Educate on the Importance of Valves in Dynamic Systems
Danbury, CT, January 14, 2019 – Belimo Americas releases a new educational tool. The Belimo Hydronic Simulator™ is a tool that simulates a hydronic system in a 4-story building with five terminal units on each floor. All terminal units, branches, and the raiser have a manual balancing valve that allows adjusting based on the valve opening. The Simulator identifies and illustrates when the system needs to be balanced and how the adjusting of the valve could impact the entire system. The main purpose of Belimo Hydronic Simulator is to educate on the importance of why pressure dependent valves are not recommended in a dynamic system.

Rodrigo states, "I wanted to show an easy way for individuals to fully see and understand how a hydronic system works and what happens when a valve is adjusted to a different position other than the initial setting or when partial loads are required in a system. This occurrence happens all the time in variable flow systems which results in energy loss and poor system performance."
The tool was developed by Rodrigo Marques de Sá, Product Manager for Belimo Pressure Independent Valves and is available online at www.belimo.us.
---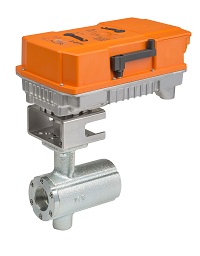 New Ball Valve Assemblies Offering Advanced Technology
Danbury, CT, January 14, 2019 –Belimo Americas is releasing new ball valve assemblies with fail-safe and non-fail-safe actuators (PKR and PR series) second quarter 2019. These technologically advanced assemblies offer energy efficiency, easy installation, application flexibility, longevity, and reliability for aggressive applications. The modulating, Multi-Function Technology (MFT) actuator models can be field customized to match the needs of the application. When the application requires a particular control, feedback signal, or running time (30-120 sec), MFT is the answer.
• Near Field Communication (NFC) for fast programming, commissioning, and troubleshooting
• BACnet communication provides useful data for advanced BMS control sequences
• Saves energy with less power consumption than currently available solutions
• Zero leakage rating improves system performance with self-adjusting end stop design
• Application flexibility with universal power supply input from 24 to 240 VAC
Visit the website at www.belimo.us for more information.



---
We are trying to solve some of the challenges of connecting Wireless Sensors with existing BAS/BMS systems. BACnet/Mesh, which we are calling it for now, is exactly what it sounds.

It's a mesh technology sensor network, that pops up as virtual BACnet devises without any configuration work. No routing tables, no integration between the two worlds, just something that has the power and simplicity to talk BACnet out of the box. I'd love to get input and if this would be something that would help you out.


---
Anka Labs

We are almost done wiring up SixFab IoT device to project Sandstar. You can purchase IoT hat from us bundled with raspberry pie and 20 ankalytik points. @SixfabIoT contains Lux, GPS, Mobile connectivity, Temp, Humidity, Accelaration, 2 DI and 1 DO. Great for IoT apps.
For more information visit https://twitter.com/SixfabIoT
---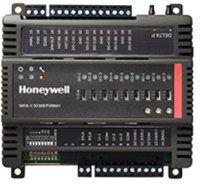 Contemporary Controls News: Great Advice for Maximizing the New Honeywell CIPer 30 and the JACE

The newly announced CIPer™ Model 30 Controller from Honeywell offers many features, but BACnet MS/TP device control is presently unavailable. At the recent Momentum conference, during the session on new controllers, the Honeywell presenter suggested that the Contemporary Controls BASrouter should be used by customers seeking this functionality with the CIPer 30.

The BASrouter (BASRT-B) is a BTL Listed compact BACnet multi-network router, which provides versatile stand-alone routing between BACnet/IP, BACnet Ethernet, and BACnet MS/TP networks. Installing and operating the DIN-rail mounted BASrouter is simple and straightforward. Once the BASrouter is properly installed and configured, all the MS/TP devices can be accessible from BACnet/IP.
Visit the BASrouter product page to learn more.
---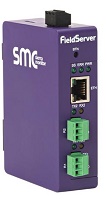 Sierra Monitor Corp. Product: FieldServer

Packaged in a smaller box, the new design connects devices using less DIN rail space. It allows four interoperability functions that can be installed in one device. These functions include translating protocols, routing protocols from one device to another, exploring BACnet networks, and pushing data to the Sierra Monitor Corp. cloud. The product features 140-plus multi-protocol versatility for diverse integration with automation projects. The dual-port BACnet router has two RS-485 ports, enabling connection to up to 64 BACnet devices without the use of additional line drivers. This product also features DeviceFind™, a discovery feature that allows the integrator to discover all the BACnet devices connected to the router with one push of a button, minimizing time required for successful commissioning. Complementing this feature is the diagnostic FieldServer Toolbox, which allows the user or integrator to view the status of and diagnose all the routers on the network.

For more information visit http://www.sierramonitor.com

---
Intesis New Products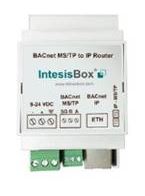 Multiprotocol GATEWAYS
New BACnet MS/TP to BACnet IP router - The IntesisBox router has been specially designed to allow bidirectional control and monitoring of all parameters and functionalities of BACnet MS/TP devices from a BACnet BMS, SCADA, PLC or any other device working as a BACnet Client. Therefore, our device works as a BACnet Server at one side and as a BACnet Client / Master on the other side.
LonWorks to BACnet gateway IBOX-BAC-LON - The IntesisBox gateway has been specially designed to allow bidirectional control and monitoring of all parameters and functionalities of LonWorks devices/network from a BACnet BMS, SCADA, PLC or any other device working as a BACnet IP or MS/TP Client. Thereforeour device works as a BACnet Server at one side and as a LonWorks FT- 10 device on the other side.
For more information visit https://www.intesisbox.com/

---
Texas Instrument - People Counting for Demand Controlled Ventilation Using Sitara PLSDK and 3D ToF Reference Design
The TIDA-01436 reference design is a subsystem solution that uses TI's Sitara Processor Linux Software Development Kit (SDK) and TI's 3D Time-of-Flight (ToF) image sensor to count the number of occupants in a defined area with high resolution and accuracy. ToF image sensors can process spacial data in three dimensions, so the sensor can be used to determine the number of objects present and can track their movements, and it has the capability to determine whether the objects are human bodies. This design uses TI's AM437x processor as the host controller with fully integrated ToF drivers supported by the Processor Linux SDK, which is ideal for embedded solutions. The combination of a ToF camera paired with a host controller board is more effective in real-time people counting than traditional surveillance cameras and video analytics.
For more information visit http://www.ti.com/tool/TIDA-01436


---
---


[Click Banner To Learn More]
[Home Page] [The Automator] [About] [Subscribe ] [Contact Us]