---
Open Automation Software releases Live Data Cloud

Evergreen, CO, USA – May 29th, 2012 –Today Open Automation Software announced the release of Live Data Cloud to provide real-time data hosting with a standard Internet connection.

At Open Automation Software we are constantly striving to make it easier for our customers to share their data openly and easily. The development of Live Data Cloud is our most innovative communications feature to date since the original release of OPCSystems.NET in 2004. We have also been able to have client applications utilize standard Internet connections to access live data remotely. Now with Live Data Cloud our customers can host data at the data source with a standard Internet connection. It is now possible to share real-time and historical data from OPC Servers, OPC Clients, databases, Microsoft Excel, and .NET applications from any Windows PC that has a standard Internet connection. Customers can host data directly from their own PCs easily and securely.

Live Data Cloud is provided at no cost together with any 1 of the 15 features of the Complete SCADA solution which include visualization, trending, alarming for PCs and Smartphones, data logging with 100 nanosecond resolution, alarm notification, recipe management, and programmatic interface for real-time and configuration data.

Live Data Cloud solves the need for dedicated IP addresses and expensive hardware at the data source, instead any standard Internet or Intranet connection can be utilized to host data 24 hours a day. OPC Systems also provides free enterprise access to all data from all remotes and local sites with no additional licensing fees. Now every company can afford to provide live accurate data to all levels of the enterprise and incorporate that data into its most critical decision making processes.

We all know that data is critical to the corporate decision making process. But even more important is how is how accurate and recent is the data that we are using. Do you know the production totals from your plant? Where did the data come from? Was it entered by hand? Was it manipulated or was there a mistake in entering it? When was it last updated? All of these variables can wreak havoc on the decision making process and cause costly mistakes. The answer to quick, precise, and confident decisions is to use current and accurate data. OPCSystems.NET provides you with the ability to make these decisions without worries. With Live Data Cloud you can cost effectively collect accurate and current data from you remote site worldwide. All that is needed is a simple Internet connection. Now you can monitor tens of millions of live data points worldwide and provide that data to all levels of the enterprise for secure and accurate business data.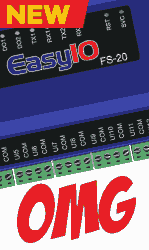 Live Data Cloud utilizes the Windows Communication Foundation built into the .NET Framework and provides adjustable TCP port to route data through. Live Data Cloud is a great solution to also transfer data through a corporate network through a common system all clients and servers can reach.

For more information about Live Data Cloud, please navigate to: www.livedatacloud.com

About Open Automation Software:
Open Automation Software was formed in 1993 with the vision of empowering end-users and OEMs with the freedom to create the applications they needed to truly build "best of breed" systems. Open Automation Software achieved this by providing the tools to quickly and easily develop SCADA products using Microsoft Visual Studio. The culmination of this vision was the creation of OPCSystems.NET the Complete SCADA solution. OPCSystems.NET is the flagship product for Open Automation Software and leverages OPC standards from the OPC Foundation to enable secure communications and support for Smart Clients, Web-based Clients and Server, Mobile Clients, and Mobile Devices. www.completescada.com
Follow Open Automation Software on Facebook at: www.facebook.com/OpenAutomationSoftware
Follow Open Automation Software on Twitter at: www.twitter.com/opcsoftware


---


[Click Banner To Learn More]
[Home Page] [The Automator] [About] [Subscribe ] [Contact Us]