---
FieldServer Technologies Introduces New FS-B3510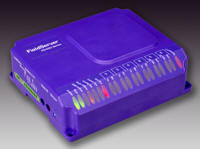 New generation gateways provides proven interoperability solutions to building automation and process control industries
FieldServer Technologies, the leading manufacturer of gateways, has launched the new FS-B3510 FieldServer, the interoperability solution for system integrators in the building automation and process control industries. The FS-B3510 brings together the proven, powerful FieldServer driver library with the latest in gateway design. This unique, powerful FieldServer packs features demanded by customers into a compact user friendly package: Plenty of connectivity; Access to largest driver library in the industry; Dual Ethernet ports; Powerful internal diagnostics; 1000 point capacity; Hot Standby capability; DIN rail mounting option; LED indicators. For more information about FieldServer Technologies http://www.fieldserver.com
---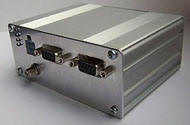 Comtech Introduces the µWEBox Lite GSM/GPRS modem
Introducing the µWEBox Lite GSM/GPRS modem — an enhanced modem with onboard TCP/IP stack designed for ease of use. Automated modes enable onboard I/O to be remotely monitored and controlled. Standalone use — no local microcontroller required! Host data can be optionally logged and transferred by E-mail or FTP . Alternatively, stream data directly between local host and central server via FTP . µWEBox Lite GSM/GPRS is specifically designed for machine-to-machine (M2M) applications. For further information visit www.comtech.uk.com
---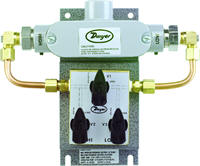 Dwyer Instruments, Inc. announces release of Series 629 Wet/Wet Differential Pressure Transmitter
Dwyer Instruments, Inc., the preferred source for your complete range of practical and affordable instrumentation, is announcing the release of its new Series 629 Wet/Wet Differential Pressure Transmitter with optional 3-way valve. The 629 transmitter with optional 3-way valve is the ideal product for monitoring differential pressures on HVAC equipment such as water chillers, coils, heat exchangers and pumps. This optional integral valve manifold simplifies installation by allowing the installer to isolate or combine the pressures on the high and low pressure ports. The valve manifold is also an excellent maintenance tool by providing the capability to perform maintenance on the transmitter without interrupting the process. Bleed ports are provided on the valve manifold to alleviate possible trapped air in the lines. The 3-way valve manifold is machined entirely from brass and is completely assembled to the 629 transmitter when ordered together. Visit www.dwyer-inst.com for more information.
---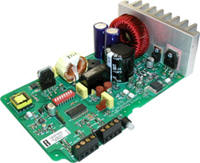 Control Resources Introduces New AC to DC Fan Speed Control
SmartFan® Inversion is an innovative fan speed control that combines an AC to DC power supply and a DC fan control/alarm to provide the best of both worlds; the convenience of AC power, the control and efficiency of DC fans. Typical speed controlled DC fans use 40-60% less power at reduced speeds compared to a similar AC fan. The voltage vs. flow curve of a DC fan is also more linear than a typical AC fan, making speed control more accurate. Inversion's supply voltage range is 95 to 264 VAC. It controls 24 or 48 VDC fans with current rating up to 4.0 Amps. Variable fan speed is based on temperature or a control signal (4-20mA, 2-10VDC) input. Benefits of using SmartFan include acoustical noise reduction, temperature regulation, greater product reliability, increased fan life, improved safety and energy savings. Visit www.controlres.com for more information.
---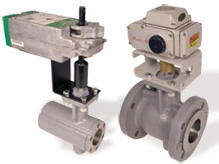 Kele, Inc. introduces the Max Cap High Performance Rotary Control Valve
In pursuit of high performance? Try the Max Cap High Performance Rotary Control Valve, new from Kele, Inc. This problem solver withstands higher temperatures and higher pressures than standard commercial-grade globe control valves, and it has a better close-off rating. Think of it as an industrial-grade valve at a commercial-grade price. The Max Cap shuts off tight against 200 psid at 400°F and 285 psid at chilled water temperatures, so you can rest assured it is performing to your highest standard. This valve features low torque requirements, is available with a variety of actuators, and is compatible with virtually any BAS. It's versatile. It's unique. It's available only at Kele.
For more information, visit Kele, Inc
---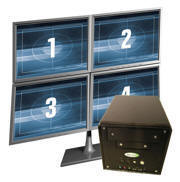 PI Vision introduces video wall support for UVMS™
PI Vision has introduced video wall support for its market-leading network video recorder, the UVMS™ (Universal Video Management System).
The UVMS™ D3 Decoder and Display Driver is ideal for controlling banks of video displays - whether users employ analogue monitors, the latest control room display solutions such as the Barco stackable display system, LCDs and DVI-enabled devices, or a combination of all of these. The system is modular, with each D3 driving up to four display units. Linked together, the D3 control system is scalable to an unlimited number of video outputs. The units are slaved to the UVMS™, and all functions can be controlled from any authorised access station on the network.
Visit www.pi-vision.com for more information.
---
TCS/Basys Controls Embedded Site Communication Center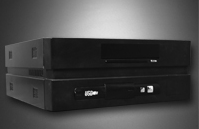 The QD2040 Embedded Site Communication Center represents the next level in off-site management and communications. Going beyond the QD2020, QD2020i or QD2020ie the QD2040 has an embedded web server and software interface. Administrators and users have the flexibility now to access the information from their building control network through a number of means: Connecting directly with the QD2040 through an Ethernet connection; Connecting directly with the QD2040 through a dial-out ISP connection; Accessing it directly by dialing into it with a standard phone dialer.
A well-suited solution for single-site applications, users pay a one-time upfront cost with no other required software. The QD2040 embedded interface contains all the functions and features that are found in the Ubiquity server, including global functions, Smart Scheduling, reporting tools, energy features, robust alarming, and much more. Visit www.tcsbasys.com for more information.
---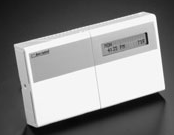 TCS/Basys Controls SZ1060 Series Fan Coil Thermostats
The SZ1060 Series is designed for fan coil applications that require digital (SZ1061 and SZ1062) or modulating (SZ1063 and SZ1064) heating and/or cooling.
The sz1060 Series features:Stand-alone or network operation, P+I control option (SZ1061 and SZ1062 only), No battery backup required, Minimum on/off times for HVAC equipment protection, 32-character LCD display, Six status LEDs, Remote room sensing capability, User setpoint adjustment limits, Three speed fan, System and fan switching with access lockouts, External input for setback or aquastat changeover, Access to programming may be locked out or limited with the use of an access code, Fahrenheit or Celsius temperature display, Control for two or four pipe systems. Visit www.tcsbasys.com for more information.
---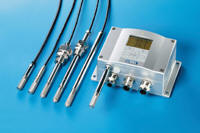 New Flagship Humidity Transmitter from Vaisala – HMT300 Series
Introducing – the new Vaisala HUMICAP® Humidity and Temperature Transmitter Series HMT330 developed for demanding industrial applications. The HMT330 features a large, numerical and graphical display with multilingual interface that allows the user to easily monitor measurement trends with one year of historical data. The HMT330 features multiple humidity parameters; dewpoint, temperature, wet bulb temperature, and absolute humidity. Available outputs include three analog outputs, a serial interface, and alarm relays. A wide selection of power supply possibilities and several optional mounting accessories make the HMT330 easy to install – almost anywhere. The web address for the HMT330 is: www.vaisala.com/instruments/HMT330
---
Find LonWorks Products from hundreds of manufacturers from around the globe.
Browse by Company - There are currently 1280 LonWorks enabled products available in the database.
Find additional LonWorks Resources and browse the LonWorks Product Database.
Visit http://www.echelon.com/productdb/
---

Configurable Modbus Web Gateway
Halmstad, Sweden -- IntelliCom, is proud to announce a new configurable Serial Ethernet product in the NetBiter® series. The new product, NetBiter® webSCADA Modbus acts as a web interface to one or more Modbus RTU devices. The Gateway holds an embedded web server with web pages inside. By connecting serial Modbus RTU devices to the Gateway it is possible to configure what data (Modbus registers) to be monitored and controlled through the onboard web pages. To get a better view of the application the user can upload graphical images of the installation. The Graphical User Interface is very straightforward and configuration of Modbus registers is easy. The Gateway also acts a pure transparent connection between serial Modbus RTU devices to the standard Ethernet protocol Modbus TCP, supported by all major SCADA systems and PLC's. For more information visit IntelliCom Innovation AB (www.intellicom.se)
---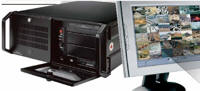 Spectrum Digital Video Recording Systems
The new SPECTRUM 4000i Digital Video Recorder now supports up to 32 channels with live video and audio recording on each channel using the latest H.264 4CIF high compression technology. This remarkable state of the art DVR also supports remote Central Monitoring Station Alarm monitoring (live viewing) across a LAN/WAN. The Central Monitoring Station DVR-Host Server software can support an unlimited number of remote 4000i DVRs connected to the LAN/WAN for program settings of the desired channels (4 to 32) at each Remote Site etc. Log-in privileges with User-admin rights for Viewing (i.e. alarm conditions only) and/or Program Controls from a single or a multiple number of pc-workstations, can also be configured from the Host. Each 4000i DVR is filed upgradeable from 4 to 32 cameras. Warranty up to 5 Years...! Visit www.alarmasnova.com for more information.
---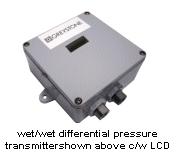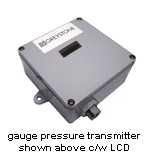 Greystone New Liquid Pressure Transducers
WP-D & WP-G Series

High strength corrosive resistant stainless steel sensor construction. No silicone oil, no welds, no internal "O" rings. Compatible with a wide range of liquids and gases. Suitable for high shock and vibration applications. Excellent long-term stability and high accuracy.
For more information visit http://www.greystoneenergy.com/English/products/pressure/list_pressure.html
---

Draka Comteq Offers Riser-Rated, Low Smoke Zero Halogen Indoor/Outdoor Cable

Draka Comteq USA, manufacturer of copper and fiber cable products, has expanded their product offering of indoor/outdoor cables to include a riser-rated (OFNR) cable type with the improved flammability and safety performance of low-smoke, zero halogen (LSZH). The OFNR rating combined with the safety of low smoke, zero halogen jacketing properties is ideal for network applications for such industries as health care, transportation, industrial, military or where there is a high concentration of people and equipment. These cables are loose-tube construction, which is comprised of gel-filled tubes, for up to 36 fibers (singlemode or multimode), making it ideal for outdoor backbones and extreme temperatures. This cable is available with dry-blocked tape for added water penetration barrier. These cables are manufactured with a single PVC jacket, double jacket or added corrugated steel armoring. And with all fiber optic cables manufactured by Draka Comteq, these cables can be produced with the laser-optimized 50-micron MaxCap multimode fiber for high-speed 10 Gb/s backbone applications. For more information, visit Draka Comteq on the Internet: http://www.drakacomteq.us
---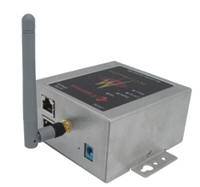 Comtrol Launches the Industry's First Multi-Mode Wireless Device Server
The newly released DeviceMaster® AIR wireless device server from Comtrol Corporation is the first to enable users to connect serial or Ethernet devices to an Ethernet network either "wirelessly" using the 802.11b industry standard or using standard wire. The new product can wirelessly connect serial devices or other devices that would typically use a wired Ethernet connection. And since the DeviceMaster AIR connects in either a wired or wireless mode, users can opt to use wired connectivity as a fail-safe backup in the event that their wireless connection is unavailable. No other device server in the industry offers this range of connectivity. DeviceMaster AIR is ideal for connecting devices used in automation applications where running serial or Ethernet cables is not practical or possible. For more information visit www.comtrol.com.
---
TRENDware helps bridge the gap between consumer peripherals and PCs.
TRENDware International, Inc., a leading manufacturer of networking products worldwide, announced its new line of USB 2.0 and Firewire Connectivity products. Consumer Electronics is a fast growing and popular industry. Many modern consumer electronics now a-days are equipped with data ports, allowing digitized data to be transferred to PC's for additional processing. This requires high demand for fast data transfer rate. TRENDware offers a complete line of devices that can be attached to the PC to enhance that digital experience using USB 2.0 and Firewire, the two dominant technology for connecting consumer peripherals and electronics. TRENDware provides a wide range of products from 2 to 7-port devices including combo units with both USB and Firewire ports. For more information visit www.trendnet.com
---

Revamped Teletrol Network Router Now Available
Teletrol Systems, an industry leader in building automation technology, announced the release of its newly updated Teletrol Network Router (TNR.) The TNR allows Teletrol Integrator facility controls systems to be directly connected to Ethernet and ARCNET enterprise-wide networks using either IP or IPX protocols. Facility managers and personnel can communicate with the entire control system from any location in the network. The revamped TNR incorporates a number of product improvements, including: a Pentium III, 1.2 GHz processor; an internal 16MB disk on chip hard drive to boot from; configuration files can now be copied to and from the TNR on floppy for backup; new internal Ethernet port for 10/100 Mbps autonegotiate; Fully compatible with existing TNR devices and networks. Visit Teletrol at http://www.teletrol.com
---
---


[Click Banner To Learn More]
[Home Page] [The Automator] [About] [Subscribe ] [Contact Us]