---
Minnesota and South Dakota VA Medical Centers Win Federal Award











MILWAUKEE – The U.S. Department of Veteran Affairs Medical Centers (VAMCs) in the Midwest will be honored with a 2005 Federal Energy and Water Management Award for an innovative energy program in which Johnson Controls, Inc. guaranteed to save $26 million. The U.S. Department of Energy award ceremony will take place Thursday, October 27 at the U.S. Department of State, Washington, D.C.. Peter Yakowicz, Network Capital Asset Manager, will accept the award on behalf of the VAMC.
The VAMCs, located in Minneapolis, Minn., Sioux Falls and Black Hills, S.D., are part of the Veterans Integrated Service Network (VISN) 23. VISN 23 had contracted with Johnson Controls to implement cost-effective energy conservation measures that directly support medical, surgical and rehabilitative care services. United States Senator Mark Dayton, who supported this effort, stated, "I congratulate the Department of Veterans Affairs and Johnson Controls for winning this very prestigious award. Every dollar saved by the Minneapolis VA hospital in energy costs is one more dollar available for the care of our veterans." Through an energy savings performance contract, a capital investment of $14.1 million is yielding estimated annual energy and operational savings for a total guaranteed savings of more than $26 million over the life of the project.
The projects contribute to several key VA initiatives, including:
Mission support – New technologies are improving indoor air quality in the medical centers and providing more efficient material delivery, leading to better patient outcomes.

Energy security – A two megawatt generator provides independent power in the event of a natural disaster or national security breach.

Operational efficiency – A faster, more efficient way of delivering food and supplies was developed through a new, Automatic Guided Vehicle System (AGVS). This laser-guided robotic cart system transports linens, food trays and other items throughout the 1.6 million square-foot Minneapolis Medical Center. The system uses fewer carts and fewer batteries, and the $2.1 million cost was paid for with energy and operational savings.

Sustainability – Reduced greenhouse gas emissions through energy generation, along with water savings from process and domestic water use, help protect the environment.

Sharing best practices –Xcel Energy provided a grant to recommission the existing energy management system and then paid a rebate to ensure it worked to its full potential. The utility subsequently offered similar incentives to private sector hospitals in the Minneapolis area.

ENERGY STAR® - Johnson Controls incorporated the ENERGY STAR building rating tool into facility audits. All facilities are on track to receive a 75 rating, which will achieve the ENERGY STAR label.

Employee safety - Extensive monitoring and training programs reinforce to hospital staff how safety can be improved and money saved by making sure infectious materials are the only items in the "red bag" waste. By cutting the amount of red bag waste, VISN 23 saves more than $60,000 per year in addition to the resulting emissions from waste incineration.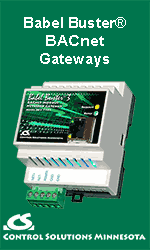 About the Federal Energy and Water Management Award
The Federal Energy and Water Management Award recognizes leadership in promoting and improving federal energy management. Currently in its sixth year, the award program was established by Executive Order 13123, "Greening the Government through Efficient Energy Management." The awards support President Bush's National Energy Policy that calls for America to modernize conservation efforts, increase energy supplies, accelerate the protection and improvement of the environment and increase our nation's energy security.
About Johnson Controls, Inc.
Johnson Controls is a global leader in interior experience, building efficiency and power solutions. The company provides innovative automotive interiors that help make driving more comfortable, safe and enjoyable. For buildings, it offers products and services that optimize energy use and improve comfort and security. Johnson Controls also provides batteries for automobiles and hybrid electric vehicles, along with systems engineering and service expertise. Johnson Controls (NYSE: JCI), founded in 1885, is headquartered in Milwaukee, Wisconsin. For additional information, please visit www.johnsoncontrols.com
---

[Click Banner To Learn More]
[Home Page] [The Automator] [About] [Subscribe ] [Contact Us]