---
Building Automation Renaissance
How to survive & prosper from Building-IT Convergence...............Get Involved now
Wordreference.com Defines renaissance as the revival of learning and culture "a cultural rebirth" resurgence; revitalization.











A renaissance is certainly what is happening in the world of Building Automation Connectivity. We must completely rethink how we do everything while immersing ourselves in a new IP/IT culture. As we move from a physical world to a virtual world with our products and services it is a true renaissance that will change us and our industry forever. Of course the renaissance has already begun for the masses in their transition from a physical world to an anything anywhere virtual world powered by powerful web services delivered by the pervasive internet. Our task is to provide all our future building services, products, existing infrastructure and services virtual connections so that they seamlessly mesh with the new world renaissance.
The trends that are now visibly apparent are...
The Catalyst: An 800 pound IT Gorilla Cisco is the most significant IT company to come into our space. In their CCRE Cisco Connected Real Estate Whitepaper they talk of harnessing the power of Internet Protocol (IP) to turn traditional building construction and management paradigms on their heads. In so doing CCRE will bring huge financial and operational advantages not only to the construction, real estate and property services industries but also to downstream constituencies – such as hotel operators, multiplexed retail outlets, and corporate tenants – in sectors as diverse as leisure, healthcare, education and retail finance.
This will bring with it IT integrators, consultants and for the first time for years, will allow top level executives to get a new way to look at their facilities. The IT people are coming with the next wave of convergence: BAS along with Voice, Video & Data. Taken from last month's interview with Cisco folks "If the design of the converged network occurs early enough in the building design and construction life-cycle, there are actually capital expense savings."
A Summit: The Palm Springs Roundtable The participants gathered at the Cisco Sponsored Roundtable at BuilConn is an inspiring list of the key movers for the new world of building systems. Click here for a list of Roundtable Participants. This roundtable will make it clear that we are in the middle of renaissance. To get more insight on this piece of history in the making click here Cisco Connected Roundtable. The Cisco Connected Roundtable is a by-invitation-only meeting for key stakeholders in the building automation industry. The purpose is to discuss the needs of building owners and the issues regarding the supply of products and services; the context of the roundtable is the increasing adoption of IP-centric systems in building systems.
Global Issue: Energy, Green Buildings and GridWise With the burgeoning emerging markets around the world needing fuel, President Bush's call to action on American's addiction to oil, and the increasing concern for a green planet, the energy subject is high on the agenda. The use of technology to resolve energy problems is here and building automation is right in the middle of it all, holding many of the cards. GridWise is such a solution; would you like to know more about GridWise? Check out our resource page. In this month's article The GridWise Buzz…It's Electric The smart grid envisions an interoperable system that leverages information technology and automated systems to meet demand. John J. "Jack" Mc Gowan, CEM, Energy Control Inc. The buzz that is being created by smart building, smart grid and smart application technology is evident at every conference I attend. Plus this article GridWise, the Convergence Killer App? I would describe GridWise as a Killer App enabler Anto Budiardjo, President & CEO, Clasma Events Inc.
The Demand: A New Breed of Owners are Business centric, IT aware, demanding, using Enterprise systems as their lifeline and connection to the new world of web service and remote operations. The market is huge and the time is now.
From this month's interview IT-Convergence – Have we crossed the chasm? Allan McHale, Director, i&i Ltd
The total commercial market potential for retrofitting existing building stock with web enabled systems that can directly connect to the business enterprise is worth $4 billion in North America. The new construction market is taking longer to penetrate but it could be worth some $2 billion by 2010 and that only includes the value of the revenues that "super-integrators" will achieve for "gluing" all the technical services together and interfacing with the business enterprise.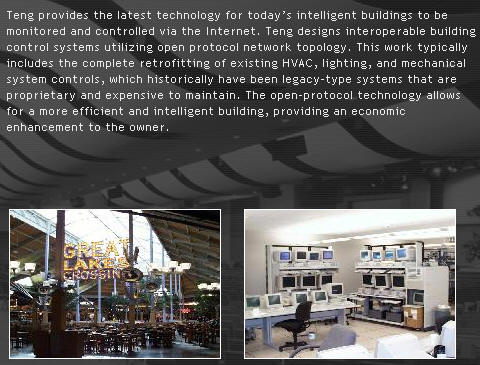 The Channel: A New Breed of Integrator "super-integrators"
Allan McHale alludes to "super-integrators" although we are not sure what to call them we all agree that they are necessary. Even our best integrators must get out of their box and not only guide the renaissance but lead with their strong example of great integrations that add virtual value. How do we make our existing integrator super strength? Get them out to events like BuilConn in Palm Springs and around the world in 12 days with Jim Young.
Jim Young, Founder & Producer, Realcomm in this month interview talks about his Realcomm NextGen Asia Tour. These projects assume that technology will continue to change our lives and they are incorporating this vision into these Real Estate projects.
Sinclair: What makes the Realcomm NextGen Asia Tour relevant to people interested in Intelligent Buildings?
Young: For anyone in the United States it is very difficult to say that we have seen or been in Intelligent or NextGen Buildings. Our definition and examples are much different than those found in Asia.
Some America Engineering Consulting Companies like http://www.TENG.com/ have gotten it and are working with business savvy integrators, who are way beyond wire pullers using today's connectivity resources to make a difference.
What is some of the thinking from these wire pullers? Are they up to being part of the renaissance? I think John C. Greenwell, IBS Sales Engineer, Continental Electrical Construction Company, LLC answers that with a big yes in his article this month Are you going to get what you thought? What is needed is one electrical contractor who coordinates the entire low voltage electrical infrastructure.
New Laws: Connectivity is King Sun stated that "The Network is the Computer", Echelon stated "The Network is the Controller", and we all now say "The Internet is our life - business and pleasure". Anto's Connectivity Law gives us a way to envision the value of connectivity to devices, see this month's interview Understanding the Connectivity Law Anto's Connectivity Law: "The value of a piece of information is proportional to the number of uses that piece of information is connected to."
Wireless: The Game Changer Much talked about... Just a question of being comfortable with reliability... last month's article provides insite to Kiyon's view of neutralizing protocols. Wireless! Building Automation Unwired [Abridged] Using one wireless backbone for several systems can reduce engineering, construction, commissioning and operating costs over the entire life of the building. John Edler and Weilin Wang, Kiyon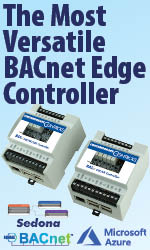 Core Technology: IP (Internet Protocol) is Ubiquitous No argument here, just a question of how low into the field it will go, and it's a question of time but Rick LeBlanc has this to say; Extracted from the up coming technical session at the ASHRAE REGION XI CRC 2006 Victoria, BC Canada, Laurel Point Inn, 8:00 am to 11:00 am May 11, 2006. http://www.ashrae.bc.ca/vi/crc/ashraecrc2006techsession.htm
From the Boiler Room to the Board Room Part II Rick LeBlanc Senior VP- Building Automation Division of Siemens Building Technologies

Rick will make a virtual appearance at our technical session from where ever he is on that day, via the internet, proving that the medium is the message.

Conventional building automation is being transformed by 3 mega-forces that promise to dramatically change our industry:

1.) HVAC unitary equipment now includes factory-mounted open protocol communicating controllers

2.) IP connectivity is everywhere connecting enterprise systems as well as building/facility systems

3.) Disruptive technologies like wireless and micro-systems are now a reality.

A powerful convergence is underway and it will accelerate. Each mega-trend is a market changer but in combination they will totally restructure building automation. The current climate of greater environmental and energy awareness will certainly hasten the change.
Control Theory: Is also undergoing a renaissance In this month's article Tom Hartman of The Hartman Company writes about New Vistas With Relational Control A Three Part Series PART 2: An Introduction to Relational Control and last month's PART 1: Why PID Control is Outdated for Modern Building Applications. Relational control is only possible in an IT world.
Visualize City Wide Control; in this month's Hong Kong Harbour 'Symphony Of Lights' Control of 18 buildings on the Hong Kong water front in a integration of architectural lighting, laser effects, pyrotechnics and accompanied by a sound simulcast provides a very graphic demonstration of what city wide control integration might look like. Be sure to view the video.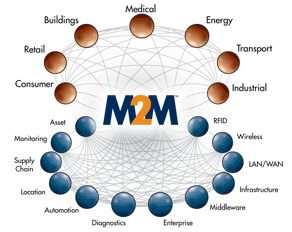 Technology: M2M is Everywhere
There are now more devices on the Internet than humans on the planet. Technology and services for connecting devices (a.k.a. building system controllers and peripheral components) is widely available.
From this year's M2M Expo in Palm Springs "While much of M2M has to date been about technology and applications within specific vertical segments and markets, the full power of M2M will only be realized as a grand integration platform enabling cross vertical interoperability and business opportunities."
To facilitate this view, the M2M Expo draws on the wealth of experiences from a broad array of analysts, speakers, and attendees to offer clear organizing principles and practical adoption strategies for companies seeking an advantage from M2M.
The Venue: BuilConn Palm Springs is where you can learn more about and can become part of the Renaissance that is occurring in our industry. BuilConn® is a unique event that unites all the individuals involved in buildings and IT to take an objective and comprehensive view of buildings and facilities, understand the technologies and trends that shape it, and discover the steps required to implement truly intelligent, integrated buildings.
As the gathering place for Building-IT Convergence, all issues pertaining to the evolution of this space will be presented, discussed, and developed at BuilConn.
The focus for 2006 is the broad adoption of IP and related technologies as the convergence with the IT world evolves.
---


[Click Banner To Learn More]
[Home Page] [The Automator] [About] [Subscribe ] [Contact Us]