---

Domestic Terminal, Perth, Australia - Case Study

Caroline Cadieux,
Marketing Manager
Distech Controls, Inc.

Published by Distech Controls
Located 12 KM from Perth, Australia, on a 2,105 hectare site, Perth Airport is the principal international, domestic and regional gateway to Western Australia for commercial aircraft and freight. Perth Airport is Australia's fourth busiest airport in terms of passenger traffic, and operates 24 hours a day throughout the year. Westralia Airports Corporation Pty Ltd (WAC) took up a 99 year leasehold interest over Perth Airport on July 2nd, 1997, as part of the first phase of the privatisation of airports in Australia. With Perth Airport, WAC instated a development "Master Plan", including an objective of capacity and operating efficiency for all systems: "WAC will provide adequate capacity, balanced among all airport systems and promote ontime performance, high service standards, operating efficiency and expansion capability" (Master Plan, Executive Summary, ES-1)











The Domestic Terminal
The Domestic Terminal is a 4,000 square meter facility on 2 floors, with areas dedicated to ticketing, baggage claim, restaurants and concession, rest areas and administration.
The HVAC system originally installed counted 9 air handling units, 2 chillers, 2 boilers, 2 cooling towers and 1 air conditioning unit.
The Challenge
Originally managed by proprietary controls, the HVAC system had grown antiquated, unable to deliver the control required and driving important maintenance costs. The challenge met by Leopard Controls, an authorized Distech Controls Open Systems Dealer, was to offer a neat and seamless integration into the airport's HVAC system without interruption or discomfort to staff and travelers. Moreover, the new control system had to be integrated into the airport's V LAN network also linked to the International Terminal.
The Solution
Leopard Controls installed the new HVAC system over a period of 4 months, from November 2004 to March 2005. To control the HVAC equipment, Leopard installed Distech Controls' LONMARK® certified free programmable controllers, EC-4s and EC-12s as well as LONMARK certified EC-VAVs, resulting in an open and expandable system, controlling multiple AHUs and incorporating constant and variable volume airflow systems. In all, 15 programmable controllers and 65 ECVAVs were used, covering 400 points. From the original system, some actuators were reused.
The advanced functionality of Distech Controls LONWORKS® controllers offer the flexibility and versatility required by an airport system, which experiences strong variations in demand both in load and location of areas within the building throughout the day.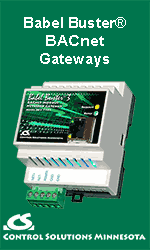 The network was designed and commissioned using Lonwatcher, LNS® based network management tool. Programming of the controllers was simplified using LNS based plug-ins, which provide step-by-step modular control programming, and are launched directly from Lonwatcher during set-up. Graphical pages were created using Londisplay, as a thick client GUI. Equipped with an extensive graphics and animation library, Londisplay allows the integrator to easily create a comprehensive graphical management environment and offers functionalities that reduce engineering time.
WAC also required 24 hr/day monitoring of the HVAC system from both the Domestic and International Terminals without compromising any of their stringent security protocols. By integrating an i.LON® 100e2 with both the LONWORKS network and the V LAN network the remote accessibility and security required was achieved. The i.LON also provided the alarming and data logging capabilities required.
The Benefits
A direct benefit of this retrofit is a "level of comfort and control never seen at this facility before". Indeed, air quality and conditions have been maintained at optimum comfort levels, while control over energy costs has helped increase the terminal's operational efficiency.
The new system offers an open and expandable platform which responds to the immediate needs of the Domestic Terminal but also fits Perth Airport's future property development strategy.
Following the successful retrofit of Perth's Domestic Terminal, WAC has embarked on a 3 year program to replace the existing BMS controls system in the International Terminal with Distech Controls' open control system.
---

[Click Banner To Learn More]
[Home Page] [The Automator] [About] [Subscribe ] [Contact Us]