---
Paul Ehrlich PE,
President,
Building Intelligence Group LLC
Contributing Editor

"The industry needs to get together to integrate or at least educate all of the people that are involved. The owner cannot integrate the industry, the architect cannot integrate the industry, the industry must integrate itself and take the lead…"

(Comment from participant in Commercial Office focus group)











Recently, there has been a lot of discussion on the Automated Buildings site about what the industry needs to do. Articles have appeared promoting the need for certifications, new conferences and better design processes to deliver Intelligent Buildings. All of these are great ideas, but need to proceed in a unified manner. One of the leading organizations in this space is CABA. Their "Technology Roadmap" document which was released in 2002 is often referenced in the industry. In early 2006, CABA started a project to update this document with a new report dubbed the "Intelligent Buildings Roadmap." This has been backed by a large group of organizations including Cisco Systems, Direct Energy, ESC Automation/Delta Controls, Johnson Controls, HID Corporation, Honeywell International, Tridium, Lawrence Berkeley National Laboratories, Legrand North America, Lutron Electronics Co., Inc., Panduit Corp., Siemens Building Technologies, Tour Andover Controls, Trane, and InfoComm International. Our firm, Building Intelligence Group, was selected to research and write the report, which has now been completed.
The results of this project are pretty exciting. As the title implies, this new report is focused not on technology but on the acceptance and growth of Intelligent Buildings. To develop this report, we started by doing extensive market research, reviewing existing research and then conducting a number of focus group interviews with building owners, developers, consultants and architects. What did we hear? The results were consistent and surprising. We heard the following themes:
It is a challenge to prove the value of an Intelligent Building and get project funding.

Finding qualified consultants and suppliers is tough.

There is a strong need to improve the efficiency and sustainability of buildings.

A lack of coordination among the various parties involved with an intelligent building project creates major obstacles to implementation.
Remarkably, when we asked the participants about their plans to implement Intelligent Buildings within the next 1- 2 years, almost all indicated that they plan to do so, despite their frustrations and challenges!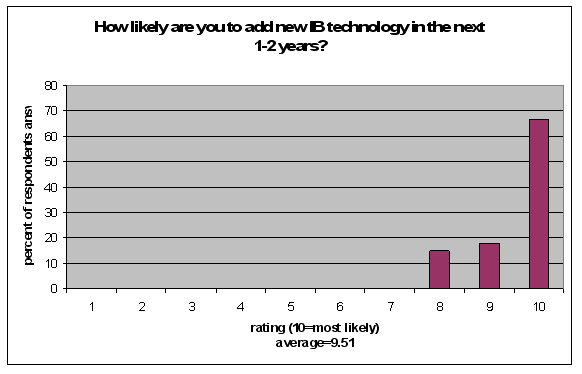 What this tells us is that a great opportunity exists for the design and delivery of integrated and Intelligent Building projects. The challenge that we face is in becoming better organized to be able to deliver these solutions.
In addition to summarizing the market research, the report goes on to analyze the impediments that we face as an industry and provide recommended actions to overcome these issues. A series of action plans or roadmaps are provided for owners, designers, contractors, suppliers, and for the industry as a whole.
The most extensive of these roadmaps is a series of recommendations for the industry as a whole. This set of recommendations includes:
Marketing programs, Industry Branding and Advertising

Tool development

Building awards

Education programs

Certifications

Knowledge building and best practices

Market research

Trade show
Work has already started within CABA to evaluate the implementation and delivery of these programs.
A summary of the report is available for download, and the complete report is expected to be published in July. See www.caba.org for more details.
There is clearly a strong opportunity to, not only deliver better buildings, but to grow the size and sophistication of our industry. Take the time to download and read the summary and the report. Become involved in industry groups such as CABA and look for opportunities to participate in the process of transforming our industry.
"A good plan is like a road map: it shows the final destination and usually the best way to get there. "
Author H. Stanley Judd
---


[Click Banner To Learn More]
[Home Page] [The Automator] [About] [Subscribe ] [Contact Us]