---
Clamp on Wireless Gauge Reader optically reads needle and transmits reading.

Harry Sim, CEO
Cypress Envirosystems
Do you operate or maintain older buildings with dozens of manual gauges on air handlers, chillers, boilers, air filters, and/or air compressors? Do you wish you could read them automatically, trend and graph the data, and beep your pager if there is an excursion? Wouldn't it be convenient if the dial gauges could be connected to your BAS (Building Automation System)?















You could certainly install transducers to measure pressure, temperature, vacuum on existing systems, but that would mean isolating or disrupting equipment operation, breaking pressure seals, checking for leaks, running wires, connecting to I/O panels and triggering possible re-audit or safety code compliance…in other words, thousands of dollars per point and plenty of hassle.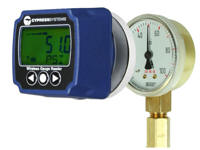 Now there is a much faster, easier and lower cost alternative. The patent pending Wireless Gauge Reader (WGR) is essentially an "electronic eyeball" which can be clamped onto the front of a gauge in minutes, without removing the existing gauge. It optically reads the needle, converts to a digital reading, and transmits it wirelessly to a central receiver/server. The data can then be accessed virtually anywhere via a web browser or PDA, or be transferred to an existing BAS via BACnet/IP, LON over IP or OPC.
Different mechanical adapters allow the WGR to fit gauges from 1.5" to 5" diameter from Ashcroft, US Gauge, Wika, Dywer Magnehelic, Marshall and just about any brand. The system is compatible with pressure, temperature, vaccum, delta pressure gauges. Up to 128 gauges can be wireless connected via a mesh network to a single server.
Why Collect Data from Manual Gauges?
We have observed that facilities managers use the WGR to lower maintenance cost and reduce energy consumption in many different ways:
Reducing Maintenance Cost:
a) Monitor equipment health to enable condition based maintenance rather than scheduled maintenance
b) Detect optimal time for replacement of consumables such as HEPA filters
c) Improve personnel safety by automating gauge rounds in difficult to access locations
d) Reduce troubleshooting time by enabling quick and temporary data logging of gauge data
a) Performing energy audits and sub-metering of chilled water pressure and temperature, steam or hot water pressure and temperature, airflow in air ducts etc.
b) Monitoring and optimizing compressed air header and branch pressures to reduce compressor load and energy consumption.
We have documented many customer case studies at http://www.cypressenvirosystems.com/case-studies.php , many of which describe investment payback periods of one year or less.
The WGR is part of a family of non-invasive wireless products from Cypress Envirosystems intended to help older buildings and plants save energy and improve productivity. The other products in the family include the Wireless Transducer Reader, Wireless Steam Trap Monitor, Wireless Battery Monitor, Wireless Freezer Monitor and Wireless Pneumatic Thermostat. Like the WGR, these products all install in minutes, save energy and improve productivity, and pays for itself in about one year.
---


[Click Banner To Learn More]
[Home Page] [The Automator] [About] [Subscribe ] [Contact Us]