---
Addressable Lighting Controls


To keep pace with end-user needs and technological advancements, addressable lighting systems are continually evolving to deliver a rapid return on investment (ROI).




Terry Mocherniak,

Electricity consumption in the United States costs more than $40 billion annually and accounts for about 20 percent of worldwide use. Leading this nationwide appetite for electricity are commercial and public buildings, where lighting represents approximately 40 percent of all electric bills. Although lighting is the easiest, most profitable investment one can make to achieve a sustainable, cost-efficient building system, building owners and property managers are daunted by the initial costs associated with the transition from outdated technologies to new advanced networked lighting control systems.

Today's economy and new federal, local and state government mandates are now challenging commercial and public buildings to operate lean and green in terms of costs and sustainability, respectively. As a result, projections indicate that energy-efficient lighting products will make up over three-quarters of the U.S. lighting market by 2020.

These state-of-the-art lighting systems have been available for years and are now reaping a new level of respect and acceptance, which they so deserve. One such product is Encelium's Energy Control System™ (ECS), the market's leading addressable dimming system specifically designed for energy management that has been installed in more than 35 million square feet worldwide.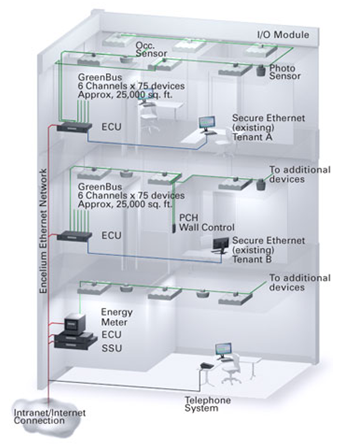 Proven to reduce lighting energy expenditures by 50 to 75 percent, ECS also meets or exceeds today's sustainable requirements for new and existing properties, including Title 24, ASHRAE 90.1, EPACT, various utility rebate programs and local "green" building mandates. The system contributes between 12 to 18 points, depending on the application, toward achieving the coveted U.S. Green Building Council's Leadership in Energy & Environmental Design (LEED) designation. In addition, ECS contributes in four of six categories, including sustainable sites, energy, indoor environmental quality and innovation in design.

Simple to Design, Install, Use and Adapt

By interconnecting and networking standard electronic dimming ballasts, photo sensors and occupancy sensors with advanced lighting control software, an integrated lighting control system like ECS gives end-users unprecedented digital control. Ideal for new construction and retrofits, the system can be seamlessly installed and customized for office buildings, schools, healthcare and public facilities, parking garages, big-box retail, stadiums and sports facilities and industrial/warehouse space. ECS also improves workplace ergonomics, occupant productivity and tenant satisfaction.

Utilizing a universal I/O (input/output) module to connect to standard lighting components such as low-voltage non-dimming ballasts, ECS' software-based zone configuration makes design and specifications easier. I/O modules are installed in a daisy-chain utilizing pre-fabricated Cat. 3 cable with RJ45 connectors and networked back to an ECU, an embedded processor. The ECU collects and processes information received from sensors and distributes commands to individual ballasts. In addition, ECUs are linked to existing local area networks (LANs) to enable individual lighting control on each user's personal computer. A designated building automation PC on the network maintains the overall system configuration and monitoring.

ECS integrates and simultaneously deploys the following six user-friendly energy-management strategies facility-wide, each working interdependently with a cumulative effect:

Daylight harvesting, through the use of photo sensors, to adjust interior light levels according to available daylight
Occupancy controls, through the use of occupancy sensors, to turn lights on, off or dimmed automatically based on detection
Smart-time scheduling to adjust light where occupancy sensors are not appropriate in areas such as single rooms or individual light fixtures
Task tuning to set default maximum light levels to suit a particular task or workspace to eliminate over lighting
Personal software-based controls for individual occupants to adjust their workspace lighting by need or preference from a desktop PC
Variable load shedding selectively reduces electrical demand in a building to shave peak demand or respond to a demand response signal in the lowest priority area first
As a result of these customizable controls, ECS can be easily adapted to changing building and workspace uses. And, internal construction or reconfiguration of space can be addressed through the control software without having to alter wiring or luminaires.

Although only 20 percent of existing commercial buildings feature upgraded lighting technology, while 80 percent continue to operate systems installed before 1986, those who had the foresight to install an addressable lighting system prior to the latest economic downturn are benefitting from its flexibility and cost-savings. Examples of these visionaries include:

Goshow Architects: When this prominent architectural firm relocated to new office space in New York City, the main goal was to design a sustainable environment that had open layouts and natural light. Goshow also wanted to certify the project under the LEED Commercial Interiors rating system. Encelium worked with Goshow to personalize its lighting control system and realize lighting energy consumption reductions of 66 percent.

Liberty Property Trust: This $6.5 billion real estate investment trust collaborated with Encelium Technologies to optimize the economic, energy and environmental performance of its Malvern, Pa.-based corporate headquarters. In addition to reducing overall lighting energy consumption by 60 percent, Liberty used its 31,000-square-foot office building as a pilot demonstration site of ECS for use in its other properties, which include 77 million square feet of office and industrial space in more than 20 markets throughout the United States and the United Kingdom.

Evolving Technology for Changing Times

To keep pace with end-user needs and technological advancements, addressable lighting systems are continually evolving to deliver a rapid return on investment (ROI). As a result, Encelium has developed several enhancements to complement ECS' capabilities:

According to the New Building Institute, lighting accounts for 37 percent of a building's electrical use. Generally, it also is the largest single building load in all climates except those that are extremely hot. Thanks to government-subsidized grant and rebate programs, created by Congress in 2009 as part of the economic stimulus package and extended through the end of this year, building owners now have the means to finance the installation of an addressable lighting system. Averaging a two-to-five-year payback-on-investment period, ECS also reduces lighting use and energy costs at a faster rate than other environmental measures. Given the current economic climate, the time to transition to an energy-efficient lighting system has never been better.

Stay Tuned
Keep up with latest trends in sustainable lighting at www.encelium.com and Enlightening News.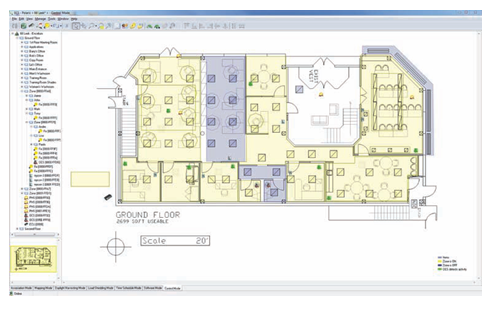 Polaris™is the central control software application used to commission, configure & manage the Encelium ECS system. It enables configuration of every system parameter in a building (or campus of buildings) for each individual user or space.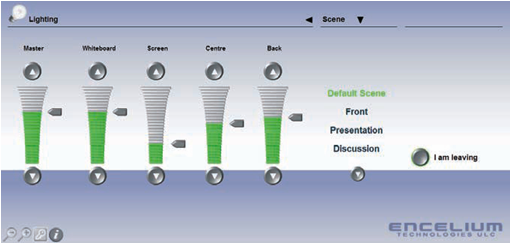 Personal Control Software (PCS) is an application which enables individuals in a building to control lighting levels in their workspace from their own desktop PC.

---
About the Author
Terry Mocherniak, chief operating officer of Encelium Technologies, possesses more than 18 years of experience in the advanced lighting technology sector. Prior to Encelium, Mocherniak was the managing partner of Value Added Ventures Corporation, a Toronto, Canada-based venture capital firm. In addition, he co-founded and served as the chief executive officer of Lumion Corporation, an electronic ballast and lighting control manufacturer based in Canada.
---
About Encelium Technologies
Encelium Technologies (www.encelium.com) is a technology development company specializing in integrated lighting control systems for commercial buildings, including office buildings, schools, healthcare and public facilities, parking garages and stadiums. In 2010, the company secured a financing round led by Siemens Venture Capital (SVC), the corporate venture capital organization of Siemens, and joined by existing investor Townsend Ventures. Since the company's founding in 2001, the company has experienced tremendous growth, posting nearly a 100-percent annual sales increase during the last two years.



---


[Click Banner To Learn More]
[Home Page] [The Automator] [About] [Subscribe ] [Contact Us]