---
"Making the Invisible Visible"
Our powerful far reaching real time network connections transport the invisible via the internet cloud but it is the graphics and their dashboards representations that convert the Invisible to Visible.


Ken Sinclair, AutomatedBuildings.com
Publisher


Published
Energy Management Canada



How do we as an industry depict our invisible cornerstones of comfort, energy, and environmental impact? How can we best show what cannot be seen: Temperature?, Comfort?, Electricity?, Performance?, and the necessary information to maintain all. We now have amazing anywhere graphics that can morph into real time digital signage to take our message to the world, but have we truly thought about what we will say? Our powerful far reaching real time network connections transport the invisible via the internet cloud but it is the graphics and their dashboards representations that convert the Invisible to Visible. This is the place where art, science, and communication meet while the world watches. As an industry we have never before had the opportunity to lead, but from our past obscurity we are becoming very visible everywhere and anywhere.

I am pleased with our March issue of AutomatedBuildings.com as our many authors have provided diverse insight on how to make invisible visible.

Here are a few quotes from those articles:

Bill Parrish, Control Graphics - Implementation of Building Automation System (BAS) Graphical User Interface (GUI) is a unique challenge because every building's GUI is required to be unique. The BAS GUI typically includes real-time interactive representations of building systems including HVAC, Life Safety, Access/Surveillance, Lighting, Utility Monitoring, etc. Most will include floor plans, and system schematics. By definition a facility's BAS GUI is a custom GUI.

Designing and implementing an effective custom BAS GUI requires domain knowledge relevant to the systems being represented. It requires detailed knowledge of how GUI is implemented for the specific BAS platform. It also requires knowledge and skills across several other domains including graphic design, 3D modeling, usability/human factors, and GUI design.

Sarah Erdman, Marketing Director, QA Graphics - With today's technologies, creative graphics can bring any intangible concept to life to accurately illustrate what generally can't be seen. Great graphics offer the opportunity to explain the invisible, allowing you to see what's going on behind the scenes. Graphics can improve sales and marketing tools, simplify training and education resources, and make technical concepts easier to understand. Ideas can be brought to reality, demonstrating even the smallest of details. Graphics are also relied on for day-to-day building operations, providing you with quick feedback for monitoring equipment functions, alarm statuses, resource consumption and other building operation tasks.

Alper Uzmezler, BAS Services & Graphics, LLC - One of the most intriguing advancements has been our web browsers. Today our web browsers can use the hardware resources of our graphics cards, and with the advancement of HTML5, our industry will see user interface advancements that most of us could not have imagined a decade ago. This has a huge benefit for BAS industry on the graphics side. There are only a handful of companies using the benefits of the latest generation browsers.

Nirosha Munasinghe, Open General - End users generally judge the BAS vendors' product through the capabilities of the graphics engine.

Solid graphical user interface generally leads to satisfied customers, which will benefit the BAS industry's value chain. Therefore, if an investment is made to properly design a graphical panel display for one customer with human perception and usability concepts applied during the design phase, the solution can be duplicated on other similar projects. It is becoming very important for BAS vendors to make sure their system integrators are designing attractive and user friendly graphical panels as they becomes the show case of the vendor's entire product line.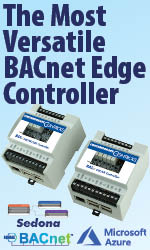 Nino Kurtalj, Elma Kurtalj Ltd - After we measure, we need to draw a picture. It is an important general principle in explaining things. Most people will accept visual information much more quickly than information in other forms. Simple, visual perception is more immediate than a sequential scan of numbers and letters. Graphics data presents and shows relationships more clearly. Visual depictions of data are almost universally understood without requiring knowledge of language. The purpose of graphical data is to communicate information clearly and accurately.

Visible anywhere buildings integrations and the general anywhereness (yes that is now a word in Wikipedia) of our industry will be our challenge for 2011.

Managing building systems all the time from anywhere with a continuously connected open web environment that allows the user to complete all tasks including engineering, commissioning and facility maintenance is the new reality. The role of evolving technologies such as smart phones and tablets for users and facility manager's interface is changing everything while connecting everything and it's this combination of changes that is dramatically changing our industry. The driver is not "Information Technology", but the way forward is enabled by IT. We must prepare our building information for continuous connections.

We need a systematic approach to tracking energy utilization that detects problems early, long before they lead to tenant comfort complaints, high energy costs, or unexpected equipment failure. Today's aggressive energy standards are greatly increasing the need to insure all technologies in place actually work. Once successful operation has been achieved continuous commissioning is the only way to maintain and improve our aggressive energy standards.

Connecting buildings to everything with connectivity and services now in the information cloud is the focus. New sensors, video analytics, wireless, Software as a Service, artificial intelligence, ownership of metering are all changing how we connect to the future. In addition building system analytic software, remote operations centers, micro video cameras, facial recognition security, plug load control and more add to the change. Our new found graphical technologies allow us to demonstrate and tell the world about our ability as an industry to reduce environmental impact.

So now that you are visible anywhere be careful of what you do.


---


[Click Banner To Learn More]
[Home Page] [The Automator] [About] [Subscribe ] [Contact Us]