---

EMAIL INTERVIEW – Gerry Cellucci &
Ken Sinclair
Gerry Cellucci is a principal of Yorkland Controls, an automation controls distributor in Canada. Yorkland Controls Ltd. began primarily as a building controls and automation distributor serving the market place for over 40years. Recently, representing major control manufacturers such as Johnson Controls , Honeywell, and KMC, Yorkland has expanded to provide a high degree of value added product as well as integration services to the marketplace. Working through qualified contractors, we facilitate solutions by integrating, Automation, Access, CCTV and most recently, Lighting Controls.

---
Integrating Lighting Control
Manufacturers have released lighting control systems to allow control down to individual zones and even fixtures. These systems are BACnet and Niagara Framework "ready".
Sinclair: What has developed in the Lighting Control Market place that allows the Automation Contractors to facilitate integrating lighting into Building Automation systems?
Cellucci: The lighting control manufactures have come a long way from the days of providing central lighting panels. At best these panels would control larger "zones" providing on-off control with occupancy scheduling. A few systems would allow Building Automation networking through a proprietory network. But again, the only control would be turning the lights OFF and ON with the occupancy schedule triggered by the Automation system.

Manufacturers such as Crestron, Encelium and Wattstopper, for example, have released lighting control systems to allow control down to individual zones and even fixtures. These systems are BACnet and Niagara Framework "ready".
Sinclair: Didn't the Digital Addressable Lighting Interface (DALI) Systems from some manufacturers allow for control down to the zone or fixture level?
Cellucci: Yes, DALI did allow for such control, but there are advantages by using open communication protocols. First, DALI is a lighting communication standard not necessarily a communication protocol that could be easily, or cost effectively, integrated into new or existing automation systems. Second, many DALI control manufacturers are ballast manufacturers, forcing the use of manufacturer specific ballasts and lighting controls. These DALI ballasts are relatively expensive compared to generic modulating 0-10vdc ballasts. These ballasts allow for more flexible and lower cost use of lighting controls. Since the lighting controls are BACnet controlling 0-10dv ballasts, the automation contractor can cost effectively implement integrated control strategies, from one common user interface using BACnet engineering tools.
Sinclair: Do these integrating strategies always require the use of modulating ballasts?
Cellucci: Not necessarily. Ideally, modulating 0-10VDC ballasts would allow for more sophisticated control and energy saving routines such as dimming strategies, daylight harvesting , load shedding, and occupancy scheduling down to the fixture level. However, when the budget or the application doesn't justify the use of these dimming strategies, the use of communicating bi-level on-off control with smart occupancy sensors can certainly provide zone control and substantial energy savings. Studies have shown that most occupants can do with less lighting. When dual or multi-mode mode manual light switches are provided , most users would generally use the first-lower light level setting. One button on the switch turns on says 50% of the lighting and another turns on the remainder when required. Using a simple strategy such as bi-level lighting with a manual on switch with automatic off via occupancy sensors, can increase energy savings by as much as 70%.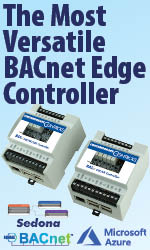 Sinclair: Other than allowing the building automation contractors to implement lighting control integration from connectivity perspective, what are some of the other major advantages?
Cellucci: BACnet ready lighting controls, once they are networked, can bring visibility of not only control to the entire facility, but allows for sharing of common devices such as occupancy sensors, reducing the hardware costs and allows for incremental energy savings. For example, sharing the occupancy sensors between the lighting and HVAC systems can increase energy savings by allowing the HVAC system temperature setpoints to drift to a "stand-by" setpoint in unoccupied areas during normal business hours. In the case of VAV box controllers, not only the temperatures but even airflow can be reduced for demand control savings.

Sinclair: How can integrated lighting controls benefit the Smart-Grid Initiative?

Cellucci: Utility Demand Response routines can be easily implemented with the lighting and HVAC systems working together to reduce peak demand . The integrated system, would identify areas on low or No-occupancy and adjust lighting and equipment down to the zone- more granular- level. Additionally, these lighting systems can provide fixture and zone level energy usage, pinpointing areas of abnormally higher than normal energy usage. The facilities operations people could then use this information to not only monitor and verify usage, but optimize building energy use.

---


[Click Banner To Learn More]
[Home Page] [The Automator] [About] [Subscribe ] [Contact Us]