---

EMAIL INTERVIEW – Gary Meshberg & Ken Sinclair
Gary Meshberg, Director of Sales, Encelium Technologies
A lighting controls industry veteran with more than 25 years of experience, Gary Meshberg, LEED-AP, LC, serves as director of sales for Encelium Technologies, a leading international manufacturer and supplier of addressable lighting controls for commercial buildings. As such, he oversees all sales initiatives related to the company's hallmark product, the Energy Control SystemTM (ECS), which reduces lighting use and energy costs at a faster rate than other environmental measures.

Meshberg is the current president of the Lighting Controls Association, as well as the education chairperson for the North Texas Section of IESNA. He is also a founder and past chairperson of the Home Lighting Control Alliance. At the upcoming LIGHTFAIR International in May, Meshberg will present "Design of Electric Lighting Controls for Daylighting."
---
Daylight Harvesting
Daylight harvesting is when the lights are dimmed or switched in response to sensed ambient light levels.

Sinclair: First things first. What is daylight harvesting?
Meshberg: Daylight harvesting is when the lights are dimmed or switched in response to sensed ambient light levels. As one would expect, when daylight begins to fade, dimming levels are adjusted to maintain illumination quality throughout a space. Daylight harvesting is not usually a stand-alone energy saving strategy but works extremely well within an addressable, integrated lighting control system.
Sinclair: What's new in regard to daylight harvesting?
Meshberg: Many codes and regulations are now in the works to design best practices for daylight harvesting. These best practices plan to incorporate energy conservation measures to reduce lighting electricity by taking into consideration daylight contributions.
Sinclair: How important is commissioning when it comes to daylight harvesting?
Meshberg: It's tremendously important. Commissioning requires not only the right product in the right place – such as putting a photo sensor near a window – but also the right set-up. If the system is installed poorly, it will likely upset occupants, and in the end, it will be overridden or turned off.

Owners and facility managers should also be aware that it will be impossible to get LEED certification – at any level – for a building unless the prerequisites for proper commissioning have been met. ASHRAE/IES 90.1-2010, though not yet adopted, also requires commissioning.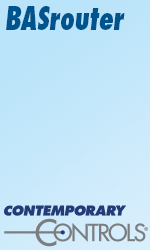 Sinclair: Why is an integrated lighting control system preferable to simply upgrading light fixtures and ballasts with more energy-efficient equipment?
Meshberg: Recent studies have found that the real key to saving lighting energy and reducing related costs is to have a lighting control system that combines multiple energy management strategies. In office buildings, such a system can typically yield an energy savings of 40 to 80%.
Sinclair: In addition to daylight harvesting, what are the other energy management strategies of Encelium's ECS?
Meshberg: In total, ECS integrates and deploys six energy management strategies. Those include occupancy sensors, smart-time scheduling, task tuning, variable load shedding, and personal software-based controls as well as daylight harvesting. Our installations range from office buildings, hospitals and schools to stadiums and parking garages.

---


[Click Banner To Learn More]
[Home Page] [The Automator] [About] [Subscribe ] [Contact Us]