---
There was once a time when IT and building operations(OT) had no reason to talk. OT and IT were developed to accomplish two distinctly different missions, with contrasting agendas and dissimilar tools and priorities. IT used to be about printers, networks, and workstations, etc., and OT handled buildings systems such as HVAC, lighting, sensors and so on. Many cultural and technological impediments make IT/OT convergence challenging. From the perspective of culture, IT and OT have traditionally been well-separated domains.

While the importance of technology to control and operate facilities is not new, the technology has advanced so this divide and separation of powers between OT and IT is radically changing. Smarter building equipment, digital transformation, IoT, accessing and sharing of data, analytics and the increased visibility of cybersecurity and privacy issues are bringing these two worlds together.

The idea of convergence between IT and OT has been the cornerstone of intelligent buildings (and other operational areas of the enterprise) since the technology's inception. When we look at today's OT and IT, they both involve network infrastructures and the management of computing devices and software, with issues of upgrades, compatibility, bugs, cyber security, etc.
Despite some strides, the reality is that many of these departments still work in isolation. However, the realities of operating in the modern, highly distributed building enterprise are necessitating ever-closer collaboration between the two departments.

What will it take to truly bridge the gap? While I do not have all the answers, here are a few thoughts:

Development of joint standards and governance structures to align IT and OT
Open communications and dialogue
Combined management and execution of cross-functional technologies
Elimination of overlapping processes
Development of inter-disciplinary skills within both domains

Combining the traditional split responsibilities between IT & OT, especially concerning security
Single management and monitoring of infrastructures
Closer alignment of business strategies and business outcomes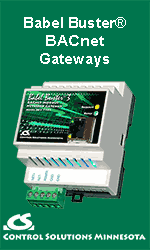 There are interesting changes afoot relative to IT and OT environments. The difference between IT and OT is blurring with the newer components and operating schemes our buildings and facilities are using.
OT is expected to continue to assume an expanding role in most organizations, enabling greater integration between business processes, physical activities and supporting technology. The integration of OT more into organizations core business operations means the OT side of the house must be more strategic so that they can engage with and impact all facets of their organizations including IT.

At the core of all of this, is how IT and OT contribute to the enterprise and how they collaborate and work together to drive better outcomes, cost synergies and extend value. While this seems challenging, the potential benefits are significant. Both sides need to remember that it is a two-way street and if they work together, they can support each other. There are significant opportunities to be derived from closing the gap.

---


[Click Banner To Learn More]
[Home Page] [The Automator] [About] [Subscribe ] [Contact Us]