---


EMAIL INTERVIEW – Tim Vogel and Therese Sullivan
Tim Vogel, Marketing Manager, KMC Controls, drives KMC's marketing strategy across multiple channels, from system integrators and distributors to OEM relationships and IT managed service providers. He is also responsible for communications efforts related to KMC's innovative IoT platform, KMC Commander. Contributing Editor Therese Sullivan of BuildingContext.me attended the KMC Genius Summit this year, and here they discuss some of their takeaways.

---
The Genius Summit
We brought all discussion of the IoT down to manageable, first-steps – zoning systems, basic metering, single problems.
Sullivan: The IoT was a major theme of the recent KMC Genius Summit. Training all your partners and the wider buildings industry on the elements of an IoT platform and how IoT workflows can lead to better buildings is a big job. How are you approaching it?

Vogel: It's true, the broad concepts that defined IoT seemed foreign, vague and confusing to our market when the Industrial IoT Consortium introduced its reference architecture four years ago. But, KMC saw the fit and started working with Dell and Intel on KMC Commander soon after – ours was one of the first IT/OT partnerships. For the Genius Summit, we brought all discussion of the IoT down to manageable, first-steps – zoning systems, basic metering, single problems. This approach allows people to get their feet wet, understand the process, and then grow the strategy.

Dell and Intel were on hand at the Summit to answer any questions about the Dell Edge Gateway series and to talk about KMC Commander's place in IoT.

Sullivan: KMC is also a member of the Project Haystack open-source community working on a unified data semantics system. Why did you join that effort?

Vogel: With IoT, you'll only be as successful as the extent of your collaboration with others. That's why tagging communities are central to IoT winning, and proprietary systems are detrimental to any strategy.

Sullivan: How does KMC Commander fit the definition of an IoT Platform?

Vogel: By definition, an IoT platform should be able to tap equipment sensor data and make it accessible via the connectivity resources on your smartphone or tablet. Integrating data moves from a hard-wired task to something that can be accomplished via APIs and cloud-hosted apps. KMC Commander BX is built on the Dell Edge Gateway series with Intel inside.

We aimed KMC Commander at VVT retrofits in light-commercial buildings because poor environmental comfort in these buildings is common due to outdated equipment. They constantly need service and maintenance as individual components wear out. Replacing the entire mechanical system and installing a dedicated onsite building automation system (BAS) is typically too expensive for such buildings. Retrofitting with KMC Commander is an innovative solution. Building operators gain remote visibility and control to correct problems before they hear about them through occupant complaints.

Sullivan: Creative disruption was another theme at the summit. Do you think the KMC community is ready to disrupt their own businesses by introducing IoT approaches to their customers?

Vogel: When we go out and speak with customers, there's always a sense of wanting more and looking ahead to what's next. Our customers are outgoing like that. They want to be the ones at the forefront of new technology in the smart building space. At our Summit, they saw how KMC Commander and our core building automation solutions could help them achieve that goal and lay a foundation for the future.

The Summit curriculum included sessions to draw our partners into the coming age. IoT is not going away, and we believe our complete line of edge-to-edge solutions is exactly what will help them achieve a firm footing for the future.

We recommend that they begin to pilot KMC Commander in their own offices, gaining familiarity with the new approach and technology before they deploy it at a customer site. As Amazon, Google, Apple, and others introduce more and more IoT edge devices to the Smart Home market; their customers are going to start looking for commercial building IoT platforms. They need to be ready.

Sullivan: As the IoT reinvents building automation, is it creating new opportunities for companies within the industry to work together?

Vogel: Yes! For example, Kodaro develops software for the building automation industry, with the goal of helping contractors, controls companies and end-users find value in their building data. It has ported Tridium Niagara to the Dell Edge Gateway, most recently for the Dell-supported O/S Ubunto Core 16. There are some interesting ways our two companies are coming together. We invited Kodaro to participate at our AHR booth, and together we talked to visitors about a complete integrated systems approach to advanced building solutions. Dell was also with us in the booth.

During his address to the Genius Summit audience, Rick Lisa of Intel commented "Hear IoT, throw it away and insert 'Connected infrastructure delivering managed services.'" KMC Commander is a platform that managed services providers can use to get the data they need to introduce new types of services to property owners and managers.

Much of the new services enabled by IoT-connected buildings will be entirely new to our industry – whole businesses that are just coming into being as expectations and the world changes with the exit of the baby-boomer generation and entry of the millennials.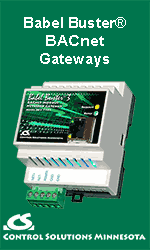 Aligning to this vision, KMC has garnered the support of many other top partners. Platinum sponsors at the Genius Summit included Tridium, Cochrane Supply, and Arrow Electronics, along with Dell and Intel. Gold level sponsors included Veris Industries, ACI and Hawken Media. We're fortunate to have the relationships we do. A shared vision for the future is not something we take for granted. Our sponsors are truly partners, and we are all excited for the future.

Sullivan: A big drag on the adoption of IoT technology by building owners and commercial enterprises, in general, has been cyber-security concerns. How is KMC building cyber protection into KMC Commander and other products?

Vogel: Security was top of mind when it came to developing KMC Commander. We understand the necessity of a secure platform for our partners, as well as their concerns venturing out into this new technology. We were sure to build in a variety of features to ensure the platform is secure, including white-listing for IP addresses and ports, so outside traffic from only approved services are allowed; messaging is initiated by the KMC Commander gateway and not from the outside, and all applications execute in their own part of memory and not across memory boundaries.

We recently installed KMC Commander at the Baldwin Child and Adolescent Health Center in Baldwin, Michigan, as part of the VVT retrofit project. This facility is a health clinic attached to a school. Due to HIPAA rules, the clinic requires very stringent security, including its own, distinct IT/building automation system, to protect the sensitive health information. If there was any concern that KMC Commander was not secure enough for this task, we would not have installed it.

Sullivan: Are there any big lessons-learned to share about the IoT journey, as KMC Controls and its customers have experienced it?

Vogel: With this digital transformation, things are evolving constantly. IoT is the biggest thing to happen since the industrial revolution. It's even bigger than the mobile revolution, and the market is ripe for innovation. We're entering a phase of "newness" and decision automation that's going to change the way things operate, and that's no light matter. As building automation systems become more intricate, IT and OT are truly converging. Because of this, we at KMC will never truly see KMC Commander as a finished product. We fully expect to add new features as technology advances, and as the needs and demands of our customers change. This product will evolve alongside the industry.

---


[Click Banner To Learn More]
[Home Page] [The Automator] [About] [Subscribe ] [Contact Us]