---
iSMA Hotel Solution



Client's satisfaction = success of your hotel business.





Oleksandr Zdir,
Product Manager,
Global Control 5
Smart temperature control is crucial for the reputation of every hotel. Client's satisfaction = success of your hotel business. You may have the best personnel, location or breakfasts but if guests are not comfortable in the room because it is too hot or too cold, you won't get positive feedback from them.
So what needs to be done to ensure a comfortable indoor environment with the lowest energy consumption?
Temperature setpoint in the room should be adjustable. Every person has its own comfort temperature level and thinking that 21°C (69.8°F) will satisfy everyone may be a huge mistake. According to ISO7730 comfort zone also vary from 20°C (68°F) to 26°C (78.°F) depending on season as you can see on the graph below.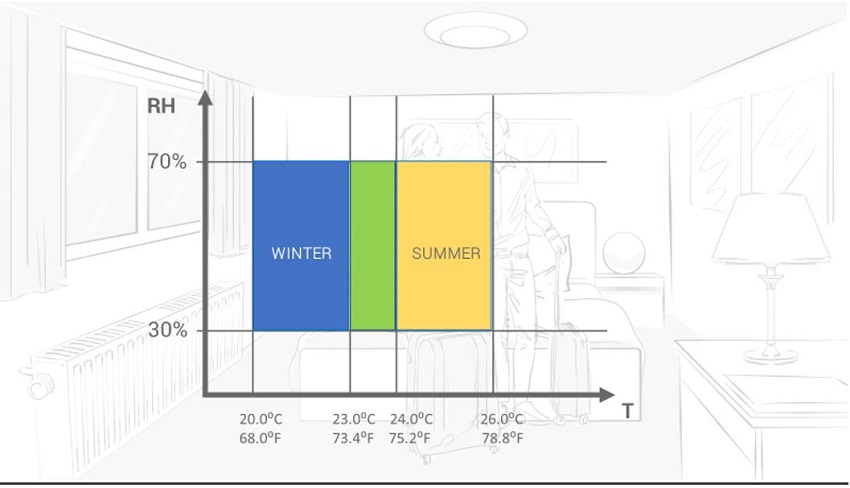 Thermostat or wall panel should be easy to use. It should contain a maximum of four intuitive buttons. No one enjoys reading 50 pages manual about changing temperature setpoint for +1 deg. Intuitiveness is the key here.
Hotel room should be prepared for guest in advance. You know that feeling, when you just entered the room and survival instinct tells you to increase the temperature on a thermostat or you may freeze to death here? As a hotel owner, you should protect your client from that feeling. It takes some time before the air conditioning system will get the desired set point temperature. So if you want to make sure a guest is satisfied from the very first moment, you should have a hotel system which allows for adjusting the temperature setpoint according to the client's schedule. Moreover, to achieve an ideal balance between energy savings and comfort, the hotel room should have three levels of temperature setpoints:

Unoccupied (e.g. 16°C (60.8°F)). Applied while a guest isn't in the room according to schedule, plus one's absence is controlled by PIR sensor.
Standby (e.g. 20°C (68°F)). Applied during schedule occupied period but when no movement is detected inside the room.
Occupied (e.g. 22°C (71.6°F)). Applied in the moment of movement detection by the passive infrared device or by inserted card in the cardholder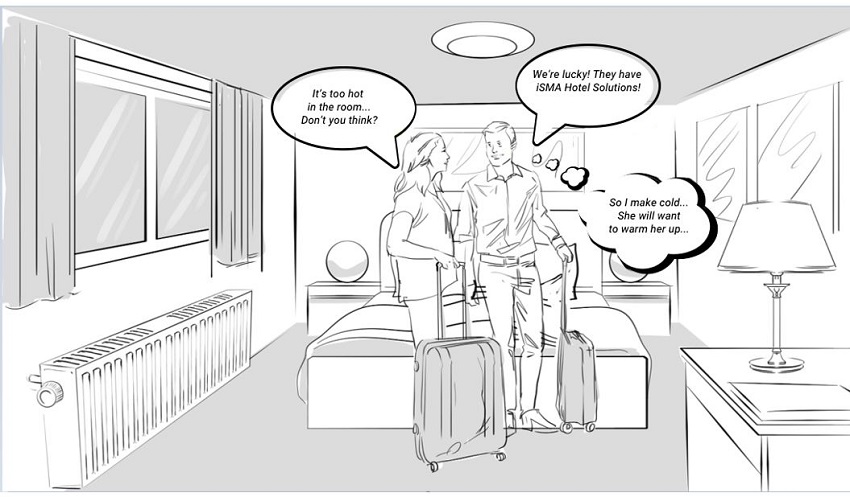 Room setpoint should be adjusted according to outdoor weather conditions. It has been shown that a 1°C (1.8°F) decrease in indoor temperature may approximately cause a 10% reduction in heating costs and 5-10% of cooling costs. The facility maintenance team is a busy team, so they will not always be able to adjust the setpoint manually. Thus your BMS system should have a connection with weather service.
1 °C (1.8°F) seems to be unnoticeable change, but it may impact monthly/yearly bill perceptible.

In order to save energy, not occupied rooms should always be maintained at the level of minimum setpoint. The truth is that guests spend plenty of time outside of the hotel room and it is justified to use that information for extra savings. Motion sensors, occupancy buttons, cardholders are the solutions.
An opened window should cause turning off temperature control in the room. BMS system should protect you from wasting energy. We know that some guests want both - open window with "fresh" air and effective room temperature control at the same time and our task is to prevent such controversial behaviour.
Building Management System should regularly provide full, easy to read energy reports. Data will allow you to understand how effective you are managing your hotel. "What gets measured gets managed" © Peter Drucker.

How to achieve all the above requirements?
You need a sustainable, effective, proven solution which will provide all the above functionalities. And the good news for you – we have a perfect one. Combination of iSMA-B-FCU and iSMA-B-LP devices will ensure that your hotel room will be maintained according to the latest energy efficiency requirements and your clients' needs. iSMA-B-FCU controller has pre-loaded universal application, which can be adjusted to every specific room in your hotel. Temperature control algorithms were prepared and tested by experts, so you can be sure that energy savings would be maximal. With the iSMA-B-MAC36NL controller on the top, you will be able to collect, organise and analyse data from your hotel. Moreover, open protocols such as BACnet and Modbus which are available for our devices ensures that those devices may be integrated into majorities of BMS systems available on the market. Save energy. Take care of your guests. Use iSMA Hotel Solution. Simple as that.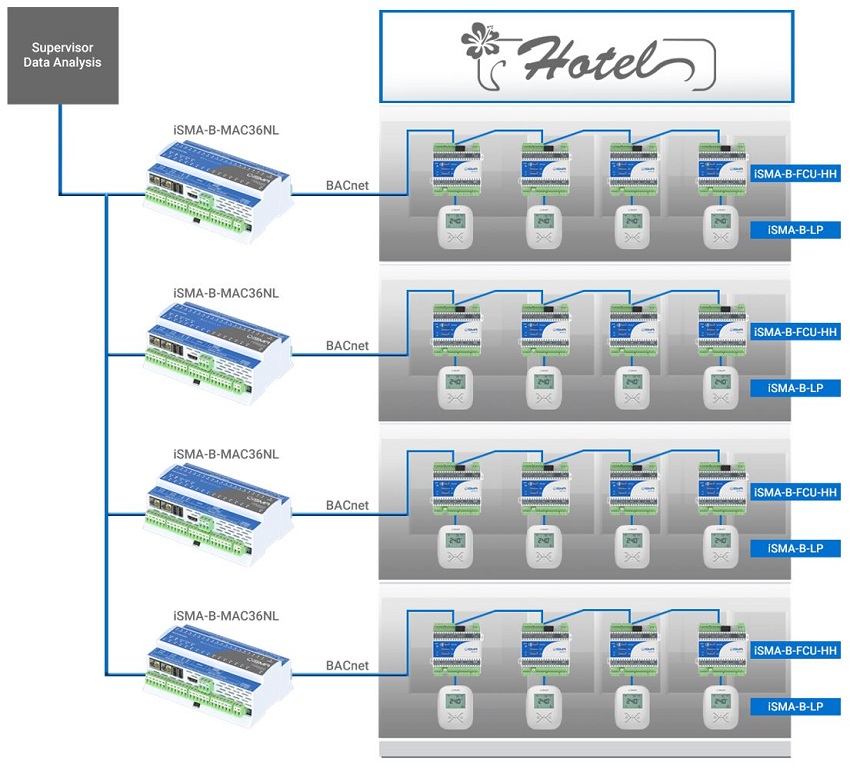 ---
About Author:

Oleksandr Zdir is a Product Manager responsible for the success of the room solution devices in Global Control 5. Previous experience as a Technical Support Engineer and System Integrator gave him a strong understanding of building automation market, client needs and key players. Technology geek. Ecological volunteer. True-born engineer.

---


[Click Banner To Learn More]
[Home Page] [The Automator] [About] [Subscribe ] [Contact Us]