---
Niagara Summit is where all smart building enthusiasts look for innovation and innovative approaches to technology. This year, after a short break, will be no different! In 2022 the summit takes place in Charlotte, North Carolina. This is likely no coincidence, as Honeywell has announced the opening of its new headquarters in Charlotte in late 2021, which, by the way, looks impressive! iSMA CONTROLLI joins Niagara Summit 2022 as a Silver Sponsor and looks forward to unveiling the very latest products in comfort management solutions.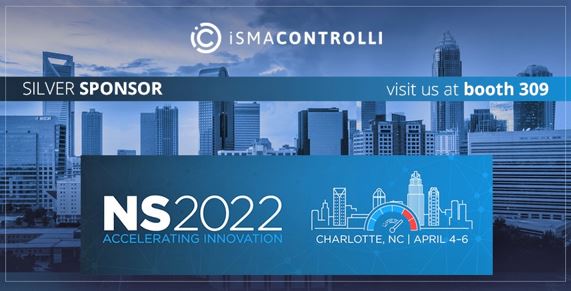 From a product perspective, the year started with the great news of the iSMA-B-MAC36NL Hybrid IoT Controller winning the Innovation Awards at AHR EXPO 2022 in the Building Automation category. Our team was pleased to collect the award and introduce the controller to a wider audience at the booth by presenting an innovative IoT controller powered by Niagara with a local HMI combined with HDMI and USB output. In case you've missed the opportunity to find out more about the controller, there will be a chance to try it out with a live demo at the Niagara Summit.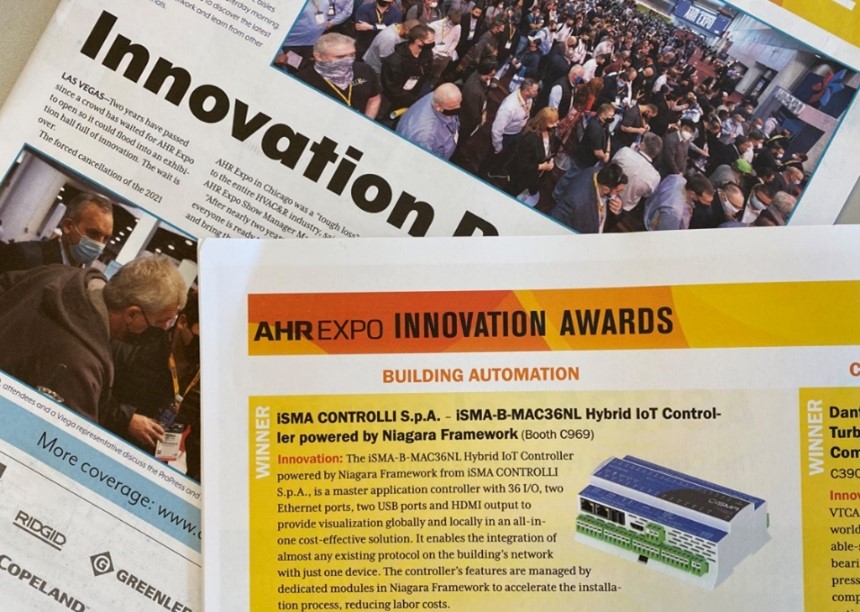 Pic. iSMA-B-MAC36NL Hybrid IoT Controller is the winner of the Innovation Awards at AHR EXPO 2022 in the Building Automation category
"The iSMA-B-MAC36NL master application controller family provides an all-in-one solution for mini-BMS. Created visualization can be displayed and controlled via HDMI output and 2 USB ports that enable connection of a mouse/keyboard or dedicated touch for the HMI panel. No PC, additional licenses, or additional costs are required. As MAC controllers are based on the Niagara Framework, it enables the integration of almost any existing protocol on the building network. The onboard M-Bus port, 2 ethernet ports, and the RS485 port can be integrated with just one device. Finally, the controller has an onboard dip and rotary switches that can be used as a part of the application. All of the features of the controller are managed by dedicated modules in Niagara Framework to accelerate the installation process and thus reduce labour costs."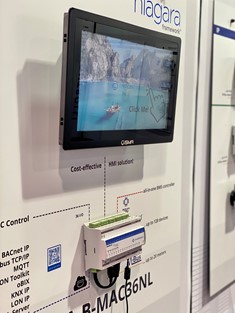 Pic. iSMA-B-MAC36NL with an LCD screen connected via HDMI output will be available with a live demo during Niagara Summit 2022
With the MAC36NL controller and the whole range of building solutions, iSMA CONTROLLI will be presenting completely new products based on innovative technological solutions, open protocols, and …modern design. The two new products are a part of Comfort Management Solution, and together are creating a new modern line of Room Application Controllers with Touch Point wall panels.
RAC18-IP (Room Application Controller) is an advanced, freely programmable IP controller designed to comprehensively manage conditions of the zone of the room with a built-in nano EDGE ENGINE – the new cutting-edge software! It allows the construction of multiple applications and it provides a set of libraries and components tailored to create #cycle-#driven user #applications.
Touch Point is a modern multiprotocol family of comfort management wall panels. The TP is factory-equipped with the two most popular open #communication pro­tocols, Modbus ASCII/RTU and BACnet MS/TP.
The TP panel will be available with different sensors configurations:
· temperature
· humidity
· CO2 sensors.
TP has only 14 mm thickness, which makes it one of the slimmest devices on the market. A front glass panel with modern and simple icons fits perfectly in offices, meeting rooms, and other places where design is important. All versions of the TP are equipped with # LEDs that indicate the working status of the device.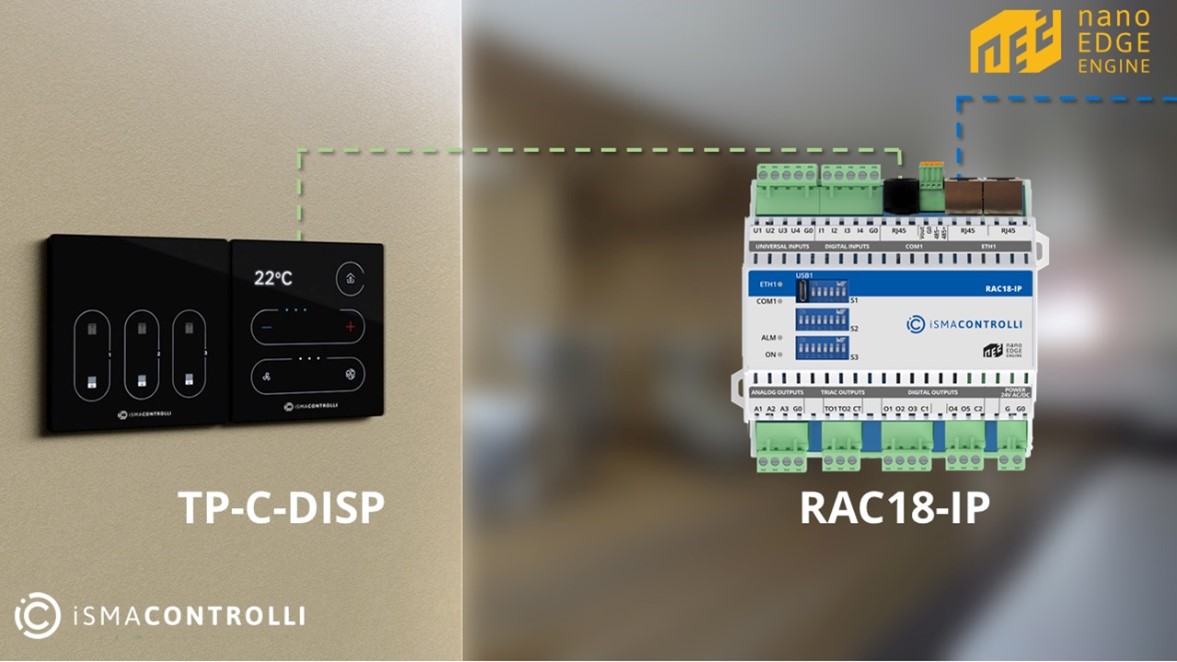 About iSMA CONTROLLI
iSMA CONTROLLI is a joint group of Controlli S.p.A. (established in 1936), a leading Italian manufacturer of valves and actuators for residential and commercial HVAC applications, and Global Control 5 S.A. (established in 2015), a Polish fast-growing company that operates in the development, design and manufacturing of advanced solutions in building automation under the "iSMA" brand.
iSMA CONTROLLI is a Tridium reseller, developer, OEM and portability partner. As a long-time, active community partner, we work together with partners to develop and share solutions that improve the development and operation of open control systems in the Niagara Framework.
Meet the iSMA CONTROLLI products during the Niagara Summit 2022 in Charlotte Convention Center at our booth #309. See you in Charlotte between 4 and 6 April 2022!
About the author:
pawel.szarmanski@ismacontrolli.com
https://www.linkedin.com/in/pawelszarmanski/
Pawel Szarmanski is Solution Marketing Manager at iSMA CONTROLLI where he develops and shares vision of product strategies for Niagara Framework environment. Focused on understanding user's needs, he always goes for the most effective solutions.
___________________________________________________________________________________________
Nowadays, the onlinespace, both business and private, is our most important channel of communication with the world. Follow us:
https://www.ismacontrolli.com/en/
https://www.linkedin.com/company/ismacontrollispa
https://www.youtube.com/c/iSMACONTROLLI/videos
https://www.facebook.com/iSMACONTROLLI
https://www.instagram.com/ismacontrolli/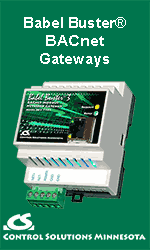 ---


[Click Banner To Learn More]
[Home Page] [The Automator] [About] [Subscribe ] [Contact Us]