---

a New Solution for HVAC Energy Conservation

Bob Mealey,
Vice President Marketing and Sales
Lynxspring
Lynxspring, Inc. of Leawood, KS has developed a web-based, self-installing energy management system for light commercial buildings. The product is called "JENEsys™ snap!" and according to Lynxspring it is truly a snap to install and use.











Bob Mealey, Lynxspring's Vice President of Marketing and Sales, says that JENEsys snap! is targeted at HVAC systems of 1-120 DX based RTUs, split systems or heat pumps. "Buildings incorporating these systems represent 25% of North American commercial space and 75% of commercial buildings. Yet most of these buildings are controlled using simple slide or non-communicating programmable thermostats."
Mealey goes on to quote Department of Energy statistics showing these light commercial buildings use 27% more energy on a per square foot basis. "These building haven't been automated because, until recently, payback and ROI for HVAC automation did not compete. But the rising costs of energy combined with the low acquisition and installation costs for JENEsys™ snap! is changing that paradigm."
The JENEsys snap product consists of a JENEsys controller hosting the JENEsys snap appliance which is connected to a network of 1 – 120 JENEsys thermostats. Those thermostats are in turn connected to DX-based, split systems, roof top units or heat pumps as shown in figure 1.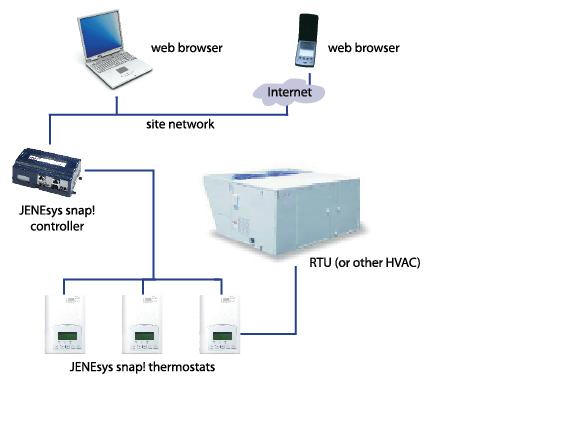 Figure 1
JENEsys snap! represents a "disruptive technology" according to Lynxspring. Mealey explained, "By disruptive technology we mean that the product provides a solution to a segment that is underserved by the incumbents in the industry. In this case, it is the control manufacturers. We provide a scaled down, high value product for energy savings in light commercial buildings with margin for the contractor and low total installed cost for the end user."
The product is designed for easy installation and is modeled after the simple set-up and installation process of companies like Dell computers. An installation poster (figure 2) accompanies the product and graphically lays out a simple 10 step installation and commissioning process.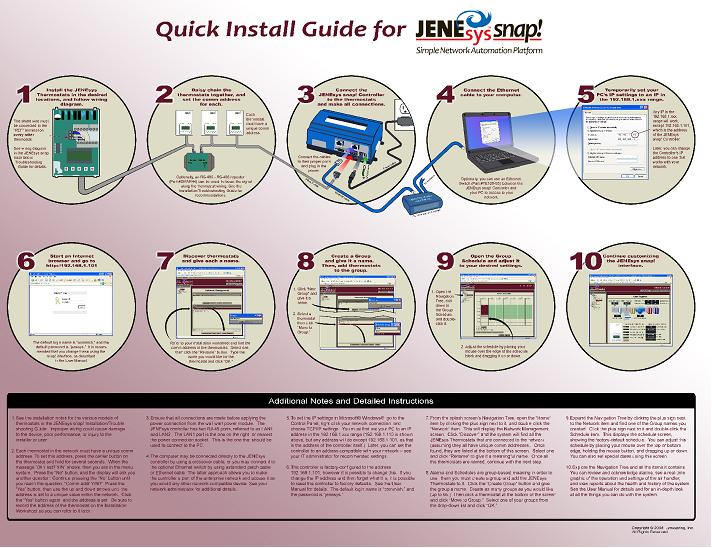 Figure 2
Wiring is simple and straight forward and once wired, a commissioning agent logs into the system with a web browser and "discovers" the network. The snap Appliance creates and populates the screens. Figure 3 shows examples of the web interface screens generated by the appliance.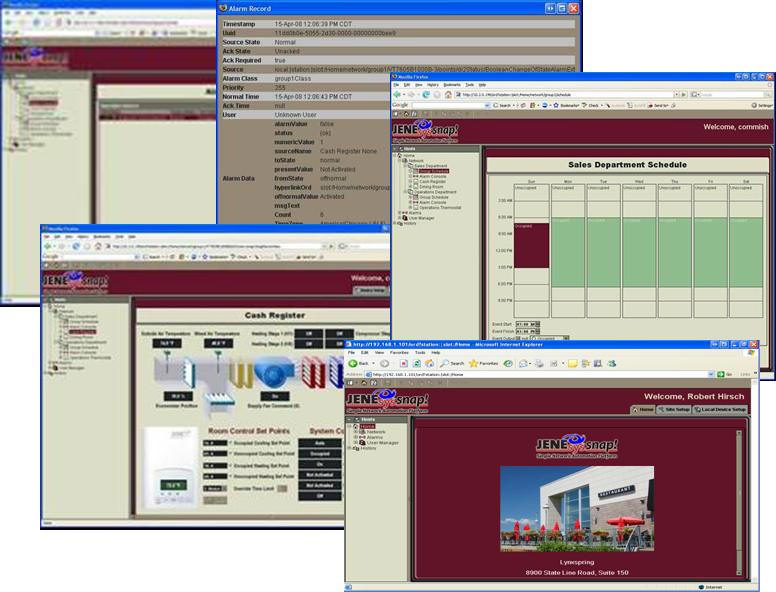 Figure 3
The commissioning agent then modifies the system for local requirements by following simple instructions to name the thermostats and zones, modify the default values for schedules, alarms and trends; set up users with appropriate levels of security (there are four levels provided); and define the conditions for load shedding. The system is then complete.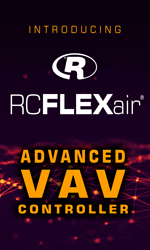 Energy analysis and savings features are comprehensive and in addition to pre-defined load shedding, the system has a set of default daily reports. A built-in energy calculator is incorporated that allows you to input the specification items of your HVAC equipment (fan HP; compressor tonnage, etc.) and it will calculate energy use data. Ad hoc analysis and graphical reporting are provided for energy analysis and diagnostic use.
By combining low acquisition costs with an automated installation process, the system has a very low total installed cost. Mealey says "Payback and ROI for the product are outstanding and easily justify the investment on the part of the owner."
JENEsys snap! is designed to reduce operating and energy costs and to pay for itself through energy savings.
Contractor and distributors are finding the product almost sells itself according to Lynxspring. "The product provides many sales benefits, is costs effective and very scalable", according to Mealey.
Lynxspring is seeking distributors and contactors to resell the product and provides a complete sales tool kit including presentation material, cut sheets, estimating worksheets and ROI calculators to its partners.
Interested parties can go to http://www.lynxspring.com/snap.jsp for more information or to see a 5 minute automated presentation on the system.
---

[Click Banner To Learn More]
[Home Page] [The Automator] [About] [Subscribe ] [Contact Us]