---

The actual touch screen devices vary, but three classes of devices have emerged. These include touch screen controls from companies traditionally focused on audio visual, touch screens on VOIP telephones and touch screens that are part of wall-mounted personal computers.


Jim Sinopoli PE, RCDD
Managing Principal,
Smart Buildings
Contributing Editor

Author "Smart Buildings"
There is probably no device that embodies the integration and control of systems better than touch screen user interfaces. Touch screens are a mainstay in smart residential buildings such as condominiums, apartments and hotels; they are now starting to be used in commercial and other building types. Touch screens are multi-faceted devices, the "Swiss army knives" of system user interfaces that can adjust temperatures and lighting, control entertainment systems, view surveillance cameras, adjust room shading, answer a phone call, browse the community portal, etc. For users the touch screen is the system. What follows is list of some of the features these devices can provide and an overview of the different types of devices currently being deployed.











Touch Screen Functions
Think of a large building operation center where an array of systems are monitored and managed. Now reduce that to a 10-inch touch screen for one user and you start to understand what that user interface may be able to do. The touch screen control in a residential setting can provide many functions to the user:
Control the HVAC system, including setting the temperature level automatically based on an event or a schedule.

Control lighting in a similar fashion, with pre-set schedules and lighting configurations.

Monitor surveillance cameras, including areas such as the pool or where young children may be playing.

Access a community portal, including local retailers and restaurants and e-concierge services. Owners may use the touch screen to order food, have the valet get the car, set a wake-up call, etc.

Control audio throughout the living space.

Control the entertainment and media center and coordinate the equipment startup of the entertainment center with lights dimming, shades closing, etc.

Monitor the residence's front door so that when someone rings the door bell, the owner is provided with an audio alert, two-way communication, and a video on the touch screen of the security camera at the entrance.

Get information such as local weather and traffic reports, community events, news headlines, movie reviews, building information, emergency services and message center.
Touch Screen Devices
The actual touch screen devices vary, but three classes of devices have emerged. These include touch screen controls from companies traditionally focused on audio visual, touch screens on VOIP telephones and touch screens that are part of wall-mounted personal computers. Here's an overview:

Touch Screens from Traditional AV Companies
Touch screen controls have long been a staple in the audio visual industry. Major manufacturers are Crestron, AMX and Control4. These devices come in a variety of size, configurations and functions. For example Crestron's suite of touch screens ranges from a 17 inch wall mounted device (TPMC-17-CH-L) to a 3.5 inch handheld wireless control. The 17 inch wall screen uses Microsoft XP embedded as the operating system and has application software such a Real Player, Windows Media and viewers for Microsoft Office documents. Moreover, this touch screen can stream video, do videoconferencing, has Wi-Fi and USB ports, and comes with a microphone and speakers. The handheld wireless touch screen looks like a muscular version of the typical TV remote. It is Wi-Fi enabled and capable of handling streamed video. While the Crestron products are feature rich, their knock is the use of the proprietary Cresnet protocol for the connectivity to the control systems, although Crestron does use Category 5 structured cable for video and audio feeds.
AMX also has a suite of touch screen with both wired and wireless connectivity. AMX uses 802.11g Wi-Fi for their wireless panels and uses a VOIP scheme to add a full featured intercom system to the screen's functionality. While Control4 may not have the breath of touch screen products, they do manufacturer a standards-based screen, using IP-based communication over standard Ethernet. They even have one panel which offers Power-Over-Ethernet as a power option.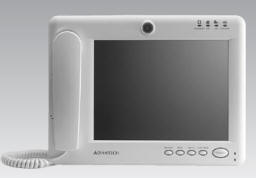 PC in the Wall
The most intriguing type of the touch screen devices to me is the PC in the wall. Advantech's residential terminal is one such example of this type of device. The device has a 10.4 touch screen, a handset, built-in microphone, speaker and closed circuit digital camera, an emergency button and sensor status indicators for fire, gas leaks, intrusion and emergency. It runs on an Intel Celeron processor and has Microsoft Windows XP embedded.
The residential terminal is typically deployed with a network connection to a central server. It can handle the major RS protocols (232,485 and 422) as well Lonworks. Most of the applications to date for these types of devices have been intercom, emergency calls, security, door phones and video healthcare. The personal computer in the wall seems like the most flexible, most open device type. One potential issue may be response time for user inputs. Because the personal computer in the wall may rely on server based applications rather than having all applications and control resident in the unit, the response time for user input may be slightly longer because the server rather than the PC itself is responding. This potential issue can be addressed with a robust network and efficient application software.

VOIP Telephones
A VOIP telephone with a touch screen is similar in many ways to the personal computer in a wall solution: IP based, standards based, Ethernet, use structured cable, Power-over-Ethernet, etc. The ubiquitousness of telephones, especially in hotel rooms, make the VOIP telephone a widely accepted device that can control other systems and provide a full range of user features. A number of companies, such as Pivod and Nevotek, have partnered with the major VOIP manufacturers, such as Cisco, to create applications for VOIP telephones in the hospitality, residence, healthcare and business sectors.
The software tools for creating the applications on a VOIP telephone include all the favorite acronyms: XML, LDAP, .NET and Active Directory. This allows almost any application to be created to integrate and manage devices. Applications to control audio visual entertainment systems, HVAC, lighting as well as provide information and services are readily available.
Unlike the AV touch screens and the personal computer in a wall approaches, VOIP devices may just be adding applications to a device that already exists. To use the VOIP as a system control devices as well as a telephone further merges everything on an IP network and should result in lower operating costs.
One of the concerns with using a VOIP telephone is the size (5.6 inch on a Cisco 7975G) and resolution of the touch screen, which are smaller and have less clarity than other device options. Unlike the other device options, full motion video applications on the VOIP telephone, such as a resident viewing a surveillance camera, may be reduced to the static video shots regularly refreshed.
While these touch screen devices may seem restricted to high-end home automation it is not the case. Expect these devices in healthcare, commercial office, government, education, etc. Allowing tenants and occupants to control lighting and HVAC (as opposed to some centralized or pre-determined control) has been shown to be a proven strategy to reduce energy consumption. The result will be more user controls in a variety of building types, many of them accessed through intuitive touch screens.
For more information about smart buildings, technology design or to schedule a Continuing Education program for your office write me at jsinopoli@smart-buildings.com.
---

[Click Banner To Learn More]
[Home Page] [The Automator] [About] [Subscribe ] [Contact Us]