---
EMAIL INTERVIEW Dan Sharplin & Ken Sinclair
Dan Sharplin is the Chairman and CEO of Austin, Texas-based Site Controls, a premier provider of on-demand energy and asset management solutions that increase profitability and improve the environment through energy efficiency. As CEO, Dan is responsible for establishing and executing business architecture and go-to-market strategies. Prior to founding Site Controls, Dan held various executive positions involving operations management, technology development, mergers and acquisitions, and corporate strategy in companies like Lone Star Technologies, Kaneb Services, and NDE Technologies. Dan received a B.B.A. from Northeast Louisiana University and an M.B.A. from The University of Texas at Austin.
---
On-demand Energy and Asset Management Solutions
Specifically designed for chain retailers, financial institutions and drug stores, the company's solutions incorporate energy efficiency, corporate social responsibility, comfort and controls, operational intelligence, and demand response services.











Sinclair: Can you provide a brief company overview of Site Controls?
Sharplin: Site Controls provides enterprise-wide energy management, facilities intelligence, and grid efficiency solutions to commercial customers and power suppliers. Specifically designed for chain retailers, financial institutions and drug stores, the company's solutions incorporate energy efficiency, corporate social responsibility, comfort and controls, operational intelligence, and demand response services.

Our Site-Command™ energy management solution (EMS) allows commercial customers to centrally monitor and manage a branch's lighting, air conditioning, signage and other equipment across hundreds or thousands of locations. With Site-Command, they can dramatically lower energy and maintenance expenses without sacrificing customer comfort.

In addition, Site Controls Energy Services Division is a leader in the area of demand response. Our Intelligent Load Management (ILM) technology automatically reduces energy usage according to pre-determined business rules and without interfering with the customer experience. Our ILM solution enables commercial customers to generate incremental revenue, save energy, improve their brand image, and help protect the electricity grid from rolling blackouts.
Sinclair: How do you help commercial customers (retailers, banks, etc.) manage their energy consumption?
Sharplin: Our sole focus is multi-site energy management for chain retailers and branch banks. Our EMS can automatically control energy usage on site, move data above site in a very efficient format via a hosted data center, and provide real-time information and access that allows our customers to significantly reduce annual energy consumption across the enterprise.

Our customers are experiencing benefits that include:
• Reducing energy costs by an average of 15 - 25 percent
• Further reducing electrical costs by another 10 - 20 percent during peak demand times when energy costs are much higher
• Reducing maintenance costs by $400 - $600 per site through service call avoidance and verification
• Generating cash payments through participation in demand response events
• Reducing the carbon footprint by an average of 13.5 percent through lower energy consumption
Sinclair: You mentioned that you can work with commercial customers in the area of demand response, specifically through your ILM technologies. Please tell us more about that, and a specific example of how you were able to help one of your customers in a demand response event.
Sharplin: We work with customers to manage their buildings in such a way that, during peak periods, we can automatically reduce their energy usage in ways while preserving the customer experience. The entire process – from announcing a demand response event to adjusting set points and in-store lighting across an entire chain – can be completely automated, and the load reduction at each location takes specific in-store conditions into account for maximum effectiveness.

An example of our demand response capabilities involves the October 2007 San Diego wildfires. During the uncontrollable firestorm, San Diego Gas & Electric issued an urgent call for emergency energy conservation. Site Controls reduced demand for electricity in the affected areas. Leveraging its web-based distributed control systems in participating commercial locations, Site Controls and its customers eliminated over three mega-watt hours (MWh) of peak electrical demand from the San Diego grid.

Nationwide, Site Controls manages 220 mega-watts (MW) of peak load, with 130 MW characterized as immediately dispatchable. By creating value for both utility operators and commercial customers, the company is proving that demand response can be effectively deployed in the small pad commercial sector – ultimately protecting the electricity grid and reducing carbon emissions while allowing retailers to continue providing excellent customer service.
Sinclair: How extensive is the IT overhead and what is the ROI a commercial customer can expect from your EMS solutions?
Sharplin: The IT overhead is very minimal. The Site-Command platform features an intuitive, user-friendly interface that is accessible from any Web browser, or Web enabled PDA. It features a hosted data model (think "salesforce.com") which offers secure real-time access to data without the cost of additional servers or IT support. The majority of our customers use their existing corporate network to eliminate the telecom costs. One of the reasons that so many IT leaders like our program is that, in addition to generating a hard return, it also allows them to create more value for their existing network.

The ROI is always more than 50 percent, and that is a demonstrable hard-dollar savings from energy consumption and maintenance reductions. The primary savings, of course, comes from the reduced energy consumption, which is easy to measure and quantify. In some areas of the country, the ROI is further accelerated by utility rebates that can drastically reduce the upfront cost of equipment. In such cases, the ROI can be well north of 100 percent.

In addition, there are the soft dollar returns that come with managing equipment more efficiently and reducing the wear and tear on the same, as well as the positive PR associated with green branding.
Sinclair: How does energy management affect sustainability?
Sharplin: 85 percent of a retailer's carbon footprint is at the store level. However, IDC Research has recently reported that only 9 percent of retailers have a comprehensive sustainability strategy. By implementing the Site Controls system, a mid-box retailer with 300 stores can have an annual environmental impact of:

• 58,471,875 pounds of carbon emissions reduced
• 5,085 cars off the road
• 3,562 households powered
• 87,708 trees planted

It's especially impressive when you consider that the above example is just for a single retail chain. This is the kind of real-world impact on sustainability that Site Controls customers are having every day.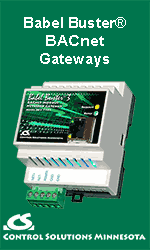 Sinclair: What is the impact of commercial buildings on energy use?
Sharplin: The impact on commercial buildings on energy use is staggering. There are nearly 900,000 chain retail store locations in the U.S., and that does not include financial institutions, grocery stores, quick service restaurants or hospitality locations, etc. The Leadership in Energy and Environmental Design (LEED) reports that in the United States alone, commercial buildings account for:

• 70 percent of electricity consumption
• 39 percent of energy use
• 39 percent of all carbon dioxide (CO2) emissions
• 40 percent of raw materials use
• 30 percent of waste output (136 million tons annually)
• 12 percent of potable water consumption

At Site Controls, we want our customers to be a part of the solution and not the problem in the looming energy crisis. By leveraging our web enabled electricity load management technologies, chain retailers can help save the grid, enabling utilities to assure reliable service (and perhaps avoid building additional power plants), while providing an opportunity for savvy retailers to:

• Make money -- by participating in utility-sponsored Demand Response programs
• Save money – by implementing energy management systems (EMS) that reduce electrical consumption 365 days a year
• Improve the environment – through lowering energy consumption, which dramatically reduces chain retailers' carbon footprint
---


[Click Banner To Learn More]
[Home Page] [The Automator] [About] [Subscribe ] [Contact Us]