---

Johnson Controls installed a multi-vendor head-end workstation to integrate a number of legacy building automation systems which controlled 28,000 physical points on the Twin Cities and Duluth campuses.



Becky Wacker,
Systems Sales Engineer,
Johnson Controls

Longtime commitment to integration supports university's current and future goals















The expressed goal of the University of Minnesota and a challenge handed down by its president is to become one of the top three publicly funded research institutions in the world. That challenge impacts every department within the University including Facilities Management, which strives to be efficient, effective and responsive to customer needs. For nearly two decades, the Facilities Management Department has worked with Johnson Controls to integrate building control systems, resulting in continued energy and operational efficiencies which support the University's greater goal.

The University of Minnesota is one of the most comprehensive public universities in the world. It is both the state's land-grant university and its flagship research institution, serving over 66,000 students and employing more than 18,500 staff and faculty at its Twin Cities and Duluth campuses. The Facilities Management Department is responsible for the operation and maintenance of over 320 buildings across the two campuses.

The University began its relationship with Johnson Controls when it wanted to integrate the building management systems on the Twin Cities and Duluth campuses, which are located 150 miles apart. Johnson Controls installed a multi-vendor head-end workstation to integrate a number of legacy building automation systems which controlled 28,000 physical points. This forward thinking step bridged the gap between disparate systems, maximized the University's return on investment and created a migration path to newer technologies. Committed to continued integration, the University began migrating to BACnet compatible equipment and replacing legacy control systems with the Johnson Controls Metasys® building management system. The Metasys system is now a common user interface from which nearly 60,000 physical points are monitored and controlled. It is recognized as the largest application of the Metasys system in North America.

World-class leadership

In addition to the goal of being one of the world's top three research universities, the University set a goal to reduce energy consumption by five percent over an 18-month period. This goal was achieved three months earlier than planned, resulting in annual energy cost savings of over $2.4 million. "When it comes to the Facilities Management Department, we strive to be world-class from an energy management standpoint and the integration we've done has helped us get there," says Mark Peterson, senior controls engineer, for the University.

The University has implemented stringent BACnet compatibility standards including intrinsic alarming. About 80 percent of the University's building management systems operate on BACnet, which allows integration of equipment from a variety of vendors including Johnson Controls, Siemens, Honeywell, Trane, Delta, McQuay, Nexsys, Phoenix and Tridium. As older equipment is replaced over time, BACnet compatible equipment is installed in its place.

The BACnet implementation allows the University to centrally monitor and control all building systems using the Metasys system as a single-seat user interface. "Johnson Controls was the first vendor of ours to launch a full scale BACnet product with a web-enabled user interface, which was something we were looking for. As we upgrade to BACnet compatible equipment, it can be easily integrated into the Johnson Controls head-end," explains Peterson.

"Johnson Controls has been very receptive to assisting us with technology challenges such as alarm management and communications across our disparate controls systems. Johnson Controls even invited us to participate in alpha and beta testing of their products, which gave us the confidence required to move forward with installation in even our most critical and complex buildings," says Peterson. "As a result, instead of needing multiple monitors to view and respond to alarms from different vendor's systems, the alarms all look the same and can be viewed from a single workstation."

The University is divided into four districts from an operations standpoint with multiple personnel monitoring systems and equipment across campus on a 24/7 basis. Managing all of the data collected is another challenge for the University's Energy Management Group. The group and Johnson Controls have worked together to leverage the reporting capabilities of the Metasys system and use it to maximize energy and operational efficiency.

For example, programs are run to calculate the amount of hours fans have run for a particular week, which are then compared to the amount they were scheduled to run. "This helps us see if fans are not running as programmed or if schedules are being overridden, which would be difficult to do otherwise with such a large university," says Peterson. "We created that report with all of the BACnet vendors and use the Metasys system to harvest the data, which is then stored and published on the Web for people to see as a dashboard metric."

Putting control in the right hands

With a goal of being one of the top research universities worldwide, precise control of research and critical environments is paramount. The impact of unreliable building control systems on the research itself is obvious. Secondary risks include a negative impact on the ability to recruit researchers, students and to obtain grant funds. The many building control systems on campus are used to control lighting and climate systems and equipment in all these environments.

Nearly 120 different University personnel use the Metasys system to interface building systems across campus. While many of these users are facilities staff who access the system at a supervisory level, others use the Metasys system as a tool in their daily jobs.

Allowing this additional user access helps the Facilities Management Department reduce energy use and decrease the number of calls it receives, letting mechanics focus on more pressing matters. Because of the user-friendly nature of the Metasys system, minimal training is necessary to make adjustments and respond to alarms. Regular training on system and equipment upgrades allows university staff to remain self-sufficient, while the commitment to using BACnet compatible equipment and the Metasys system's open architecture provide flexibility in purchasing. Facility managers can purchase energy saving systems and equipment from a variety of vendors and have the flexibility to shop for equipment with the best value and lowest lifecycle costs.

The University's commitment to systems integration and energy management can be seen in new developments as well and Johnson Controls is supporting that commitment. The new TCF Bank stadium uses more than 450 multi-vendor BACnet devices, including Johnson Controls, who integrated equipment such as lighting, fire and security systems and an emergency generator, among others.

Similarly, the new Medical Bioresearch Building uses over 200 multi-vendor BACnet devices ranging from chillers to room pressure monitors. "While smaller in scale, that building is exponentially more complex to run and manage than the new stadium because of the research done there," says Peterson. "Again, the system integration we've put in place with Johnson Controls helps us do that more efficiently."

Security and fire alarm system integrations bring operational efficiency

Operation of the new TCF Bank Stadium, completed in July 2009, takes systems integration a step further with the addition of security and fire alarm systems. When construction began on the new stadium, Johnson Controls was selected to install the security and fire alarm systems and integrate them with Metasys, allowing them to be monitored and controlled from a single user interface.

TCF Bank Stadium is the first Big Ten stadium constructed since 1960. The university was awarded LEED® Silver Certification by the U.S Green Building Council – making it the first LEED certified collegiate or professional football facility in the country. The stadium accommodates over 50,000 spectators and has the potential for expansion to 80,000.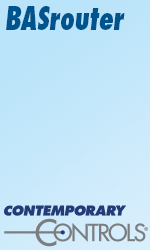 The integration project included installation of an IP network, a Johnson Controls IFC2-3030 fire alarm system with digital voice evacuation, 32 amplifiers, active smoke control using exhaust fans and stairway pressurization, emergency paging, Software House access control, American Dynamics digital video recorders and 96 Pelco cameras. Digital recorders capture camera activity, which is archived and can be viewed later or is available in real time at security and police stations.

While football is the main purpose of TCF Stadium, the facility hosts concerts and other events including conferences and meetings in private rooms for groups of 20 to 500. "The integrated systems provide the level of programming necessary to manage these events and meet the needs of individuals and groups that use the stadium. This is especially beneficial for command center operators, who use the access control system to delegate access for 20 different types of security profiles based on where a person or group needs to go," says Derek Hillestad, director of stadium operations.

Johnson Controls worked with local jurisdiction and the university to establish modified guidelines for their fire alarm sequencing procedures. Through testing and verification, based on the size of the facility, a more realistic time was established for personnel to verify fire alarms before a general alarm is sounded. The IFC2¬3030 fire alarm panel software was rewritten by Johnson Controls engineers to allow the change.

All of the equipment and systems can be monitored and controlled from a primary command center on the ground level and a remote command center on the press level, which were designed by Johnson Controls. On game days, security and fire personnel move to the remote command center where they have a much better view of everything happening in the stadium. Emergency paging, and live and pre-recorded public address messages can be initiated from either location.

"This strategic design is critical to our operations during large events," says Hillestad. "It allows us to have all of our emergency response leaders in the same room with access to the Metasys system, fire and security systems, and with a full view of the seating bowl. This means we can monitor activity, communicate and make decisions jointly as needed. And, quickly communicate with satellite security stations, such as parking and traffic control."

Each command center is tied into the central campus command center in a neighboring facility where additional emergency personnel can take over if necessary. The flexibility of the integrated systems not only improves safety and security, it allows university personnel to deliver it more efficiently.
---
About the Author: Becky Wacker, Systems Sales Engineer, Johnson Controls

Bio: As a Systems Sales Engineer at Johnson Controls, Becky Wacker, LEED® AP, works with mechanical contractors, consulting engineers, and building owners on project cost development, specification review and design, and pre-bid coordination. Wacker joined Johnson Controls in 2008 and has a bachelor's degree in Aerospace Engineering from the University of Minnesota.
---


[Click Banner To Learn More]
[Home Page] [The Automator] [About] [Subscribe ] [Contact Us]