---

EMAIL INTERVIEW – Ken Smyers and Ken Sinclair
Ken Smyers, with DMS Controls Group, LLC, in Pittsburgh, has over 30 years of experience in the HVAC, Building Automation, and Controls Industry and is Co-Founder of the ControlTrends Awards, which was established to recognize the superstars and heroes of the HVAC and Building Automation Industries. Ken is also very much involved with Eric Stromquist and ControlTrends.org, a leading internet source for HVAC and Controls information.

---
2015 ControlTrends Awards
Will be held January 24, 2016, from 6:30PM to 9:30PM, at Orlando's Hard Rock Live, near the amazing Universal Studios
Sinclair: We hear that ControlTrends has a few special announcements to make. Tell us about them.

Smyers: Yes, indeed. ControlTrends is excited to announce two major events -- that we feel are very important to our industry. The first announcement is that the 2015 ControlTrends Awards will be held January 24, 2016, from 6:30PM to 9:30PM, at Orlando's Hard Rock Live, located at the doorstep to the amazing Universal Studios. We hope that having the ControlTrends Awards on Sunday evening will minimize AHR scheduling conflicts and be the optimal destination for our sponsors and their guests.
The Hard Rock Live, located approximately five miles from the Orlando Convention center, is home to music history and a most befitting venue to celebrate the heroes and superstars of our HVAC and Building Automation industries. As always, ControlTrends graciously thanks our sponsors for allowing us to make this special industry event possible. Platinum Sponsors and their invited guests will also join ControlTrends upstairs in the John Lennon replicate #71 Dakota Suite and reception area prior to the awards show.
Sinclair: Will the 2015 ControlTrends Awards feature the Young Gun Awards this year?

Smyers: Yes, the Young Gun program is an important component of the ControlTrends Awards, and we are hoping that you and Brad will help us out on stage again this year.

Sinclair: Great, we are looking forward to it! What is the second major announcement?

Smyers: We've confirmed the location of March 2016 Cyber Security Summit, in Atlanta, GA. The Cyber Security Summit will be hosted by the Georgia Tech Research Institute (GTRI) and proposes a rare opportunity and experience for Operational Technology (OT) stakeholders like building engineers, systems integrators, service technicians, building operators, and building owners as compared to the Information Technology(IT) data transaction oriented processes of the Chief Technology Officers and their IT staff, though they are welcome as well.

Sinclair: How did the Cyber Security Summit come about?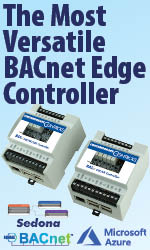 Smyers: Well, it started with Fred Gordy, Senior Consultant at SmartCore, joining forces with Marc Petock, VP Marketing, Lynxspring and CONNEXX, who then contacted Eric and me, about working in conjunction with the Stromquist Company and DMS Controls Group, LLC to spearhead the first Building Controls-Centric Cyber Security event. The program emphases will be on demystifying cyber security and provide OT stakeholders, who have the day-to-day building systems and building controls cyber security responsibilities –with a real hands-on, show me style presentation of cyber hacking-- that only a unique organization like GTRI, with its significant personnel, facilities, and resources -- can provide.

Sinclair: Sounds like a very interesting event that should be well attended.

Smyers: Thanks Ken, we think it will help fill a void of expertise and be a starting point for some, and a valuable update and refresher for others. Please continue to look for updates on ControlTrends.org.


---


[Click Banner To Learn More]
[Home Page] [The Automator] [About] [Subscribe ] [Contact Us]