---

EMAIL INTERVIEW – Scott Cochrane and Sid Blomberg
Scott Cochrane is President and CEO of Cochrane Supply & Engineering, a leading industrial IoT and building controls supplier with locations throughout Michigan, Ohio, and Kentucky, as well as one in Canada. In 2000, Scott took over the business from his father, Donald Cochrane, Sr., who founded the company 50 years ago. He is proud to be an advisory council member for multiple industry manufacturers such as Honeywell, Johnson Controls, and Tridium, and to be named a 2016 IBcon Digital Impact Award Winner for his innovative contributions to the industry.



Sidney H. Blomberg, Jr. is the founder and President of K & S Ventures, Inc., a mechanical and electrical contracting company that provides HVAC energy management systems and total facility maintenance services to school districts, municipalities, corporations and non-profit organizations. Sid has been a leader in the HVAC industry for 27 years and uses his expertise and experience to benefit his customers. He designs and installs complete electronic building controls for energy management systems. Through the Building Management Server located at K & S Ventures, Inc., his company is able to remotely host, access and monitor many of his customer's facilities. Sid's true passion is energy management, where he can lessen the environmental effects of producing energy, and reduce the cost to his customers. This year Sid was awarded the Controls-Con Integrator of the Year Award for his integration of more than 12 million sq. ft. throughout several General Motors job sites. Sid has earned multiple licenses and certifications that include: State of Michigan Builders License, State of Michigan Mechanical Contractor's License, Johnson Controls Certification, Tridium Certification, and is a licensed Tridium distributor as well as a Tridium Beta Test participant.

---
Master Systems Integrators (MSI)

They make sure all systems communicate properly, coordinate all project participants, collaborate with building owners to ensure systems information will be accessible and usable, and they develop software layers responsible for integration, aggregation, and communication of the building systems.


Scott Cochrane of Cochrane Supply & Engineering has the unique benefit of working with 300+ of the best systems integrators in the country. Cochrane recognizes the critical role they have within the building automation industry and is speaking with a different highly-regarded MSI each month with the goal of providing examples of industry trends, best business practices, and the growing value of an MSI. This month, he interviews Sid Blomberg of K&S Ventures, Inc.

July Interview with Scott Cochrane

Cochrane: How did you become an MSI?

Blomberg: When I first started K&S Ventures Inc. in 1990, I could not have imagined becoming an MSI, because no one really had done it before. As technology had become more evolved and advanced over time, the business opportunities were becoming endless. So, when I say I had no plan to become an MSI, I am honest. In this situation, I was able to use a relationship that I had with a long-term customer who was looking to start a large-scale project. Understanding what our strengths were as a business, I was able to position ourselves to take advantage of this opportunity and offer our services to help a customer. There were several people who had influenced me to get involved with this opportunity; it was finding out in what ways we could help create value for the company that led me to the decision to get involved. The customer later held a few interviews, where they would eventually select us to carry on with portions of the project. I feel we were able to be awarded this project due to the emphasis we put on customer service and flexibility when it came to MSI.

Cochrane: Can you explain what some of the characteristics are of a good MSI?

Blomberg: Just like in all things business, networking and relationships are important in all situations. Without the relationships and networking that I attempt to create, there would be no opportunities for me to become a good MSI. I want to build relationships with the biggest and brightest minds. I look forward to making it feel that I am there as a resource to customers, so they feel like I am approachable. I want to create an atmosphere where there is open dialogue and ideas can be bounced around in hopes that even more innovation can come about through IoT and MSI.
I also believe my team's organization and understanding how to get projects done is very important to becoming successful. Without proper organization and structure, deadlines and project start times would come and go, and work would not be completed. Having a team that truly cares about customers is also important. At the end of the day, it comes down to motivating them to do their best day in and day out is what allows us to accomplish the large scale of work we have done in such a small time. Allowing our team and me to push ourselves to get better each day, allows me to believe we can accomplish even bigger goals in the future. Like I said earlier, opportunities are endless if we can position ourselves in the right spot at the right opportunity. At the end of the day, we may not be the largest and best company, but when a company can depend on us to get work done correctly and timely that allows us to have a good rapport with our customers allowing for our relationships to continue to flourish.

Cochrane: How do you sell Master Systems Integration services?

Blomberg: For the first sale, it was imperative for us to design a cost structure that was fair for both K&S Ventures Inc. and the customer. We had to get our name and service out there so our service could meet our customer's perceived value. If I was going to another customer with what I know now, I have facts and figures and testimonials of things I specifically did to make this easier for them. If you called the on-site construction company, for instance, and asked them today what the most invaluable part of their project was for them, they would say it was bringing in an MSI because I am not just dealing with the temperature control problems, I am dealing with the logistical problems of all these contractors coming together. So, my model would be different now than it was for my first go around, but I can specifically say that where I am going to be your best value is probably not even the temperature controls, because the ability to manage a large integration is the key to customer satisfaction.

Cochrane: How do your customers procure MSI services? What's the structure of the contract you're in?

Blomberg: The way we did it is to use a basic scale of personnel, so I would be on a scale, and my technical people are on a scale, and we sell services by the hour. We determine how many hours we could possibly get done in a year and General Motors purchases that number of hours. It comes down to how many people do you want on this project and right now, they want four people on this project all the time, and we need it. But there's going to come to the point in time where it's going to be two people, or maybe six people. And then we adjust to that accordingly. We sell it as a professional service because one thing that my leadership I directly report to did not want was handcuffs on me. Procurement people understandably wanted lines drawn in black and white, but this project's leadership said, "we are not going to hold him to that, he is here to fight the fight."

Cochrane: So how did GM enable you to do that; what was the change in that contract?

Blomberg: The change came down to people versus tasks. They changed it from being task-orientated to how many people, who are they, etc., which really fits with a typical construction project for them. That's the service side of it, and that's really what this is. That's why it's best sold as one service.

Cochrane: As an MSI, what percent of your time is spent in the following categories? R&D, Consultations, Field Commissioning, and Software Programming.

Blomberg:
R&D: 10%
Consultations: 20%
Field Commissioning: 30%
Software Programming: 40%

These percentages vary depending on the stage of the project we are currently at. Right now, we're in a lull, so we could get a big batch through and now working on all the consulting and getting the contracts ready for the next batch to roll. Come November, December, January; my people won't know what to do with themselves.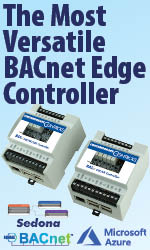 Cochrane: Describe a challenge that you've encountered as an MSI.

Blomberg: Working with IT was an initial challenge, but now that we have a great working relationship with them, IT is our friend. To get something done that I could get approved in one day would take them 18 months to get approval if they went their own way, so they finally figured that out and quit punishing themselves. We have built up the trust and contacts in the IT department which allow us to work with them to get our projects done. The biggest single challenge is managing other groups that are working on the site, that are trying to outdo us causing us problems by doing the wrong things and not following the program. For example, different engineering groups not wanting to leverage the functionality that we already have into things; trying to use somebody that's not an approved vendor and going about it in completely the wrong way. This will continue to be a problem due to the complexity of the projects. Then when they come to me and say integrate it, I have to say sorry, you bought the wrong system. That's the one that causes me the most grief.

Cochrane: Do you envision Master Systems Integration being a part of your business in the future? If so, how?

Blomberg: Without a doubt, it's going to be a core part of our business because it really fits with where we intend to be in a business model. I've got to keep my business diversified enough so if things change, we can move with it as we've done for years. It's a major part of our business, and it's something that we are hoping to leverage to other customers. I truly believe we are an enormous value to customers because of our commitment to customer service and flexibility while working on these complex projects. We are truly there for the customer.


---

[Click Banner To Learn More]
[Home Page] [The Automator] [About] [Subscribe ] [Contact Us]