---

Leveraging the latest technologies to perform the retrofits will help to reduce the upfront cost and payback periods.

Harry Sim, CEO
Cypress Envirosystems
Recently, there has been a lot of excitement around Smart Grid. The US Department of Energy has announced over $4.5 billion in funding to various projects which promise to make the electrical grid more reliable, and make consumers use electricity more wisely. One under appreciated fact however, is that the Smart Grid needs "smart buildings" to talk with. And unfortunately, most existing buildings are not "smart".















So, what does it mean to have a smart building talking with a Smart Grid? A building should know when electricity is expensive (i.e. during peak usage times), and be able to make automatic decisions such as changing thermostat setpoints and reducing unnecessary lighting. This is known as Auto-Demand Response, and is particularly important as many utilities are introducing Dynamic Pricing whereby electricity prices can shoot up to five or ten times the normal rates during peak periods. If a building is not smart, it will end up paying much more in electricity costs.

For a typical commercial building, HVAC accounts for about 40% of the energy costs, and lighting another 20-30%. In newer smart buildings, DDC and Energy Management systems can "listen" to the Smart Grid pricing signals, and remotely control and optimize air-conditioning/heating setpoints and lighting levels accordingly during peak periods. For older buildings which do not have this Auto-Demand Response ability, building managers undoubtedly wish to retrofit them. Unfortunately, this can be a very significant and expensive undertaking, particularly for buildings 15 years or older. These often have pneumatic HVAC control systems, no lighting dimming controls, and may have asbestos embedded in the construction.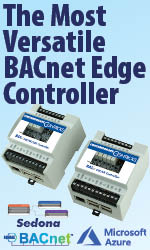 A majority of commercial buildings still use pneumatic thermostats which are not programmable and non-communicating. Retrofitting them to conventional DDC involves opening up walls and ceilings, running cabling and replacing actuators, and incurring expensive labor and tenant disruption. The costs run into several thousand dollars per thermostat; payback on retrofits is often seven years or longer, and is the reason that most existing pneumatic installations are not upgraded even today. Similarly, retrofitting lighting controls traditionally involve high cost and disruption due to the same reasons.

How can we bring down the cost and disruptiveness of retrofits such that it becomes economically feasible to perform on a large scale? Avoiding opening up ceilings and running cables would be an important step. Combining HVAC and lighting retrofits into a single program to minimize cost and time would be another. Checking with your local utility to see if they provide incentives or rebates for implementing Auto-Demand Response is a third avenue. Many utilities provide subsidies which can significantly reduce the payback periods for retrofits, often to 18 months or less. But it is important to make sure that the vendor and solution is approved by the utility.

To date, there have been very few technology solutions available. To address these needs, Cypress Envirosystems partnered with Adura Technologies last month to provide wireless, non-invasive retrofit solutions for both pneumatic HVAC and lighting controls which install in minutes, and cost 80% less than conventional retrofits. At the current time, the Cypress and Adura solutions have been deployed at a number of schools and universities, government buildings, hospitals, and commercial buildings in the US and Canada. The pneumatic retrofit solutions are available via major VAR's and system integrators including EMCOR, Honeywell, Johnson Controls etc., and a growing number will be able to provide the combined lighting retrofit solution as well. You can read more about the Cypress-Adura alliance and combined HVAC/Lighting retrofit solution here.

In summary, the rapid developments in the Smart Grid will be driving existing buildings to upgrade to smart technology. Leveraging the latest technologies to perform the retrofits will help to reduce the upfront cost and payback periods, and minimize the disruption to tenants.
---

[Click Banner To Learn More]
[Home Page] [The Automator] [About] [Subscribe ] [Contact Us]