---

Make 2010 the year to gain a competitive edge


Sarah Erdman,
Marketing Director,
QA Graphics
As control companies look for more efficient processes and leaner ways of working, they should consider outsourcing their graphics needs or purchase a symbol library to easily create control system graphics and gain a competitive edge in the industry.















QA Graphics, an innovative computer graphic developer specializing in control system graphics has worked with a number of control system providers and has designed custom graphics for several of the industryís largest control system manufacturers. The company has developed a 3D symbol library with animations that work with most HVAC and BAS systems. The library contains over 200 symbols with more than 80 animations that can be used again and again to create industry-leading system graphics. Working with the symbol library couldnít be easier, and the graphic files are compatible with most systems including NiagaraAX, Reliable Controls' MACH-System (RC-Studio), Computrols' Building Automation System (CBAS), Alerton Envision for BACtalk, Richards-Zeta, Andover Controls (Andover Continuum) and more.

The symbol library offers a competitive edge across all control systems, displaying the customerís 3-letter acronym on major equipment components and providing superior graphics that use more realistic equipment representations. The library contains a variety of components needed to develop most major mechanical systems and provides pre-configured terminal air units that can be expanded upon, multiple duct lengths to create any duct run, as well as symbols for energy efficient equipment such as under floor units and heat wheels.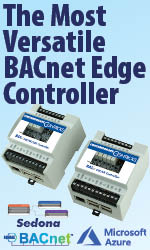 If a company prefers not to build system graphics themselves, a significant amount of money can be saved outsourcing rather than spending time on graphics internally. That money and time saved can be applied towards other areas. QA Graphics provides a great deal of graphic outsourcing services and has found that many control companies donít realize that graphic outsourcing is an affordable option. With a common perception that graphic outsourcing is expensive, many donít make an effort to learn more about the options available.

For those that do want to look externally for graphics options, QA Graphics has been able to consistently provide affordable rates and quick turnarounds. The companyís in-house design team (most of which are trained mechanical engineers) can create custom solutions including system graphics for any type of HVAC or BAS system, 3D floor plan development, drafting services and symbol library graphics. Customers that have outsourced their graphics needs, continue to do so, finding that the prices are surprisingly affordable, saving time and resources for other tasks.

If youíre interested in learning how you can save time and money while accessing superior control system graphics, contact Sarah Erdman, marketing director of QA Graphics at 888.965.3403 or serdman@qagraphics.com.

---


[Click Banner To Learn More]
[Home Page] [The Automator] [About] [Subscribe ] [Contact Us]