---
Mergers, Acquisions & Investments

The impact on the security business in 2012


Summary
Merger and acquisition activity declined in 2012 by 27% but we forecast that it will return to its historic high of 2011 by 2017. The structural changes that are now taking place across the physical security industry will bring about more strategic acquisitions from within. The VCs have shown that they are much more confident of investing in the physical security industry, whilst major companies from the ITC and Defense industries continue to make forays into the security industry. We believe that in 2013 we can expect a mega-merger between two of the larger security players. These companies have with the rare exception not acquired any significant business in the last three years. That said, a mega merger is more likely to happen next year than it has for some time and the general prospects for growth through acquisition look a lot more promising.
Internal Strategic Acquisitions

In the last four years M&A activity has for the most part been driven through strategic buys, within the security industry to acquire or leverage new technology and move into horizontal product businesses in order to provide total solutions, and / or improve focus on particular vertical markets where demand is fast growing.
Strategic buys within the industry have been the main driver for consolidation in 2012 but its impact is down on 2011 and this trend may well continue as companies from the ICT and Defense business and Private Equity Companies make further forays into the security industry.
The proportion of external buys has increased and in 2012 accounting for 30% of the total acquisition business measured by volume. Consolidation in 2012 has therefore been more influenced by external companies buying into the physical security market than in the previous three years whilst conversely the internal players, particularly the major conglomerates have decided to abandon growth through strategic mergers and acquisitions in the last two years.

With the exception of Tyco and Stanley, none of the incumbent major conglomerate suppliers made any significant acquisitions in 2011 or 2012. This is very surprising given the volume of M&A deals transacted during this time increased on previous years.

In our 2011 report we identified that the single most important trend in M&A activity in that year was the growth in acquisition of biometric and identity assurance solution technology companies. This trend has continued in 2012 accounting for 24% of all deals completed this year. The application of this technology is very important to the growth of Access Control but is by no means the only application to embrace the need for improved identity security.
Cross Border Transactions

Cross border transactions continue to be a strong feature of the consolidation process. Over the last two years exposure to US markets has become a strategic priority for a number of European companies. For the first eight months of this year the notable acquisitions by European companies in the US include Assa Abloy's purchase of LaserCard to incorporate within its HID operation, Identive Group (German / US) purchase of idOnDemand, and Kaba's purchase of e-Data.
Gradually over the next five years we expect that most activity under this dynamic will centre on Asia and particularly China where rules on ownership have been significantly relaxed in recent times. In December 2010, Infinova floated on the Chinese Stock Market and realised a much higher valuation than it would in the western world. The market thought that more companies would take up this option but so far no have. China Security & Surveillance Technology (CSST) however did delist on Nasdaq (reported to be unhappy with its valuation) and privatized. The Chinese stock market is very volatile and indeed Infinova's value has fallen sharply since it floated.

External Buys – ICT & Defense Related Companies

Defense, IT and communications companies have over the last three years bought into the security industry. The initial flurry of activity has reduced somewhat in the last six months as they digest and take stock.

We expect them to resume their interest in the business both through acquisition of product and system suppliers and through alliance. Defense expenditure is likely to decline across the western world during the next five years and the security industry provides an expanding market and a way of leveraging their high technology base.

So expect these transformational deals from the Defense and IT and Communications businesses, to gain further traction in 2013 and beyond.

M&A Activity Declines in 2012

Merger and acquisition activity has grown by a compound annual rate of 15% in the first ten years of this millennium but during this time it peaked and declined twice. In the last three years it has completed another cycle of rise and fall. External more than internal forces have had most influence in creating this volatility.
Fig 6.2 shows that the value of merger and acquisition deals in 2011 was $9.847 billion a rise of 23% over the previous year which was a record high, but in 2012 it declined to $7.168 billion a fall of 27%. So why has the love for growth through acquisition cooled off in 2012?
There are two main reasons for this. The first is that the industry has undergone major consolidation and restructuring during the last five years and is now catching breath, and the second is the lack of confidence by the traditional major conglomerates to commit more investment to the industry.

These two factors alone would have caused a much greater reduction in acquisition activity than 27% but for the increased activity in the middle market, mainly populated by specialist security companies. The decline in the volume of deals in 2012 was only 15% and this reflects the fact that in 2011 a number of mega deals over $1 billion were completed. This is a remarkable performance given the economic crises that the industry has had to ride through and the fact that most of the major conglomerates have not had the confidence to go for growth through merger and acquisition in the last three years.
So to conclude, 2012 has been a good year for acquisition activity particularly considering that poor economic trading conditions have reduced the confidence to spend big, but nevertheless this industry has fared better than most.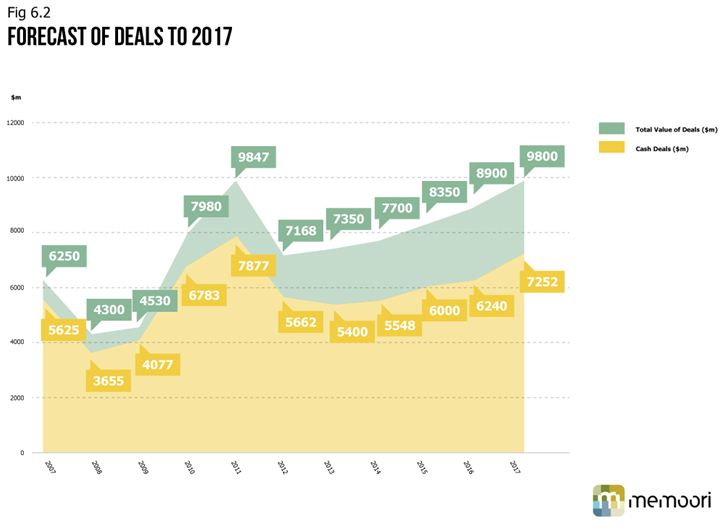 Forecast of M&A Business to 2017

We forecast a steady annual growth rate of 6.5% over the next five years to 2017. This assumes that the European debt crisis will find a long term solution and at least stabilize the EEC economy but not provide any growth until the last quarter of 2013. Whist the US will grow at around 2% and emerging markets will maintain their 2012 performance.
This the 4th Edition of our Annual Report "The Physical Security Business in 2012" goes on to detail the Performance of Exit Multiples 2005 – 2012, analyses why Strategic Buys Dominate and IPO's & MBO's Disappoint, why M&A Should Play a More Important Role in the next five years and reviews the State of the Investment Business & its Exposure to the Security Industry.
For more details visit the Website, http://memoori.com/physical-security-2012


---

[Click Banner To Learn More]
[Home Page] [The Automator] [About] [Subscribe ] [Contact Us]