December theme "Collaborating Convergence"

"Collaborating Convergence" or "The Gear Heads meet the C-suite"…..smile. I think we all have accepted that the convergence model is inevitable, but I am not sure we understood how much we all would have to collaborate to insure successful convergence.

I have just returned from a very successful event at the Microsoft campus called CoRETech 2013 that saw the very large national and international real estate folks collaborating with the developers of cloud based energy control and monitoring systems. See my review of event, although sponsored by RealComm the event was anything but real calm. Radical change and impressive penetration of technology on a global scale was touted and demonstrated with peaceful collaboration of Gear Heads and the C-suite. Lots of talk about the many things that are on the convergence table and the necessary collaborations to complete collaborated convergence.

The best part of the event was it generated some great content for our December issue. I am very pleased to have an interview with Darrell Smith of Microsoft that provides greater detail about how the Redmond Operations Center (ROC) that connects to two million data "points" across 35,000 building assets was created.

December is also our AHRExpo 2014 New York preview issue. Yikes 2014? How did that happen? Although it is next year, the event will occur during our next issue. We are preparing our 15th year of free education sessions. I am proud of this achievement and our long term relationship with this industry event which is always held with the ASHRAE winter meeting.

Automatedbuildings.com is sponsoring a Connection Community Collaboration meeting at AHR which is evolving online on LinkedIn even as you read this editorial. We would be pleased to have you follow the meeting evolution and comment and of course please attend if you wish. Meeting maybe a bit for gearheads only, certainly not the faint at heart as connection, collaboration and convergence will be discussed frankly at a new high level. For insight take a look at Required Reading For Connection Community Collaboration Meeting New York

I have also reached out to the connection communities to update their interviews and presentations from last year's first ever event in Dallas.

Very pleased with the demonstrated collaboration in this issue. Some times at industry events I get jabs that a real editor/publisher would allow only a few of the articles for each month, but please read all these articles, interviews, and columns and tell me which are not important to our industry. If you like most do not have the time to read all the content of each issue at least click here on article, column and interview summaries and read the title and pull quotes to better understand the convergence collaboration that is presently occurring.

Our industry is abuzz with change and I feel compelled to keep the flood gates open. I know I am also starting to talk funny for an old building automation guy using words like collaboration, disruption, building bridges, and connecting to things that are automatically smart that get smarter, but it is not just me, but you the industry that is changing. We just publish what you all have to say while trying to ride out the information tsunamis.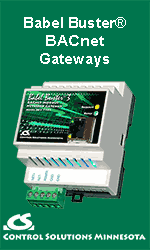 As always this new issue is a nest of great articles, columns, reviews, new products, interviews and of course the steady stream of news depicting our rapidly evolution and journey to collaborated convergence.
We welcome our newest sponsor Cylon Energy. Cylon Energy Inc is the North American division of Cylon Controls a pioneer and a recognised international leader in the development of smart energy management systems for buildings for over 27 years.

Tell all our sponsors you saw their ads on the AutomatedBuildings.com web site and thank them for supporting your free access to evolving Automated Building Industry information. Click on their ads and view their valuable products and services. Please review all Our Sponsors.

The news just keeps flowing thru our web site and RSS feeds daily, and of course the only way to truly find what you are looking for in the vast quantity of information on our site is with our site search engine http://www.automatedbuildings.com/search/sitesearch.htm

As always lots of new products, plus be sure to check our event calendar to see the number of events we have in our future.



---


[Click Banner To Learn More]
[Home Page] [The Automator] [About] [Subscribe ] [Contact Us]