---

Open Edge Software Fuels Self-Learning Operability

Truly open edge software provides access to all data which fuels self-learning and enables unbridled creation for the new breed of makers that will marry our industry and IoT.


Ken Sinclair,
AutomatedBuildings.com
Publisher

Published by
Facilities Management
Our revolutionary themes for the last few months have led us to the importance of the open software movement as part of our journey.

Truly open edge software provides access to all data which fuels self-learning and enables unbridled creation for the new breed of makers that will marry our industry and IoT.

Powerful, low-cost, high memory devices alone cannot create the self-learning edge revolution; they need access to open sophisticated software that can operate within their environments to allow makers to build the new generation of devices. Open software rapidly creates the function, form, and focus on these self-learning edge devices, and leads to the development of what has never before been built.

Software that is open and available to all that scales on an IoT level is our goal. Software that makers can rapidly develop on and scale at low cost. In the past, this lack of open has always presented a barrier in our closed proprietary industry. Open protocols helped expose these proprietary pieces.

We are amazed at the depth and passion for the open movement developing in the back rooms of our and the IoT industry.

This lead article sets the theme on the importance of open data, and its unrestricted manipulation.

Today's Smart Building Data Exhaust May Be Tomorrow's Machine-Learning Gold. Smart building owners should remain vigilant in the battle against vendor lock-in of their building data. — Alper Üzmezler, BASSG LLC. & Therese Sullivan, Principal, BuildingContext Ltd.

"'Take back your building!' is how the open-protocol building automation community has framed its alternative to protocol lock-in by big OEMs

"Ask questions to ensure your data will be open to your future uses. Weigh the pro's and con's of on-premise, in-the-cloud, and at-the-edge computing and storage, and negotiate a fair price for keeping as much of the resulting data as is practical and affordable. It may be the cache you need for machine-learning training in the future."

This enlightening interview expands our thoughts with the coming of powered, wireless, open edge self-learning controllers in every LED lighting fixture. This is a very scalable way to watch the complete space while recording our presence and well-being.
Merging the Two Domains. By merging the two domains, we have a robust network of permanently powered devices which we can leverage as a communication network. LEDs make the story even better; as these devices are intelligent, carrying their inbuilt processors which can do more than simply drive the LED — Trevor Palmer, VP Controls, Applications & User Experience, Acuity Brands, Distech Controls.

"When we think about the services we offered in a building in the past, the interfaces were relatively simplistic; a light switch, a thermostat, for example. These devices were geared towards the services we provided. With the data, we can gather from the facility we can do so much more. For example, with a combined lighting and HVAC controls system and their respective network, we have information on occupancy, temperature, CO2, light levels in all spaces. If we were to select just one, occupancy, for example, we could use this information for other things like how often a room is occupied or is the room occupied now? This information rendered properly is useful for property management folks and occupants. Property managers want to know how much space am I using versus what I have now. The occupant of a space may want to schedule a meeting. When doing so, an indicator in real time of what the occupancy state is currently will assist in more efficiently planning the space. Both examples are relatively simplistic use cases, which have little to do with saving energy, but more to do with the user experience within the facility."

Radical changes in providing truly open data for machine learning requires that we embrace new low-cost, high memory close-coupled edge hardware. The following article and interview both speak well to the opening to IoT revolution with equipment designed to play in this new environment while maintaining the connection to our industry's strong input-output roots. The DDC processor brains of our traditional industry are 20 to 30 years old and based on PC technology, not smartphone technology. We need new smartphone technology as our virtual brains to play the IoT game.

The new, low cost, IoT open fully functional computer phone-like hardware, needs open software for feedstock to allow makers to create new variants of what has never been built before. This article talks about the need for the new hardware to be flexible to match each application.
Standardisation and Openness Revolution for IOT. We concluded that something needed to be done and that nothing short of a revolution was needed to change this world, to make it better and more open. - Throstur Jonsson, Founder, Rational Network.

"We are in a time of enormous change, due in no small part to the avalanche of innovation that is the Internet of Things (IoT). With new sensors and actuators being released at a whirlwind speed within the Internet of Things (IoT), it is bordering on a modern Wild West, where there is a virtual stampede to grab a stake early. It is a time when both start-up businesses and big name players are fighting to secure their niche in the new market.

"The lack of standardisation is rapidly becoming a major issue and many proprietary solutions appearing in the same market segment are unable to interact or communicate with each other, which is not ideal.

"New technological innovations are often designed as totally closed 'Sensor to Cloud' solutions in an effort to grab the whole value chain from sensor to 'outer space' and to exclude others from entering the chain. This locks the customer in with the vendor of the solution, regardless of whether it meets the actual requirements of the customer in full. This won't have any immediate effects in the short term but can be dire in the long term making it difficult, if not impossible to switch from a vendor to another. Agility and flexibility is the key. One has to understand the past, in order to not repeat the same mistakes in the future."

The following interview speaks to the need for industry hardened physical inputs and outputs that need to live in our buildings and how that might be married to the new edge systems now being created by the makers on open software platforms.

An Open Industrial IOT Gateway. RS Components, Siemens and Massimo Banzi, co-founder of Arduino, presented a new industrial IoT device to the market called SIMATIC IOT2020 during the last Maker Faire in Rome. This device supports engineers, makers, and designers of the future. By 2020 it is estimated that there will be more than 10 billion devices connected to the internet.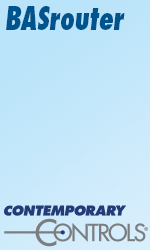 "Paolo Carnovale, Global Head of Product Marketing, Industrial RS Components: IOT and Industry 4.0 are two global trends that will change the world in the next five years. In RS, distributing both Industrial and Electronics components and serving students, makers, and Industrial engineers, we realized that there is a technology gap in the way students and makers approach IoT compared with the Industrial world.

"Students and makers, everywhere in the world, learn high-level programming languages and start developing their first IoT applications by using open source IDEs and hardware thanks to the flexibility of such kinds of platforms. Industrial engineers develop home automation and industrial applications by using hardware with industrial standards, industrial protocols (MQTT, MODBUS, and PROFINET) and propriety programming languages.

"IOT2020 builds a bridge between the two worlds by combining the flexibility of the open source ecosystems and high-level programming languages, with the standards and reliable protocols typical of the industrial world."

But how do we open the proprietary vendor operating systems and control languages? Here is one approach:
Opportunity for Open Control. Zach Netsov, Product Specialist, Contemporary Controls: "We do not necessarily have open controllers unless you have an open protocol, an open control language, and an engineering tool available to anyone without restriction. This is not a fault of BACnet because it is only an open protocol without concern for the methods used to actually make it a controller. This allows the controls' vendor to lock up product with a proprietary language, proprietary engineering tool, and restrictive licensing. This is not the spirit of openness." Netsov will be one of the speakers on this topic during a free industry session at AHR Expo 2017 sponsored by AutomatedBuildings.com. The session is scheduled for 10:30 am-11:30 am Monday, January 30, 2017, in room N239.

Unlocking all the above thinking encourages us to sponsor an open discussion on this drop-in-piece of sophisticated, open software, workable with several low-cost, high memory devices. Please join in the discussion at AHR Expo Las Vegas.

http://ahr17.mapyourshow.com/7_0/sessions/session-details.cfm?ScheduleID=190

Free Education Session about Sedona Framework at AHR 2017. "This is an open control technology designed to assist system integrators in quickly implementing IP-based building automation programs" — George Thomas, President, Contemporary Controls.

We are pleased to bring several articles, interviews, and an amazing collection of global new open hardware products that document industry change towards truly open.

We have created this resource page to help introduce you to evolving open software, frameworks, platforms, alliances, and consortiums.

---


[Click Banner To Learn More]
[Home Page] [The Automator] [About] [Subscribe ] [Contact Us]