---
I love technology. For the ones that have read my previous articles, I think that's quite evident. Building automation, as we know it is becoming more and more digitized. IT/OT and soon IoT convergence where Facility IT and security is high on the agenda. I see real-life use cases with edge applications from Siemens, and well thought out articles from the likes of Zach Netsov at CC. Smarter technology and Open APIs are becoming the norm, and there is the trickle up-economy that is slowly taking place. All of the technologies and mindsets below will find their way into the building automation arena. And there's an equal amount of things happening with Asset Management, Digital-first Real Estate banking and the #Proptech scene in general.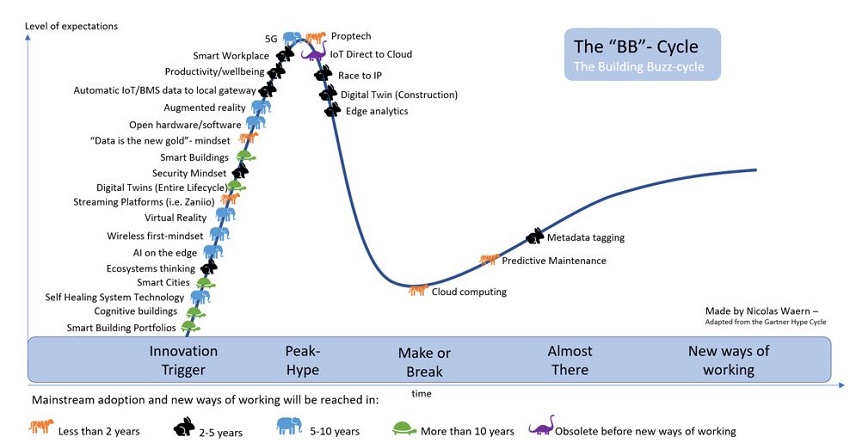 Technology is great, but it's the outcomes and how it will influence people and the planet that are of utmost importance.

Will the future be built on a RIP and replace approach or a combination of existing systems and wireless solutions? And what could be different aspects of a wireless solution?

Where does wireless fit into all of this?

The introduction to IoT article that I wrote almost one year ago also delves into the realm of wireless as well as the Internet of things and connected systems and devices.

I am also in the middle of a "wireless-first" approach for a digital twin company here in Sweden, where we discuss how to start and what solutions should be offered to companies as "packages."

The BB-cycle depicts a grim future where it will take 5-10 years to get a wireless first mentality to reach widespread adoption. But the ones who can start now will definitely have an advantage over others if they play their cards right.

Going Wireless first depends on a myriad of underlying assumptions on what and where to use wireless. Where one of the most important aspects is if there's a business case around it describing what challenge should be solved and what benefits are supposed to be derived.
Here are just some of the different things to consider.

Data-speeds

How often

Where data is coming from

Where the data is sent to


Security aspects

Support

Onboarding


Business Model

Data only/Application bundle

Scalability

Repeatability

Packet-losses

Reliability

Open APIs



Reliability, scalability in a BACnet/Mesh format
During a great conversation with Reza Alaghehband at Envio Systems, showcasing their brilliant looking software suite, I could hear that the hardest part is getting 100% reliable wireless communication. They are working with some great vendors, but the challenge has definitely been there since… forever. And this is something which I have heard a lot from other players as well.

Most of the technology so far lose data at times, and the only way anyone has ever been able to get anything to work reliably is through hardwired connections. I think there are about five technologies that could provide the same results for a fraction of the costs of wired solutions. I've heard good things about all five and seen great things from one of them, Conectrics.

They have an ultra-scalable wireless networking infrastructure that allows self-installation and no maintenance of real-time wireless sensor networks. Togetherwhen I was acting CEO of Go-IoT, we created the BACnet/Mesh solution. Which basically was auto-deployment of wireless mesh sensors that could be seen instantaneously as BACnet objects and devices, through BACnet/WS.

This allowed for rapid scaling and easy integration to any application, including any Cloud infrastructure as well, with direct integration to Azure IoT platform and the likes.

Cloud challenges

One of the biggest problems right now seems to be that everyone wants you to use cloud API connectors. And what I've heard from several companies is that most startups and people don't realize it costs millions of dollars to architect and maintain clouds. You cannot maintain an API based on a 1-time hardware revenue; you need a SaaS. And you cannot stack SaaS on top of SaaS or the cost is too high for the customer because 50% of the SaaS will always overlap, you are maintaining 2 clouds for 1. So the API always breaks, and we never get the data. The model of putting the data on the edge is critical. Because it is the only way to scale.
Edge, scalability and the future of a wireless backbone
It means that you have to have a completely virtual system. Endpoint agnostic to hardware and software. Basically, something that is virtualized, distributed, decentralized, non-existent, that could add to existing BMS systems in the entire world. Something totally wireless! Invisible! Works at the speed of light and can drive grid interactive buildings in a wireless way.

Here, we only have a handful of players in the world right now.

Some of the challenges with Bluetooth mesh, Zigbee Mesh and other smart home stuff is that it's not scalable to 50 000+ devices. In a commercial setting, most technologies are not scalable enough, with major security flaws, and they cannot be totally updated over the air. The one's building platforms on top of these technologies could be in for a world of hurt when wireless really hits the fan, and the demands for quality data will increase from all sides.

Calibrating for the 2020 vision with Wireless Mess technology is something that I see will happen more and more.
There are still many questions that need to be answered and probably even more questions that need to be asked.

But above all, we need to fail fast, learn fast and get things done!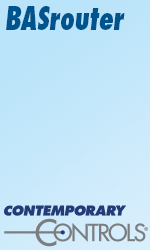 Panel discussions at AHR Expo
Since there are so many questions, it's a good thing that there will be education sessions at the AHR Expo next year and other exciting talks.
I'll be partaking in two sessions.

This was a hit last year with a room packed to the rafters.

Moderating a panel discussion on Monday the 3rd of February at 9.AM with fellow panellists;
Steve Jones, Managing Partner at The S4 Group, Inc
Jason Houck, Hepta Systems, IoT Warez & CIO and Founder at EntroCIM
Troy Harvey, CEO at PassiveLogic
? Open for suggestion.
? Open for suggestion.

Topic not yet set, but there will most likely be an open forum about everything that is going on, enabling the audience to interact with the amazing panellists above,

There are still two more spots to be taken, and I'd love for a real estate owner to come on board if possible. If you have someone that you know of, please let me know!
Sincerely,
Nicolas Waern
The Building Whisperer


---


[Click Banner To Learn More]
[Home Page] [The Automator] [About] [Subscribe ] [Contact Us]