---
March to Baltimore to learn more about Building Automation for 2006

Ken Sinclair, AutomatedBuildings.com
Editor
Engineered Systems' next big venture is their first ever Building Automation Conference in Baltimore, March 8th and 9th. For the last several years there has been a growing interest in their printed articles, supplements as well as this column about Building Automation. This conference allows the pages of ES and the screens of our collective online resources come alive. You will see and hear industry experts speak to various topics and will be allowed interaction in a closing workshop which will bring together what has been learned over the previous two days and allow you to apply it.











The two day conference starts with keynote Dr. Volker Hartkopf of Carnegie Mellon University, an expert and futurist in building comfort, energy efficiency, and systems.
The program is designed to appeal to a broad variety of constituents involved with operating, designing, installing as well as manufacturing.
Following the keynote the program splits into two tracks. The first is focused on the needs of technical owners, systems integrators and suppliers. On the first day this track emphasizes the key technologies that are forming the future of building automation. This includes panels covering new wireless solutions, Internet technology and open systems. On the second day this track focuses on the needs of the system integrator. How they can be successful integrators, what their best practices are and how to grow their business.
The second track is more focused on the financial owner and operator as well as the building automation designer. On the first day attendees of this track will cover issues related to systems design and specification, energy, comfort and optimizing operations through enterprise management solutions. On the second day the design and operations track will cover the importance of proper systems commissioning, operating solutions and how open systems impact design and operations.
Jack Mc Gowan, President of Energy Control Inc is one of the speakers and will be providing you the latest update on GridWise. Here is some insight to what he will likely talk about which I have extracted from his January article from our web site. Blazing a new trail to Intelligent buildings… The value proposition in building automation is no longer in installing, programming, maintaining or even integrating building systems. Rather, as with the pervasive internet, the opportunity is in creating services and value propositions that can be offered by using the power of the systems that are installed.
Perhaps the most telling thing about the GridWise Constitutional Convention was the corporate attendance, not the topic itself. Many in our industry have been somewhat sceptical about the rate at which intelligent building and web service technologies will become a reality, but these companies obviously see it happening. My point here is that I believe GridWise will spawn the next generation of killer aps in the building space. These will be high powered information based tools that leverage the power of building automation along with access to information from a variety of sources through the internet.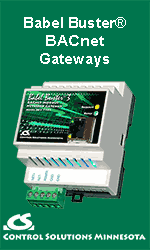 Rebecca Ellis, PE, "Consultant to Sebesta Blomberg" chimes in with expert advice on how to navigate the processes and people involved in commissioning a facility in this new era.
The two day conference concludes with a presentation about the future of Intelligent Buildings by Building Intelligence Groups founder and President, Paul Ehrlich. This session will lead into a workshop on planning for the future of your building systems. By the end of the day attendees will pull together what they have learned over the two days into the basis for a plan for their current or next project.
Industry, organizational and academic leaders are coming together to make this inaugural event successful. We anticipate strong attendance by government and institutional owners and operators as well as consulting engineers, integrators and suppliers.
Good job Paul! on pulling together a two day program that will help folks with varied backgrounds study and learn together what is essential to provide integrated intelligence. This multi-discipline approach is necessary as none of us alone can make it happen. Creating teams with cross understanding of the interlocking issues is necessary to move ahead in today's world. The Conference's intended audience is broad including Building Owners, Engineers, Developers, Facility Managers, Building Managers, Commercial Engineers, Government, and IT professionals.
Topics covered by the conference provide insight into today's burning issues - Wireless Technology, Design and Specification, Internet Technology, System Commissioning and Operations, Open Standards, Enterprise Management, Systems Integration, Energy and Comfort, and Best Practices.
Be sure to not miss this event. For the latest information go to http://bnpevents.com/ES/BAC/
---


[Click Banner To Learn More]
[Home Page] [The Automator] [About] [Subscribe ] [Contact Us]