---
Today's facility managers are faced with many challenges, from rising costs of resources (fuel, electricity, manpower) to tighter facility management budgets. Building automation advancements in the last few decades have solved many problems, but have often been fragmented into specialty systems that require very specialized hardware, software and training to manage the resources.















More of these systems have recently migrated to a common physical layer (IP technology) and some have extended their openness to the protocol layer. Proper planning for a new building or for an existing building upgrade can save money on both the upfront and ongoing costs.

Facilities with limited onsite staff or remote facilities with no maintenance staff also face the challenge of fixing and addressing specialty system problems. This is especially challenging in the case of very remote facilities where significant travel and human resource costs quickly inflate.

Building automation and associated control and monitoring systems exist to address these challenges. The proliferation of IP technologies in the building automation space gives facility owners and managers more versatility as they shift away from legacy systems. These legacy systems created data islands that frequently required an onsite presence or special software to manage the system.

The IP environment allows owners and managers to take advantage of existing network infrastructure to create a common pipe for multiple systems and equipment to connect within a single building. Furthermore, it gives owners of multiple facilities a standard IP backbone to tie more than one site together, with a birds-eye view to monitor the entire operation and react more quickly to operational issues.

Open Standards

BAS products and other building systems should at the minimum leverage and open standards at the physical layer. This means that devices use a standard TCP protocol, and be attached to and managed on a "shared LAN" environment. Some vendors claim to be IP while requiring dedicated LANs. This means additional wiring costs, which translates to losing the additional benefits of being on a shared resource. This is less common today but still a valid concern when performing system selection.

The next step up is to be open at the protocol layer. There are many BAS protocols in use, with BACnet and Modbus two of the more common. Both have security profiles that allow for different levels of access. This may be read-only access in many cases. Both read- and write-access are required at the protocol layer to implement centralized and advanced control strategies.

For example, a read-only (data mining) application could poll energy usage from multiple buildings back to one central point to manage and compare a building's energy usage. Command and control would be required if the operator wants to actually control energy usage. This allows the operator to turn off or load-shed energy usage at remote facilities dynamically from one centralized command center.

The common pipe that IP delivers is what allows building managers to manage many buildings and devices. The openness of IP and common protocols allows system designers to be creative when planning for and building out systems for both new and existing buildings. The power of IP in an existing building can be even greater as you move devices off the legacy system and onto the network.

Site Evaluation and System Design

The more systems and devices that are tied into the building management system, the smarter the building. A site survey of various systems is an ideal first step in the design phase of an existing building. This is helpful in identifying which existing systems can be moved onto the IP layer, including fire systems, lighting and control, energy and power management, cooling and heating, and security systems such as cameras, perimeter and access control. This process translates to an ideal system selection process for new buildings.

Long-term maintenance costs are just as significant. A shared network allows for a supervised and managed architecture where one operator can monitor, maintain and service any number of subsystems within the greater architecture, using SNMP traps or other means of alarming for operational alerts. Building automation is just one of these sub-networks. Fire alarm systems, intercom systems and AV equipment can all tie in as other sub-systems over the shared network.

This is not to say that the occasional vendor visit won't be required for troubleshooting. However, the shared network allows a single operator to at least handle low-level IT support, including response to pings and confirmation of network connectivity.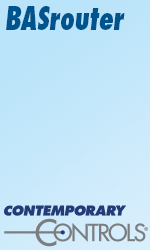 Wiring Infrastructure

In the past, wiring for buildings was first come, first serve. Today, opening a ceiling tile in an existing building exposes a spaghetti bowl of system "wiring." Typically, few if any of these wires are marked to identify their purposes. Many simply rest just above the ceiling tiles and grid as opposed to being neatly bundled and well-managed.

Newer buildings and systems have very advanced cabling plans and systems. Pre-defined routes, hooks, trays for cable management and color-coded Cat5/6 wires clearly indicate the system to which the cable is attached. Yellow cables, for example, might be dedicated for the VoIP phone system, and the red cables dedicated as PC connection points. Each color-coded system results in a clean and manageable LAN for the life-cycle of the building.

Migration to IP leaves even the cleanest wired systems behind most of this as the single IP/fiber connection eliminates bundles of wiring. This is an especially strong reason to migrate if there are multiple levels in the building and/or multiple buildings on the same campus. The cost of installing cabinets with ports and switches is miniscule compared to wiring multiple cabinets on every floor. Space is returned as old and unused wiring is removed.

There is also less opportunity to accidentally snap, twist or disconnect a wire during unrelated projects – with no immediate way of diagnosing the trouble spot. Even with less cable to worry about, network management software for IP systems can provide an immediate diagnosis for broken or disconnected cables. Such issues can quickly be localized to a bad port or switch or determine if a new drop is required if specific areas of the building are no longer reporting back to the central server.

Maintenance costs are also vastly reduced with only a single IP specialist often required to oversee the collection of systems on-site. Most importantly, this provides experts with remote access to diagnose problems within the subsystems. For example, specialists can look at the fire system from another location, eliminating the expense of funding a trip to the site.

Device Integration

The design phase is where building owners and managers can really make sense of their visions. An important initial step is to define the data protocols (Modbus, BACnet, etc.) and rules of the central IP components.

Products with defined data sets from vendors willing to publish how to pull information from a central controller are the best fit for IP-based building automation systems. A simple application programming interface (API) will enable each device to speak to that central controller and pass data to and from critical building systems.

From this point it's a decision about what building systems ownership and/or management wants to control. The greater architecture breaks down into several-to-multiple subsystems. Building automation is essentially one of these core subsystems; other subsystems could include security, life safety, public address and general AV.

Barix manufactures a variety of open-standards IP control, relay and automation devices through its Barionet series of products. These products, as with others on the market, are designed to interface critical building systems to a central server via Modbus, BACnet or other standards. Barionet devices connect to lights, boilers, HVAC units and water pressure devices among other critical systems, acting as a data bridge to collect data and forward it to the central server.

Using a variety of inputs and outputs including contact closures, Barionet devices can directly connect to both modern systems and legacy building systems with serial ports or connections. In the case of legacy units, the system's protocol is usually terminated somewhere close to the IP border to enable the units to communicate within the standard of the IP-enabled building automation system.

Designers can program the devices to turn critical systems on and off at specific times; and report unit failures or near-failures via alarming on a computer screen so building owners and managers can immediately respond to critical situations.

Barionets can also supervise sub-controllers and ancillary devices with IP intelligence that may serve as a bridge to other systems. Temperature sensors can be added for general environment reporting within a specific room or space. Additional relay devices can also easily be connected as the density point count for I/O control rises.

One example is a building owner working with a local energy provider to enable load shedding. The process of load shedding is designed to reduce energy usage, and the complexity of such a process may require additional relay devices to switch devices on and off. For lighting systems, the Barionet would trigger the relay devices to switch certain lights on and off at different times, whether during hours of peak energy usage or after the business has closed for the day.

A small strip mall with a few stores would likely require only a few Barionets to control and monitor rooftop units and basement systems. However, a multi-floor building or a series of multiple buildings tied to a central IP system will certainly grow more complex as the number of systems being controlled escalates to the point of requiring various sub-controllers.

The complexity of the system will also affect how operators monitor the system. In the small strip-mall scenario, the operator could dial directly into the IP-addressable Barionet units to monitor systems and collect data. The larger, more complex building automation systems are more easily and effectively monitored using network monitoring software.

System Redundancy and Scaling

The IP environment also enhances redundancy for building automation systems. IP devices natively carry the ability and intelligence to report essential data and alarming notifications to a different location if the central component goes offline temporarily. This built-in redundancy removes the need to keep a legacy wired system intact.

One final benefit of note is scalability within the IP environment. Earlier points in this article highlight the generally straightforward manner of connecting controllers (such as the Barionet) and sub-controllers (relay devices such as the Barix R6, etc) to the central IP component. The IP addressability of each device in such a system means that new controllers and sub-controllers can be added to the system, especially if operated over a shared network. Any limitations are software-related and can typically be addressed through upgrades.

Building automation systems essentially enable more intelligence as additional control and monitoring points are added. With the right software platform and a well-planned budget, there are few limitations as to the number of devices that can be added to enable that control.

*Johannes G. Rietschel, CEO and Founder of Barix AG, contributed to this article.

---


[Click Banner To Learn More]
[Home Page] [The Automator] [About] [Subscribe ] [Contact Us]